Restaurants
Café Phinista is now open in the Fenway with Vietnamese coffee and crepes
"We definitely didn't want to be some place where people just rushed to get coffee," Café Phinista co-founder Phi Pham said.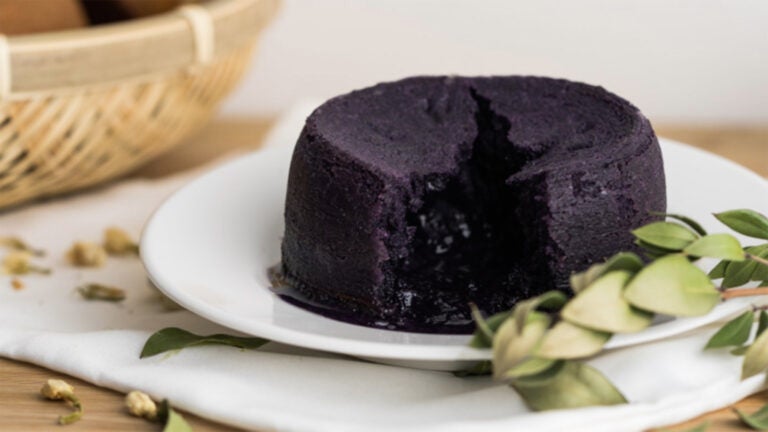 The Fenway neighborhood isn't short of coffee shops, with Caffè Nero, Pavement Coffeehouse, Tatte, and multiple Starbucks locations a stone's throw from each other. But with its cheesecake cream-topped coffee and ube lava cakes, Café Phinista aims to stand out.
Phinista is new to the area, opening its doors on August 1 in the former Neighborhoods Coffee & Crepes space, but the concept first came to fruition in the summer of 2019. That's when owners Yeanie Bach and Phi Pham introduced Phinista as a pop-up, selling tea and Vietnamese coffee at events like the JP Flea Market and Boston Night Market. In January, they launched a delivery service, hoping to carve a niche by selling high-quality, Vietnamese coffee using a phin filter — a slow method of brewing that has been described as a cross between a pour-over and a French press.
Prior to the pandemic, Bach and Pham were in talks with the owners of Neighborhoods to take over the Peterborough Street space. Then everything shifted. Phinista stopped offering delivery and instead focused on providing coffee to hospitals like the West Roxbury VA Medical Center and Boston Children's Hospital. In July, they opened a banh mi shop, called Bánh Mì Oi, in West Roxbury's former Banh Mi Ngon space.
"If you look at both of our locations, they're very centered towards hospitals because we felt that our connection to those essential workers was very strong," Pham told Boston.com. "It was the craziest thing to do, taking over two shops that have a lot of local support in the midst of a pandemic." He paused. "Probably not the smartest thing to do."
At Café Phinista, classic Vietnamese drip coffee graces the menu, along with a Vietnamese latte that can be turned into a mocha, crème brûlée, rose, or lavender option. Teas range from jasmine and peony to lavender and chamomile, along with variations of milk tea and fruit-forward tea mixers (dragonfruit mango, strawberry and lime, and blackberry and lemon). There are toppings, too: aloe jelly, flan, sweet cream, and cheesecake cream, an add-on that Bach and Pham hope will inspire guests to savor their drinks instead of grabbing a quick cup of coffee to go.
"In Vietnam, the coffee that is brewed — you're literally sitting on the street, and you're people watching as it brews in front of you," Pham said. "We wanted that experience. By adding the [drink toppings], it made it more of a sit-down experience, it made it more of a specialty drink. We definitely didn't want to be some place where people just rushed to get coffee." 
Neighborhoods was a family-run cafe that had garnered a steadfast following. When developing their food menu, Bach and Pham decided to keep the crepes as an homage, and now offer breakfast, savory, and sweet options. Stop by in the morning, and you'll find the Croque Monsieur crepe with scrambled eggs, Gruyère, tomato purée, smoked ham, and Bechamel sauce. The Black Summer crepe is stuffed with portobello mushrooms, truffle oil, red onion, arugula, and vegan aioli sauce, while a cinnamon roll crepe is slathered with butter, brown sugar, and cream custard for a sweet bite. Bach and Pham developed a rice-based, gluten-free batter to use with all of their crepes, and just finished workshopping a vegan variety that uses oat milk in the batter. Lava cakes, croissants, and ice cream are also on the menu, featuring ingredients like ube, matcha, and black sesame.
August is a soft-opening month; Pham said that Café Phinista will host its grand opening in September.
For now, hours are from 7 a.m. to 4 p.m. daily, with a plan to extend to 9 p.m. in the near future. They recently added a patio, and will start offering dine-in reservations — another strategy that they hope will allow customers to savor the rich flavors of Phinista's coffee.
"This is something we're very proud of," Pham said. "It's a part of our heritage, and we wanted to keep it authentic."
Café Phinista; 96 Peterborough St., Boston; 7 a.m. to 4 p.m. daily; phinista.com
Get Boston.com's browser alerts:
Enable breaking news notifications straight to your internet browser.