Restaurants
Some Boston restaurants are adding COVID-related fees to checks. Here's what to know.
You may be seeing a 'PPE fee' or a 'Safe & Sustainable fee' on your next restaurant bill.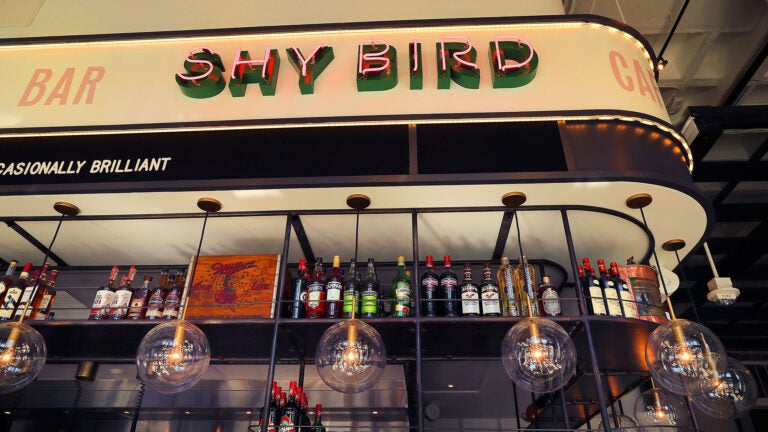 It seems like a cruel twist: As restaurants suffer a dramatic decrease in sales during the coronavirus pandemic, they're also spending more money to keep their staff and their guests safe. While the RESTAURANTS Act, a $120 billion grant program started by the Independent Restaurant Coalition, still hasn't received approval from Congress, some establishments are turning to their customers for help. 
At restaurants across Boston, additional charges with names like "PPE fee" and "Safe & Sustainable fee" are being incorporated into the final bill, in hopes that these small amounts — 3 percent, 5 percent — will help offset the cost of purchasing hand sanitizer, masks, and other items intended to ensure a safe dining environment.
Boston.com spoke with a handful of restaurants to find out what their fees are being used for and why they're needed.
For restaurants, it all adds up.
"The restaurant industry — especially small local neighborhood businesses like ourselves — we run on very tight margins," said Rebecca Kean, general manager and co-owner at Brassica Kitchen + Cafe. "So with the decrease in sales due mostly to takeout and a very small patio, we are hurting greatly."
Kean said the Jamaica Plain restaurant is spending an additional 15 percent of its sales on COVID-related costs, which includes items like masks, takeout boxes, and individually wrapped silverware. Brassica's outdoor patio is located behind the restaurant within close proximity to its dumpsters, so the restaurant had to increase the frequency of getting its trash emptied at an additional expense. In order to help offset these additional costs, Kean said they've added a 3 percent fee to all takeout orders. Diners at the restaurant already pay a 3 percent administrative fee, which goes directly to back-of-the-house employees.
"People have been amazingly on board with it," Kean said. "They understand how difficult it is being a restaurateur during this time."
Dylan Welsh, founder of Hawkeye Hospitality (Five Horses Tavern, Worden Hall, Elm Street Taproom), has seen a similar reaction. His restaurants implemented a 3 percent PPE (Personal Protective Equipment) fee, which goes toward the costs associated with outdoor dining, installing sanitization stations every 10 feet in each restaurant, obtaining masks and face shields for the staff, and adding barriers at host and service stations. 
"I think most people recognize that this is a difficult time for restaurants and staff," Welsh said. "I think that if you are providing an exceptional guest experience, both in product but also in these new steps of safety, I think that everything lines up for them."
But Welsh also said that the fee is "nowhere near covering the [additional] costs."
"It is what it is," he said. "This is just another challenge or obstacle that we have to get past. No one can do it on their own, but with the significant costs and other restrictions being put on us as a business and operation, this is the one time that we chose to reach out to the guests for help in the process."
'I really just didn't want to raise prices'
While some restaurants have raised prices on food or drink during the pandemic, every establishment that spoke with Boston.com avoided that route. 
"Everyone is having money problems," said Laurie Russell, owner Top Dog of Rockport. 
When the pandemic hit, the casual hot dog shop started charging a 75-cent fee for diners who place an order at the Rockport eatery. Russell said this fee helps to pay for the amount the restaurant is spending on packaging and paper goods, which has increased by almost 30 percent from last year. It also goes toward items like takeout containers, individual condiment packets, paper menus, and individually wrapped silverware.
Russell recognized that raising her overall prices might not have been a welcome change.
"I'd be so upset [as a customer]," she said. "Even the price of paper towels is expensive. I really just didn't want to raise prices."
Raising the price of menu items also contributes to widening the gap between front of house and back of house wages, a disparity that Eli Feldman, project manager at Shy Bird in Cambridge and Branch Line in Watertown, wanted to avoid. Feldman said that when Shy Bird opened a year ago, the restaurant implemented a 3 percent kitchen appreciation fee, with the idea that it would help to close the wage gap and address compensation in the back of house (under Massachusetts law, only wait staff employees, service employees, and service bartenders are able to participate in a tip pool). When COVID-19 hit, both restaurants implemented a 5 percent Safe & Sustainable fee; the 3 percent at Shy Bird was rolled into this fee. 
"The additional [fee] does have to do with the very real cost of operating in this environment, everything from single-use sanitation wipes for every single table and every single chair, to hand sanitizer for the entire staff and our guests," Feldman said. "For us, part of it was just about transparency for our team. It's much easier to clearly show money in and money out and how it impacts people's incomes when you're lining it up against a fee, as opposed to just a flat percentage increase on pricing. There's the occasional guest that will say, 'why not just roll it into pricing?' The issue there is that it further exacerbates the discrepancy of the front of house and back of house. People tip on the value of the meal, and if you increase pricing, there's a greater inclination to widen that gap."
Transparency, Kean agrees, is key.
"Diners really want to know where their money is going, and we wanted to make it really clear," she said.
How long will these fees stick around?
As restaurant owners begin to worry about the cold weather and what it means for their businesses, diners may see more establishments implement COVID-related fees. The ones that already utilize it see no reason to stop anytime soon.
"We'll probably keep it as long as our takeout business is going as strong as it is," Kean said. "Once we're [able] to [seat people] inside, I have a feeling our takeout business will lessen, in which case we'll get rid of it. But while we're incurring the expense of the dumpsters, the cleaning of the patio, all the equipment we've had to purchase to make it happen, we're trying to stay afloat."
Russell said she's hopeful that things will be "back to normal" next year; if they're not, she said she may have to raise prices at her Rockport restaurant.
And at Hawkeye Hospitality's locations, Walsh estimates the PPE fee will remain until restrictions ease.
"As long as the state guidelines and the call is there for providing these things to ensure the guests's safety, our plan is to keep it in place," he said. "I can honestly tell you [we're] going above and beyond our state guidelines and regulations to do everything we can to make sure we hit that mark and exceed expectations. It's not just a 'week or month to get through it' kind of thing — this is going to be around for a while. And it's definitely a challenge every day."