Restaurants
This weekend: Margaritas, tacos, and street corn land in Quincy
Plus, the food news you may have missed this week.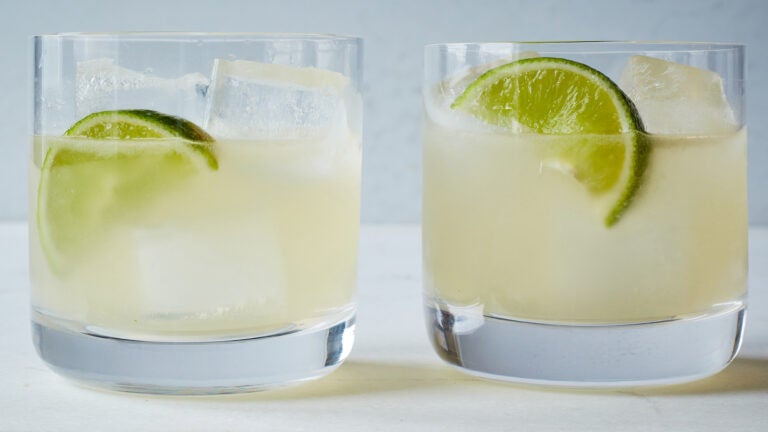 We're all eating a little differently these days: Cooking at home more. Ordering takeout. Now that Phase 3 is well underway, though, some of us are starting to sip cocktails on patios and enjoy indoor dining again. Whatever your comfort level, here's what's been going on in Boston's restaurant world recently, plus a few ways to enjoy some of our region's best restaurants and bars from both the comfort of your own home and out in the world.
Here's what you may have missed this week:
Here's a wild thought: It's been almost six months since the COVID-19 health crisis prompted Gov. Charlie Baker to shut down restaurants and bars in Massachusetts. In order to get a sense of how we're all drinking and dining these days, we're asking Boston.com readers to take this comprehensive survey. Stay tuned for the results!
Some Boston restaurants are adding COVID-related fees to checks. Here's what to know.
Doughnuts in your beer? Sure, why not. Harpoon Brewery and Dunkin' recently collaborated to brew doughnut-infused beers, which are set to debut next week.
And in more beer news, Old Planters teamed up with Kevin Youkilis on a Pete Frates-inspired beer.
It was another week of unfortunate closings: Anna's Taqueria closed its original location, Legal Test Kitchen shuttered in the Seaport, The Lobster Claw Restaurant announced that September 13 will be its last day, and downtown's Popover King will not reopen after the pandemic.
New patios to check out this weekend:
As Phase 3 chugs along and indoor dining resumes at some restaurants, patios are continuing to pop up across the city. This week is no different — here are handful of recently-opened outdoor dining spaces to lounge on this weekend.
https://www.instagram.com/p/CEKGEDFl1gB/
Bar Mercato: Located inside the Hyatt Centric hotel in downtown Boston, Bar Mercato has managed to carve out an outdoor space for itself, serving flatbreads, sandwiches, cheese boards, and hearty entrées like steak frites and chicken Milanese. Reservations are encouraged and can be made online or by calling 857-449-0550.
Craigie on Main: Cambridge, meet Craigie Next Door. The outdoor patio from Craigie on Main recently debuted with family-style dinners served Wednesday and Thursday for $58 per person, and Friday and Saturday for $85 per person. Chef Tony Maws is dishing up a rotating spread of seasonal plates, including summer salads, grilled fish and meat, and refreshing desserts. Make your reservation here.
Fiore's Bakery: Jamaica Plain residents have been anticipating the return of Fiore's Bakery, a neighborhood cafe offering vegan and vegetarian fare. Last week, the bakery reopened with a back patio, where guests can relax with a cup of coffee and a croissant (or two!).
Lamplighter Brewing: In search of a new outdoor beer garden? Lamplighter in Cambridge just debuted their own, a reservation-only space open from 2 p.m. to 9 p.m. on weekdays and noon to 9 p.m. on weekends. Choose from a rotating list of beers and snacks and, if you're there early enough, coffee and pastry from Pepita.
Eating and cooking alone, together:
https://www.instagram.com/p/CEPhauUlQKE/
The team behind Quincy's well-loved tavern The Townshend just debuted a new restaurant called Pearl & Lime (also in Quincy), and everything on the menu sounds phenomenal: street corn with cotija and Tajin seasoning, Caribbean steak tacos, pastelillos stuffed with sweet plantains and black beans. Margarita fans will be pleased with the five different options on the menu, plus sangria, mojitos, and piña coladas. There's also a daily raw bar, and if you feel like splurging, go for the Pearls & Perlage: a dozen Row 34 oysters and a half bottle of Duval-Leroy Brut Champagne for $65.
Here's a little mid-week treat to look forward to over the weekend: Radical Xchange is back with another edition of Gimme Brown, a day-long virtual event highlighting the history, nuances, and trends of rum. Led by BIPOC experts in the hospitality field, Gimme Brown's panels include "The Myths about Rum: Color, classification, aging, and marketing," "Matchmaking: Molasses and Rum," and "Tiki vs. Tropical," as well as DJs and a fantastic lineup of speakers. Tickets to the September 2 event are $5 and can be purchased here.
Along with what feels like half of Boston, I'll be moving to a new apartment on September 1, which means I'm already at the point where I've stopped going grocery shopping and am instead relying on takeout and scrounging for whatever is left in my fridge. A few highlights this week that I've enjoyed and highly recommend include BISQ's unparalleled fried chicken, with its cragged, crackly crust and the juiciest meat. It paired perfectly with a La Pistola to go, made with mezcal, yellow chartreuse, lime, and grapefruit bitters. I also met up with a friend for a patio hang at Barra in Somerville, where we caught up over crispy chicharrón, snacked on Japanese-style peanuts and fried grasshoppers (don't knock it 'til you try it), and drank an excellent mezcal old fashioned. Tonight: takeout from Picco for my dad's birthday, where I'll be bringing a very-easy-to-make rum cake. What are you eating this weekend?
Is it too early for pumpkin beer? Discuss.
Get Boston.com's browser alerts:
Enable breaking news notifications straight to your internet browser.