Restaurants
Inspired by London gastropubs, Thistle & Leek debuts in Newton Centre
Chefs and owners Kate and Trevor Smith are opening their dream restaurant.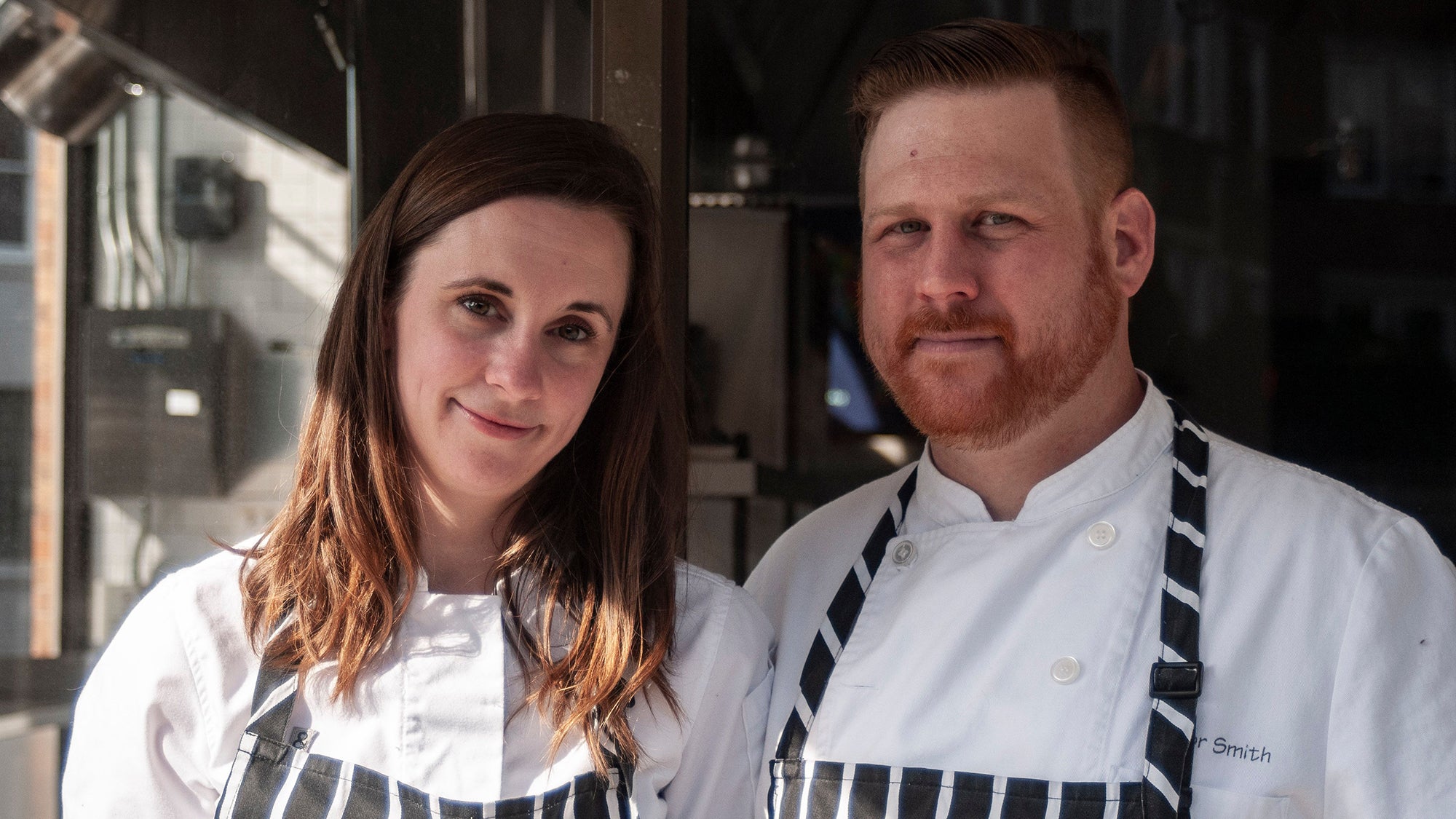 When husband and wife duo Kate and Trevor Smith spent three months traveling throughout Europe for their honeymoon, they weren't so much entranced by the fine dining establishments saturated in white table clothes and formalities, but by the rustic, neighborhood spots — the tapas bars in Spain, the bistros in France, and the pubs in London.
"This idea of a neighborhood joint that served beautiful, regional, local food with intention, with heart, and provided great hospitality," Trevor said. "Just humble places."
With that concept in mind, the chefs and owners are opening their dream restaurant, Thistle & Leek, on Wednesday in Newton Centre, a charming space inspired by London gastropubs. With cooking backgrounds that touch on a swath of European cuisines (Kate worked at Spanish tapas restaurant Toro, Trevor worked at Italian enoteca Coppa; the two met at French restaurant — and Craigie on Main predecessor — Craigie Street Bistrot), the Smiths have crafted a menu that goes well beyond fish and chips.
Dishes at Thistle & Leek will be small and shareable, tapas-style: potato rosties with clam dip; chickpea fritters with yogurt; poussin served with polenta and okra; and a curry lamb meatball braised in a tomato, ginger, coconut sauce, bonded with rice, and served with garlic flatbread. ("It's like a trip to the curry house in meatball form," Trevor said.) For dessert, there's a stone fruit bakewell, a sweet, frangipane-filled English tart.
Drinks will focus on Old World wines, classic cocktails, and curated beers.
"I've kind of taken on the beverage program, which is a wild and crazy thing for a chef to do," said Trevor, who credits time spent working in downtown's Alcove for giving him the opportunity to dive even further into the wine and spirits world. "I certainly count Tom Schlesinger-Guidelli, the owner at Alcove, as a mentor in that capacity. His love of wine is kind of infectious and to know him is to be in awe of that love."
Guests will find beers like a Kronenbourg 1664 on draft, a light lager that Trevor said reminds him of his nights at pubs in England. For cocktails, he's workshopped a drink called Madame George (yes, that is a reference to a Van Morrison song), which uses gin, creme de pacha, Luxardo, and lime juice.
"I just thought of what a classy old lady might like," he said. "What would Madame George want to drink?"
More than the food and drink menu, though, the Smiths feel that London gastropubs are more about the setting and the intention behind the food — and less about the dishes themselves. To that end, they've found an ideal match in the former Comedor space on in Newton Centre, a corner location with big windows, an open kitchen, and an intimate dining room.
"Newton Centre is such a charming neighborhood," Kate said. "It's cozy, there's a lot of foot traffic, there's other wonderful businesses in the area. [The space] was sort of the perfect size for us."
In normal times, Thistle & Leek would hold 51 seats inside — but, of course, these are not normal times. When it opens Wednesday evening, there will be 24 seats available on an outdoor patio, plus a reduced number of indoor dining options. Because the Smiths were able to write their entire opening menu while the pandemic was well underway, they've made sure that their dishes are conducive to both dining in and taking out — ones that, "by the time the diner actually has it home with them, it'll still taste good, and will still have the vibrancy that it has when you're dining in," Kate said.
Despite the less-than-ideal timing, the Smiths said they can't wait to start doing what they love again, this time at a restaurant they own.
"We're excited to be cooking again," Kate said. "We're excited to be serving people and just welcoming people in."
"It's been my life goal for many decades at this point, to create that comfort for food, and to be able to provide that service to the community," Trevor agreed. "It just makes me feel grateful and humble."
Thistle & Leek; 105 Union St., Newton Centre; Tuesdays—Sundays from 5 p.m. to 9 p.m.; thistleandleek.com