Restaurants
Outdoor dining time frame will be extended by state, Gov. Baker says
"We hope this eases the burden on restaurants and extends their season for outdoor dining as well," Baker said.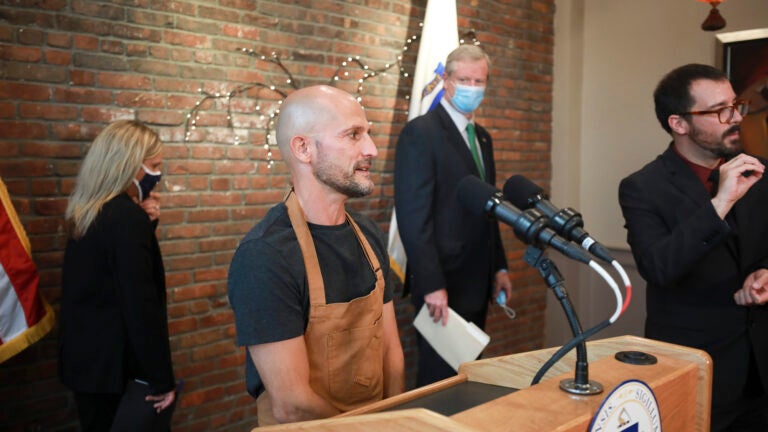 The impending winter is cause for plenty of concern among restaurants throughout the state, as the days of patio dining — and the additional seating space that comes with it — are numbered.
But during Thursday's press conference held at Bistro 5 in Medford, Gov. Charlie Baker announced plans to sign an executive order to extend the time frame for expanded outdoor dining.
"That extension will help restaurants, like this one, to continue serving guests and their outdoor space on the same basic terms that have been permitted since June," Baker said. "We hope this eases the burden on restaurants and extends their season for outdoor dining as well."
In a subsequent press conference on September 15, Boston Mayor Martin J. Walsh said that, in the City of Boston, "restaurants using private outdoor space will be able to do so throughout the duration of the public health emergency, and that restaurants using public space on streets and sidewalks will be able to continue until December 1." Walsh said the city will also waive application fees for outdoor dining propane heaters.
"We're trying to help our restaurants continue to take advantage of outdoor space as long as possible," he said.
The governor also announced that the MassDOT shared streets and spaces emergency grant program would receive an additional $5 million. The program originally debuted in June with $5 million in funds, helping cities and towns better utilize public space through projects like repurposing street parking for outdoor dining. The state has received over 200 applications from across Massachusetts, with 39 communities receiving grants so far.
"As it gets colder, funding can always go toward heaters and special lighting and other support services like that," Baker said. "We hope these additions will help restaurants extend their outdoor season and allow for more outdoor dining here in Massachusetts."
Vittorio Ettore, chef and owner at Bistro 5, shared his experience launching outdoor dining, which he said helped the number of guests at his restaurant rise from "30 people per week in June and July…to roughly 30 to 40 people per day."
"That has changed our business completely," he said. "And it's part of so many things. It's the perception that it's a safe place — you drive by, you walk by, you see the nice staff and how everyone is handling the the restaurant and the social distancing. And you see the tables separated apart….This program is literally saving the restaurant industry in Massachusetts. I fully believe that, because without [the program], we wouldn't be able to be anywhere right now."
When asked what Ettore was going to do when the snow comes, he said he was getting ready for winter by starting to look at heat lamps and working with the fire department to see what is allowed.
"I think each person needs to see it for themselves," he said. "And you should go out now while there is outdoor [dining] and see how the restaurants are behaving, see how the industry is doing. And if you feel a little bit more confident, then when the time comes to go indoors, you know, you look around, and then you make your own decisions."
Despite Baker's outdoor dining extension, the fate of bars seems to remain unchanged: Bars will, for now, remain in Phase 4.
"Bars and nightclubs are responsible for huge pieces of the outbreaks that took place across the South and the Midwest," Baker said. "We continue to worry quite a bit about the impact they would have on the success we've had today."