Restaurants
The pandemic has drastically changed the way we eat and drink. Here's how.
We're cooking more, spending less, and still missing restaurants.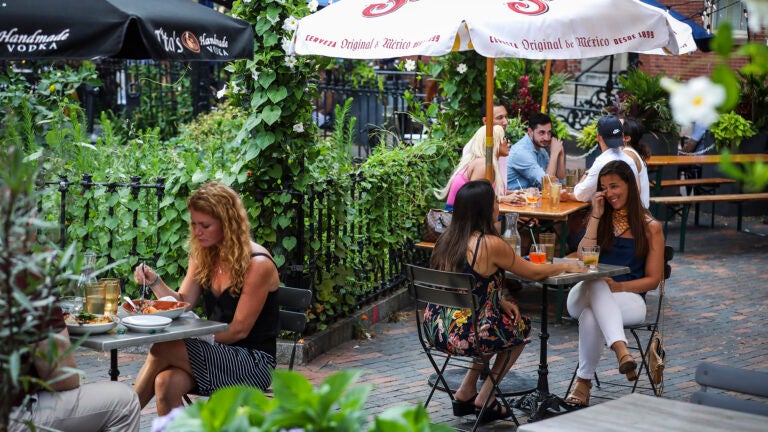 Six months after Massachusetts declared a state of emergency due to COVID-19, there is no doubt that the global pandemic has dramatically altered our world — including the way we eat and drink.
When Gov. Charlie Baker ordered restaurants and bars to shut down on March 17, some of us optimistically thought we might hunker down for a few weeks before our daily routine was restored. We bought cans of beans and bags of flour, ordered takeout from our favorite spots, bought gift cards, made banana bread. And then the weeks turned into months.
When Boston.com posted a survey asking about how the pandemic had changed our drinking, dining, and grocery shopping habits, more than 1,000 readers shared their experiences, from how much they tipped on takeout to what they were cooking in the kitchen. The results show that, six months in, we've all shifted and adapted to the hurdles thrown at us — and many of us are still baking bread.
Here are six ways COVID-19 has changed the way Boston.com readers eat and drink.
1. Readers are cooking more and mixing their own drinks at home — and, as a result, saving money.

It seems like a no-brainer: Social distancing and prevailing concerns about dining indoors have led diners to turn to their kitchens, with 62 percent of our readers stating that they are cooking more than they did before COVID-19, and 52 percent shopping for groceries at least once per week.
So what is everyone cooking? A lot of bread, apparently. Survey results show that readers are baking sourdoughs, tortillas, pretzels, challah, scones, muffins, Persian flatbread, and, of course, banana bread. Chicken was also an oft-mentioned dish: grilled chicken with tarragon, spatchock chicken, chicken buldak, chicken schnitzel, orange chicken, chicken stock, and more.
And cocktails? Our readers have nailed that down, too, becoming home bartenders by mastering Tiki drinks, gin and tonics, old fashioneds, sidecars, and even making their own cocktail shrubs.
One byproduct of cooking at home that a vast number of readers mentioned was the fact that it has helped them save money.
"I used to go out to eat at least once a week, but now I'm nowhere near comfortable eating in a restaurant," one reader wrote. "I barely do takeout either in an attempt to save money. I'm cooking a lot more actual meals than I used to."
"Eating much healthier than before — we've lost a few pounds!" shared another. "Weekly grocery shopping and planning ahead on meals has greatly reduced the amount of money we spend per month of takeout, dinners out, and impromptu cocktails."
Another reader wrote that they were "more adventurous with drinks making them myself, because I'll use ingredients that I have on hand. Also not as concerned about spending money on a drink that I won't like."
2. More than a third of our readers are drinking more during the pandemic.

While almost half of Boston.com readers reported that they are drinking about the same during the pandemic than they were before, a whopping 36 percent said they were drinking more. In addition to experimenting with mixing cocktails or wanting to support their local brewery, some people attributed drinking more to stress, working from home, and the ability to drink without worrying about driving.
"I feel that I drink to relieve stress and anxiety instead of drinking for fun," one reader said, while another shared that they have "made myself a screwdriver at 10:30 a.m. on a Monday while working from home and felt no shame."
Another reader said that they were "drinking wine more often at home since we always eat here now, and our wine cellar is always right downstairs and much cheaper than having wine out. Plus, when we used to go out to restaurants, I wouldn't have more than one glass of wine so I could drive home, and often not even that one."
Speaking of wine: It was mentioned more than any other beverage when asked what readers were drinking at home these days, followed by beer, cocktails, and seltzer. As for liquors of choice, vodka and gin were the most popular, with whiskey and tequila coming up close behind. Liquor stores, it seems, are still doing just fine: 35 percent of readers reported visiting a liquor store once per month, 28 percent visit multiple times per month, and 18 percent visit once per week.
3. Takeout is still king — except when it comes to cocktails.

For plenty of folks, dining at an actual restaurant — whether indoors or outdoors — is still outside of our comfort zone. Instead, many have relied on takeout: The vast majority of readers order takeout at least once a month, with 19 percent ordering multiple times per week and 37 percent ordering once per week.
"We have chosen to not go to restaurants yet, even outdoors, while many others have," shared one reader. "We order takeout regularly to support our favorite restaurants and have moved from grocery shopping every other week early in quarantine back to every week."
Another reader said that they "have increased our takeout ordering to support local businesses," while a third wrote, "I am comfortable getting takeout. I try not to do delivery because the delivery companies (Uber Eats, Door Dash) are known for screwing over their drivers."
It turns out that many people feel the same way about the third-party apps, with only 8 percent solely using them to order takeout, while 52 percent ordered directly from the restaurant and 40 percent using a mix of both. We also received insight into how people are tipping when it comes to takeout: the majority of people are tipping between 15 and 20 percent for takeout, versus more than 20 percent when dining in.
The one area that isn't excelling within takeout? Cocktails. Despite the push to allow Massachusetts to sell to-go cocktails, 90 percent of our readers reported that they never order takeout cocktails.
4. The majority of our readers are dining out at least once a month, but still avoiding eating indoors.

Here's some relatively good news for restaurants: The majority of people are still dining out at restaurants, with roughly 63 percent of readers dining out at least once per month. Still, 57 percent said they still weren't comfortable dining indoors.
"Not willing to sit indoors, and feel strongly the industry needs assistance to stay in business for the employees and their families," wrote one reader, while another shared that they "are dining (outdoor) only locally more than usual. We live in the suburbs and used to go out mainly in Boston. Haven't dined in Boston since before the pandemic."
Among those who are dining out, 42 percent said they always make a reservation, while 39 percent said they sometimes do and 19 percent said they never make one.
"We always make a reservation before going out, because with COVID there is no more going to sit or stand at a bar while waiting for a table to open up," said one of the survey takers. "No one wants to sit in a car or stand in a parking lot to wait for a table!"
5. Despite settling into a new pandemic routine, many people miss restaurants and the socializing that comes with it.
Six months is enough time to get into a groove, and many of us seem to have embraced a new way of cooking, dining out, ordering takeout, and drinking that looks vastly different than our pre-coronavirus habits. For some, the change has been beneficial.
One reader wrote that, despite drinking more, "I feel like I have a better balance of healthy eating since I'm cooking more and dining out a lot less. Not being in an office environment keeps me from indulging in things like doughnuts and other desserts as often as I used to."
Another shared that their "eating schedule is more routine," and that they're "more conscious of healthy eating because not eating on the go."
But the social void that restaurants and bars once filled is deeply felt. As many of our homes become de facto offices and social distancing remains vital, post-work drinks or bites with coworkers have all but disappeared. Catching up with friends over brunch is a rare occurrence.
"I miss having after-work drinks at random bars in Boston," one Boston.com reader shared, while another wrote that they "miss dining out with friends."
"I miss restaurants!" shared another reader. "So so much. Sadly I'm not ready to eat in a restaurant, and have only done it twice in six months. I don't want to put myself or the servers/staff at risk."
Even for those who are taking advantage of their own kitchen, the social aspect of eating a great meal together is harder to come by.
"Because we aren't dining out, we are enjoying more often dining in our lovely yard," a reader said. "Just miss having friends over to join us."