Restaurants
Boston restaurants are making plans for the winter. But what do diners want?
"I think that what's really hard is that there are so many things that you would be willing to do, but that doesn't guarantee that people will come," said Puritan & Co.'s Will Gilson.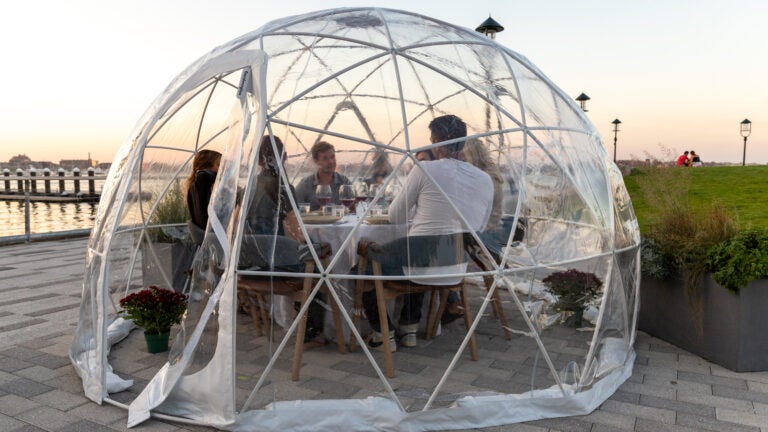 For a strange, surreal summer, it seemed as though Massachusetts had really nailed down this whole outdoor dining thing. Places like the North End and Waltham turned into pedestrian thoroughfares as dining al fresco became a haven for a portion of the public that felt comfortable eating outside but wasn't quite ready to dine indoors. And then summer turned into fall.
On September 10, Gov. Charlie Baker announced that he would sign an executive order to extend the outdoor time frame passed its original October 31 deadline; on Tuesday, Mayor Walsh shared in a follow-up conference that Boston restaurants using public space on streets and sidewalks will have until December 1 to offer outdoor seating. Walsh also announced that the city will waive application fees for outdoor dining propane heaters.
Restaurants are beginning to prepare for the cold weather by purchasing heat lamps, igloos, and plexiglass to install between tables indoors. But for many restaurant owners, a patio extension and heat lamps mean little if guests still aren't comfortable dining in when the weather renders outdoor dining impossible. 
Jonathan Gilman, owner of Brato Brewhouse + Kitchen in Brighton, chose to tackle the changing seasons by gathering as much consumer insight as possible. He teamed up with investment platform Mainvest to launch a consumer survey this week, which asks diners questions like "At what point would you feel comfortable returning to your pre-COVID dining routine?," "How confident are you in the ability of local restaurants to keep you safe?" and "How much would modified outdoor seating appeal to you?" After gathering information from the survey, Gilman plans to conduct virtual meetings where diners can hear from experts — government officials, epidemiologists — and then take action based on what the community wants and needs out of their dining experience.
"If we see the results of this [survey] — that, sorry, no matter what, 100 percent of the public is not willing to come out until there's herd immunity — then it doesn't make sense for us to invest in igloos because they're not going to feel comfortable anyways," Gilman said. "We want to listen to our community and be a reflection of what their values and priorities are."
In August, Gilman launched Brato Bakes, a microbakery and pantry within Brato that acts as an all-day cafe; he previously told Boston.com that he hopes it can be "another step with helping us figure out how we're going to survive the winter." Similar concepts are popping up around the city: Nightshade Noodle Bar will open Sin City Superette, a neighborhood market in Lynn, this fall, Kendall Square's Café du Pays transformed itself into Vincent's Corner Grocery, and Puritan & Co. in Cambridge recently launched Puritan Provisions, a walk-up storefront serving pantry staples, sandwiches, and bake-at-home meals. 
Will Gilson, chef and owner at Puritan & Co., said the idea behind Puritan Provisions was to create a takeout space where people felt comfortable quickly grabbing food to go. He also set up heaters on Puritan & Co.'s patios. But, like Gilman, he knows that "people are either going to feel comfortable enough to dine inside regardless of whatever you do, or they will not."
"I think that what's really hard is that there are so many things that you would be willing to do, but that doesn't guarantee that people will come," he said. "We either have people who trust us, or we have people who, it doesn't matter what you do, they're not coming out until there's a vaccine."
Some restaurateurs are forging ahead with igloos and plexiglass anyway. Kristin Canty, owner of Woods Hill Pier 4 in the Seaport, plans to add 12 igloos to the restaurant's waterfront patio in November.
"You can be in your own little self-contained pod," Canty said. "It looks like a bubble, and you can see through it so you can still see the beautiful views."
The igloos, which will seat up to six people, will require a food and beverage minimum that will change depending on whether it's a weekday, weekend, or brunch meal, though Canty said they're still working out the price. The igloos aren't cheap: Each one costs Woods Hill Pier 4 around $1,700, with heat and decorations adding to the overall cost. While Canty said that she hopes people start embracing outdoor dining in the winter, she's also making adjustments indoors, adding plexiglass dividers between tables so that "if people do move inside and feel comfortable eating inside, then they feel like they're divided and not really near the other customers."
Other restaurant owners, like Yahya Noor, are taking it day by day. Noor, who owns Tawakal Halal Café in East Boston, only recently constructed a parklet for outdoor dining. He's hoping it gets utilized as much as it can before winter arrives, but he said he's having a hard time finding outdoor heaters.
"We've made the decision not to put seats inside [the restaurant] because we have a smaller, tiny place to begin with," Noor said. "Even though we'd be able to fit two or three tables, honestly, it wouldn't be safe — we don't know what the virus holds, so I have to protect our staff and our customers."
Instead, Noor said they'll focus on takeout in the winter. 
"We're going day by day," he said. "Today might be the best day, and then it comes to next week and we're lucky to have two, three customers. I think the biggest takeaway from this is that the community has really been very good to us, people have been walking in and supporting us. We're not looking to make money [this winter], we're just looking to stay open and continue to serve our food."
In a recent poll conducted by Boston.com, 57 percent of readers who took the survey stated that they still don't feel comfortable eating indoors. Looking at the numbers, Gilson said, is crucial when trying to figure out the next steps — and how to get food to the people who won't be dining in anytime soon.
"The math doesn't lie, and that's really what we're up against," he said. "It doesn't matter what capacity you give us or how far away we need to spread out the tables — if we can't put enough people in the building or outside the building, the math just doesn't add up. … People who are like, 'I'm not even leaving my home,' how do you get food to those people? How do you take the most scared people and get them food in a trusting way? I think that's how you'll survive this."