Restaurants
The Station by Artifact Cider Project opens Oct. 23 with ciders and international snack foods
"We have a lot of cool projects that I'm super excited to put out into the world," said Soham Bhatt, Artifact Cider Project co-founder.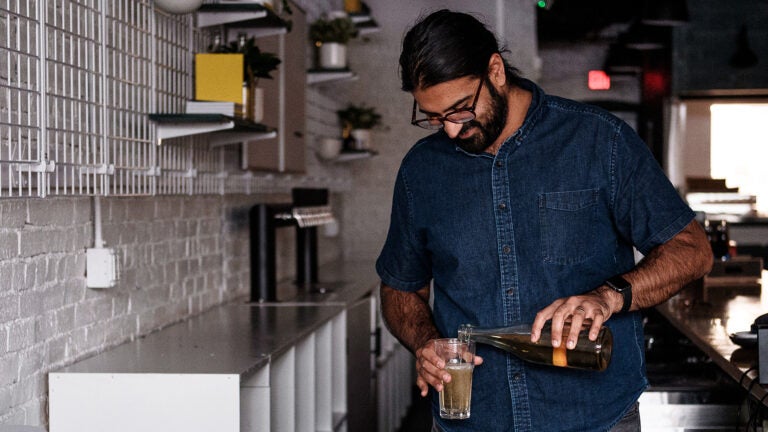 Soham Bhatt's love of apples is palpable — and he thinks everyone in New England should feel the same way.
"We have amazing apples here, so to be able to make a really great cider out of it should just be a part of where we're from," said Bhatt, who, along with Jake Mazar, co-founded Artifact Cider Project in 2014. "People have just lost sight of stuff like that."
Artifact Cider Project, which debuted its first taproom in Florence in August 2019, is about to spread that love of apples eastward, with a new outpost in Cambridge opening October 23. Located in the former Economy Hardware space at 438 Massachusetts Ave., the 3,000-square-foot taproom, dubbed The Station by Artifact Cider Project, will feature roughly 14 tap lines of ciders that fans of Artifact have come to know and love: Wild Thing, Feels Like Home, By Any Other Name, Magic Hour, and Slow Down, all using apples sourced from regional orchards.
In addition to Artifact's well-known ciders, the taproom, which also holds a production space, will offer three to six small batch releases that, Bhatt said, are "focused on answering some questions."
"Whether that's working with a single apple variety where we can only make a really small amount of volume, or working with a different kind of fermentation technique, or trying to develop a new culture," he said. "Or maybe its some aging thing [like] barrel aging or outdoor aging or whatever we're messing around with. We have a lot of cool projects that I'm super excited to put out into the world."
Bhatt, who is also Artifact's cidermaker, said that the new taproom will have a beer line or two, but that the focus is squarely on ciders.
"It's the inversion of this idea that cider gets one or two lines," he said. "People [at breweries] never really get a chance to try a range of ciders. So this place [will have] a beer line there for the people who don't want to have cider and to try to bring in a broader audience, but definitely the focus is on cider."
To accompany the drinks, a small kitchen will offer creative toasts and cheese platters, plus international snack foods — shrimp crackers, Takis, Indian snack mixes — that Bhatt hopes will appeal to a diverse clientele (though there will be Cape Cod chips, too).
"[Our customers] don't just come from one background," Bhatt said. "It's one of the great things about cider — it doesn't carry with it a lot of gender or ethnic baggage like other products do."
When the Station opens, its bright, airy space will boast 14-foot ceilings, plenty of plants, and seats for roughly 40 guests. There won't be a patio to start — Bhatt said the season is pretty short for what the company can offer outside, but that when the pandemic is over, "we'll be able to fit more people standing up."
The move to Cambridge is just the latest in a series of stepping stones for Artifact, which started in a Springfield garage and then moved to an Everett warehouse before debuting its Florence taproom and production facility. While the original taproom in Western Massachusetts is closer to where Bhatt and Mazar started their business, this latest move is one that Bhatt says will be able to connect their ciders to a wider audience.
"I think that part of the whole mission of what we do is about creating a sense of place with the ciders and how important we think cider is to the fabric of the Northeast," he said. "Being able to tell that story to local people is one thing, but also being able to share that with people that are visiting Boston. …It felt like the perfect fit for what we're trying to do, which is modernize this idea of cider and work it into the cultural fabric of the future."
The Station by Artifact Cider Project; 438 Massachusetts Ave., Cambridge; Thursdays and Fridays from 4 p.m. to 10 p.m., Saturdays and Sundays from noon to 10 p.m.; artifactcider.com
Get Boston.com's browser alerts:
Enable breaking news notifications straight to your internet browser.