Restaurants
This weekend: A 'Twin Peaks'-inspired patio lands in Somerville
Plus, the food news you may have missed this week.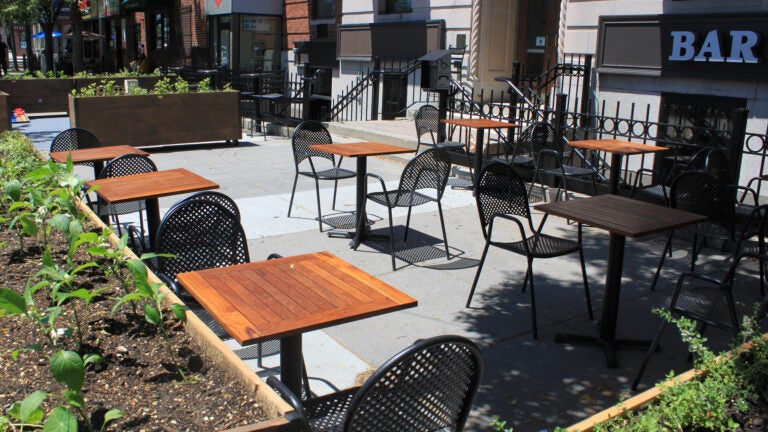 We're all eating a little differently these days: Cooking at home more. Ordering takeout. Now that Phase 3 is well underway, though, some of us are starting to sip cocktails on patios and enjoy indoor dining again. Whatever your comfort level, here's what's been going on in Boston's restaurant world recently, plus a few ways to enjoy some of our region's best restaurants and bars from both the comfort of your own home and out in the world.
Here's what you may have missed this week:
The Station by Artifact Cider Project is set to open in Central Square soon with ciders and international snack foods. "We have a lot of cool projects that I'm super excited to put out into the world," Soham Bhatt, Artifact Cider Project co-founder, shared.
Because 2020 is what it is, this happened: L'Espalier's Instagram was hacked, and for a moment, everyone thought the former fine-dining restaurant was staging some kind of comeback. Not cool.
Call it a bar, cafe, or ice cream shop: Kendall Square newcomer Earnest Drinks, housed within the second iteration of Gracie's Ice Cream, is now serving coffee, booze, and comfort food. What more do you need?
Gone but not forgotten: Boston.com readers share their memories of now-closed restaurants.
Oisa Ramen Slurp & Go, a nine-seat noodle bar in downtown Boston, announced that it will close by the end of the year. Thursday was the last day with owner Moe Kuroki at the helm.
Salt Bae's restaurant has reopened. Here's what to know about its first two weeks in business.
Polar Seltzer's 2020 winter collection is out, and there are three new flavors to try this year (plus two returning favorites).
Humble local brag: Cambridge is one of the best cities in America for foodies, according to Apartment Guide.
New patios to check out this weekend:
As Phase 3 chugs along and indoor dining resumes at some restaurants, patios are continuing to pop up across the city. This week is no different — here are couple of recently-opened outdoor dining spaces to lounge on this weekend.
FAB: Taking over the old Bergamot space in Somerville, FAB — which stands for Food Art Beer — is now open and offering things like housemade cavatelli, grilled peaches, and a solid beer menu. Settle in for a bite and a beer under twinkling lights on the patio.
Talulla: Not only did Talulla, Conor Dennehy and Danielle Ayer's charming Cambridge bôite, set up patio seating outside their restaurant, but they also added greenhouses that they plan to keep open through the winter. There are five heated, lit greenhouses available; each one seats two, and reservations can be made on Resy.
Eating and cooking alone, together:
I've only seen an episode or two of "Twin Peaks," but I'm still very intrigued by The Black Lodge, a "Twin Peaks"-inspired patio that debuts Friday at Brass Union in Somerville. Starting October 2 and continuing through November 28, the patio will be available on Friday and Saturday nights from 6 p.m. to midnight, with small bites and themed cocktails that pay homage to the cult classic. Bring your own blanket and settle in for hot drinks like the Damn Fine Hot Chocolate and The Log Lady. Even better: Opening weekend will feature individual cherry pies from Petsi Pies.
There are pop-ups galore over the next few days, including Bún Bò Bui, a first-time Vietnamese pop-up from Chickadee chef de cuisine Stefanie Bui. Bui will bring some of her favorite Vietnamese dishes — including bún bò huế, fried egg rolls, and summer rolls — to Black Lamb in the South End on Sunday from 5 p.m. to 9 p.m. Make a reservation for both indoor and outdoor seating on Resy. Over in Dorchester, Kane's Donuts will pop up at Boston Harbor Distillery on Sunday from 11 a.m. to 2 p.m., selling boozy (and booze-free) doughnuts like the Angry Orchard hard apple cider doughnut and the Maine blueberry doughnut. Just remember to bring some bills, since it's cash only. Comfort Kitchen — an upcoming cafe and restaurant in Dorchester that will celebrate food of the Diaspora — is launching a takeout pop-up fundraiser on Mondays and Tuesdays from 5:30 p.m. to 8:30 p.m. until October 27. The first iteration will take place at Sweet Basil in Waltham, with proceeds going toward the Urban Farming Institute, Boston Cyclists Union, and the Student Immigrant Movement. Order up to 24 hours in advance.
Read this: Mei Mei chef and owner Irene Li posted a heartfelt letter this week about the state of her restaurant, which she says will likely not reopen as the Mei Mei diners once knew and loved. Li talks about the constant changes she's had to make since the pandemic started, writing, "Some pivots have really worked, but most have sputtered." Instead, she and her team are considering a new future for Mei Mei, one that might look like a packaged dumpling company or a catering business, "but almost certainly not a restaurant." The letter provides an in-depth, honest look at how business owners are having to shift their mindset and challenge what it means to run a restaurant in the age of COVID-19. Read it here.
Get Boston.com's browser alerts:
Enable breaking news notifications straight to your internet browser.