This weekend: Find shakshuka, Venezuelan sticky buns, and build-your-own Bloody Marys at these new brunch spots
Plus, the food news you may have missed this week.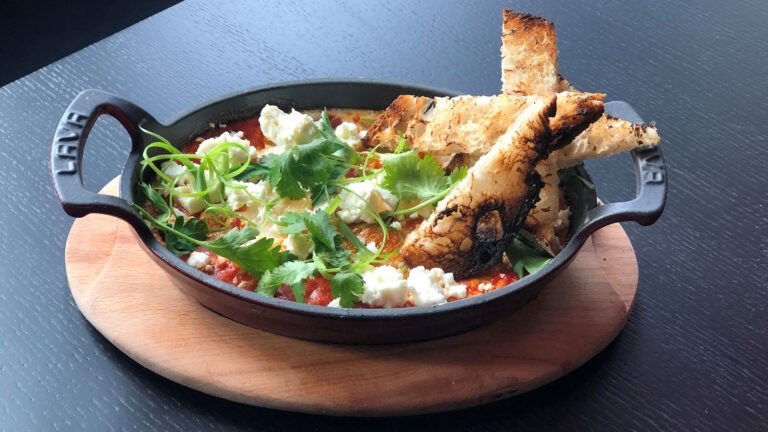 We're all eating a little differently these days: Cooking at home more. Ordering takeout. Now that Phase 3 is well underway, though, some of us are starting to sip cocktails on patios and enjoy indoor dining again. Whatever your comfort level, here's what's been going on in Boston's restaurant world recently, plus a few ways to enjoy some of our region's best restaurants and bars from both the comfort of your own home and out in the world.
Here's what you may have missed this week:
While some restaurant owners are winterizing their dining rooms, others have rejected indoor dining completely. "A choice between financial viability and abetting the spread of the virus is one that no business owner should have to make," Vee Vee co-owner Kristen Valachovic recently told Boston.com.
Kebabs, moussaka, and meze mixes are coming to downtown's historic Cunard Building when Servia opens with breakfast and lunch next week. Dinner to follow!
Also coming soon: Ned Devine's and Samuel Adams have teamed up to open a beer garden at Faneuil Hall.
Twizzlers, M&M's, Snickers — what's your favorite Halloween candy? Let us know in our poll, and we'll share what Boston.com readers are looking forward to snacking on this Halloween.
Here's how 'Summer House' stars Kyle Cooke and Amanda Batula started Loverboy hard tea.
It's been another rough week for closures. Chic Chick in Allston closed up shop, while Stoddard's Fine Food & Ale said its final goodbyes. Irish pubs The Asgard and The Kinsale both put up signs announcing their closure, but co-owner Peter Sarmanian said there's a chance they might reopen.
New patios to check out this weekend:
As Phase 3 chugs along and indoor dining resumes at some restaurants, patios are continuing to pop up across the city. This week is no different — here are couple of recently-opened outdoor dining spaces to lounge on this weekend.
Atwood's Tavern: Welcome back, Atwood's! The Cambridge hangout reopened earlier this week, bringing back its spacious outdoor patio that operates from 3 p.m. to 10 p.m. daily. Stop by for a beer and their exceptionally good mac and cheese.
Woods Hill Pier 4: Maybe you've heard rumblings about igloos being installed at Woods Hill Pier 4 in the Seaport (owner Kristin Canty spoke about them here), but now they're finally being put to use. Guests can reserve the heated outdoor "dining rooms" Tuesdays through Thursdays from 5 p.m. to 10 p.m. and Fridays through Sundays from 11:30 a.m. to 2 p.m., with pricing starting at $450 per igloo. Don't skip out on the sunflower risotto and squid ink casarecce.
Eating and cooking alone, together:
Brunch is still going strong during the pandemic, as a number of restaurants recently announced they'd be launching their own version of the weekend tradition. At the newly-opened Cambridge restaurant The Dial, an extended weekend brunch kicks off on Saturday with globally-inspired dishes like brunch carbonara, Venezuelan sticky buns, duck fat potato latkes, and more. Pair your brunch with a boozy coffee drink Saturday through Monday from 11 a.m. to 3 p.m. Heading to Encore for the long weekend? On Deck Burger Bar announced that it would start offering brunch on Saturday and Sunday from 7 a.m. to 3 p.m., complete with a build-your-own Bloody Mary Bar. Over in Chelsea, Peruvian restaurant Tambo 22 launches an all-day brunch on Sunday from 11 a.m. to 5 p.m. — keep an eye on its Instagram for a soon-to-be-announced brunch menu. If you have Monday off and are looking for a way to celebrate Indigenous Peoples Day, The Beehive and Cósmica are hosting an Indigenous Peoples Day brunch starting at 10 a.m., where you can fill up on baked French toast, shakshuka, huevos rancheros tostadas, and more. Takeout and delivery is also available.
Here's a collab I'm pretty stoked for: Starting Friday, Union Square Donuts will join forces with The Bagel Table in Brighton to launch Union Square Donuts Outpost, a concept that will eventually expand to The Bagel Table's other locations in Chestnut Hill and Ashland. The outpost will feature a mix of fan favorites — think sea salted bourbon caramel, Boston cream, maple bacon — plus seasonal specialties like apple cider and caramel apple crisp. If you're looking to carbo load on bagels and doughnuts this weekend, this one-stop-shop is a pretty good place to start.
And to drink? There are plenty of opportunities to sip on something special this weekend, too. The other night, I had a great to-go cocktail from Tres Gatos in Jamaica Plain called "Kitty's Got Claws" — a spicy blend of mezcal, habanero guajillo, lime, and apricot. Give it a try if you need a little push to love mezcal more. Somerville cocktail bar Saloon recently reopened, with seating available Fridays and Saturdays starting at 5 p.m. (reservations are encouraged). They're working on getting a patio, but if you feel comfortable drinking indoors, their Fall Old Fashioned is a dream. Dorchester's Haley House Bakery Café will host a wine tasting session on Friday from 3 p.m. to 6 p.m. featuring Black-owned wineries, as well as a special menu centered around indigenous growing practices. And if strolling around the North End this weekend is in the cards, be sure to stop by Ciao Bella. The restaurant just started offering an espresso martini to-go, accompanied by a complimentary mini cannoli — a perfect way to cap off the night.
Loading...