Restaurants
Sweet relief: Here are 5 new ways to get your sugar fix this fall
These candy shops, pop-ups, and bakeries are exactly what we need right now.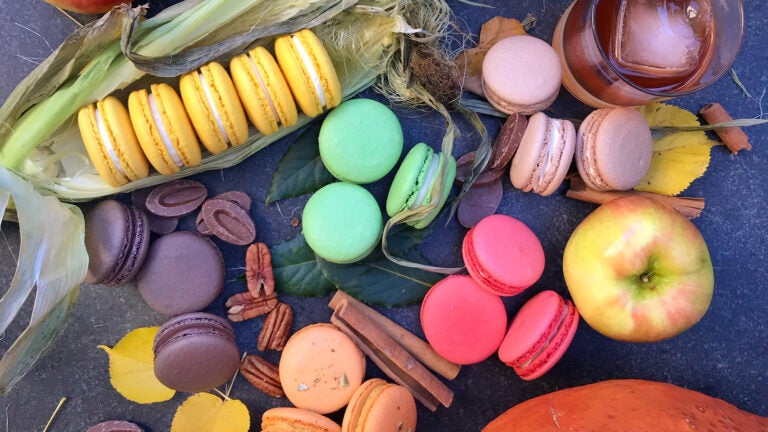 With Halloween candy on the brain, Thanksgiving pies in the forecast, and an overall need for some kind of sugar therapy, the search for candies, chocolates, pastries, and other sweet delights has begun. And like so many other aspects of this year, Boston's sweetest newcomers are operating a little differently.
Some pastry chefs found themselves temporarily out of work and decided to launch their own exciting projects, making wildly inventive bonbons, macarons, and doughnuts that have started to gain buzz on social media. The owners of a local candy shop had to rethink their bulk candy business and, as a result, launched their own chocolate and lollipop line. One restaurant owner started an online bakery in order to help keep his pastry department employed, providing the Greater Boston area with a wealth of outstanding pies.
Check out these five businesses making sweet work in sour times.
You could say that Elm Street Sweets, which debuted online in September, came at the perfect time. Have we ever needed a comforting slice of pie this much? But according to Joe Cassinelli, CEO of the Alpine Restaurant Group, the venture was also borne out of necessity.
"I've got a very talented pastry department," Cassinelli previously told Boston.com. "But unfortunately restaurants [during the pandemic] aren't busy enough to support a big pastry department. In an effort to create some opportunity for them and keep them working — keep them employed, frankly — I decided to launch Elm Street Sweets."
Thankfully, we all get to reap the rewards. The online bakery sells a mouthwatering collection of cakes, pies, and cookies that fans of Rosebud American Kitchen + Bar, one of the restaurant group's eateries, have come to know and love over the years (all orders are picked up at Rosebud). Pumpkin whoopie pie, apple cranberry crumble pie, pecan carrot cake, and ginger molasses cookies are all part of the latest seasonal lineup, along with a fall pie sampler that includes two slices each of dutch apple pie, pumpkin cheesecake, and pecan chocolate pie. Just don't ask Cassinelli to pick a favorite.
"The key lime pie is amazing, the bourbon pie is amazing, the mocha chocolate pie is amazing," he said. "You're really getting a restaurant quality dessert when you buy one of our sweets."
Kate Holowchik has worked as a pastry chef at restaurants all over the Greater Boston area, including The Townshend, Lincoln, Chickadee, and Ledger. But in her latest chapter, she's her own boss. 
"Basically, I've been in that sweet spot for a couple years now where I'm just kind of done with my restaurant career as far as working under other people," she told Boston.com over the phone, in the midst of making a custom cake for a client. "I've had this restlessness for quite some time now."
Up until February, Holowchik was looking for a brick and mortar for her own venture. Then the pandemic hit, and the pastry chef decided to go another route: pop-ups. She launched Lionheart Confections, which held its first pop-up on October 11, offering pumpkin s'mores doughnuts and chocolate caramel pretzel doughnuts at Mei Mei. On October 24, sweet-toothed fans can find Holowchik selling doughnuts at Create Gallery + Cocktail Lounge in Somerville's Bow Market (times TBD), followed by another pop-up at Ashmont Grill on October 25 from noon to 3 p.m. At each location, she said she'll collaborate with her chef friends to create something that works well for that particular audience.
Holowchik's upcoming pop-ups will offer two to three flavors of doughnuts (follow @lionheartconfections for menu releases), but the pastry chef isn't one to be pigeonholed, sharing that she plans to offer other sweets down the line, including ice cream.
"A lot of people are trying to push me into a box, where if I'm doing a bakery it has to have a cutesy name and a flower in the title and sugar," she said. "I went with the name 'lionheart' because I want to show strength and bravery. I like bold flavors, and wanted to showcase that as a female chef."
If you've been to one of Harvest's popular doughnut pop ups, you've already experienced the talents of Joshua Livsey and Kerry Loria. But when the two pastry chefs, who have worked at the Cambridge restaurant together for the past three years, found themselves in need of a project after Harvest temporarily closed in March, they didn't fall back on doughnuts. With a shared love of macarons in common, Macarons by Josh Ganache was born. 
"While we both enjoyed a bit of a down time, I think we ultimately missed the creative aspect of being in the kitchen, of developing textures and flavors and cooking — the energy of that and making people happy," Loria said. "To add that little bit of literal and metaphorical sweetness to someone's day. And so it was sort of like, what can we do? And this is our brainchild."
Macarons by Josh Ganache launched at the beginning of June, and has already produced a couple of seasonal collections with flavors like matcha latte, peach lemonade, and blueberry limeade. Their latest box, which includes 12 macarons and six flavors, is all about fall: apple pie, pumpkin spice, sweet corn, bay leaf, dark chocolate pecan, and maple bourbon. The pumpkin pie uses pumpkin purée, apples are cooked down to make apple butter for the apple pie macaron, and fresh bay leaves are blended with white chocolate to make a bay leaf macaron that, Loria said, tastes like Christmas.
"It's really funny to get the feedback on the ones that we think are most foreign to people, and getting this feedback like, 'Oh I wasn't expecting that, that was so good, that was definitely my favorite,'" Livsey said. "I think bay leaf is definitely going to be one of the fall flavors to do that."
In addition to making exceptional macarons, Livsey and Loria's business also gives back by donating a portion of the proceeds to The Loveland Foundation, which supplies therapy support for Black women and girls. 
"Joshua and I had talked for over a year about going into business together someday," Loria said. "At the time we thought it was really important that, one day in the future, we have our hypothetical company be founded in our own values, and that meant giving back to the community. …It's important that if those are our values, then we start aligning with those things at the very onset."
One glance at Betty Petrova's handmade bonbons and you might think they're porcelain marbles. The artisanal chocolates have a luxurious, glassy sheen to them — too pretty to eat, you might think, until you understand just how good they are. 
Petrova, who came to the United States from Bulgaria five years ago, currently works at Uni in the Back Bay, both on the pastry program and at the sashimi bar. When Uni shut down in March due to the pandemic and Petrova was temporarily without a job, she threw herself into making chocolate, a hobby that she had developed from taking chocolate classes in New York and Las Vegas.
"I decided to focus on creating a small business and working on the things that I love and make me happy," she said.
Petrova Chocolates launched at the end of August and offers boxes of beautifully curated, seasonal bonbons in flavors like espresso martini, peach and earl grey, coconut, black raspberry, and strawberry urfa. It takes three days for Petrova to manufacture a batch, and the window to order them can be quick: Petrova announces the latest batch of chocolates on social media, asks people to order either via the Petrova Chocolates website or through Instagram, and makes them available for pick up at Uni that Sunday. 
Petrova is currently making another round of fall boxes, which features flavors like pear anise, concord grape, and tonka bean caramel, but her next collection, set to launch in a few weeks, is Thanksgiving themed — and pie fanatics will want to take note. Each Thanksgiving box will revolve around classic pie flavors, including apple pie, pumpkin pie, and pecan pie. 
"My idea was mainly that people don't need to make pies this year," Petrova said. "They can just buy chocolates."
Sukker & Sweet isn't exactly new — the bulk candy store opened at The Street Chestnut Hill roughly a year ago — but its journey hasn't followed one of a typical sweets shop. In early March, owners Greer and Michael Missouri closed Sukker & Sweet due to the pandemic, then reopened in August with an entirely new method of offering their global chocolate and candy supply.
"As soon as we understood the severity of the situation, we knew that we were never going to reopen in the same format again," Greer said. "We didn't foresee the bulk candy thing being something that people were going to be excited about in a new normal, nor did we feel like we could safely offer it. So we were always looking for the next steps."
Those next steps included refining their candy collection from 200 offerings down to 71, then designing custom pouch packaging for each candy, from salt licorice logs and Swedish berries to white chocolate rice bark and mint chocolate digestifs. The best sellers are still there, along with new imported products that were tested while the shop was closed, like a line of chocolates from Greece.
But the Missouris also knew that if they wanted to stay ahead, they'd need to come up with their own products.
"It's great to source all of these beautiful candies globally and then package them locally, but we want to make a name for ourselves as a brand as well," Greer said.
At the beginning of November, Sukker & Sweet will launch its own line of chocolates and "sukkers" (lollipops). The chocolate bars — which are all gluten free, soy free, dairy free, vegan, and kosher — will come in flavors like lavender, milk chocolate with Nantucket sea salt, and mint truffle (which also happens to be keto-friendly). The sukkers will be available in blackberry, peach, watermelon, mint chocolate chip, and cotton candy flavors, all rolled in 24-karat gold flakes.
"It's been such a challenging time for us as a business, personally and professionally, but we really just tried to see it as a blessing in disguise in that we're so excited for this new direction," Greer shared. "We wouldn't have been forced to think about this new direction or challenge ourselves to this level of growth in such a short time if it weren't for the circumstances that we're in."
Get Boston.com's browser alerts:
Enable breaking news notifications straight to your internet browser.