Restaurants
The Boston Police Patrolmen's Association has apologized after calling out a local taqueria on Twitter
Read what Yellow Door Taqueria said in response.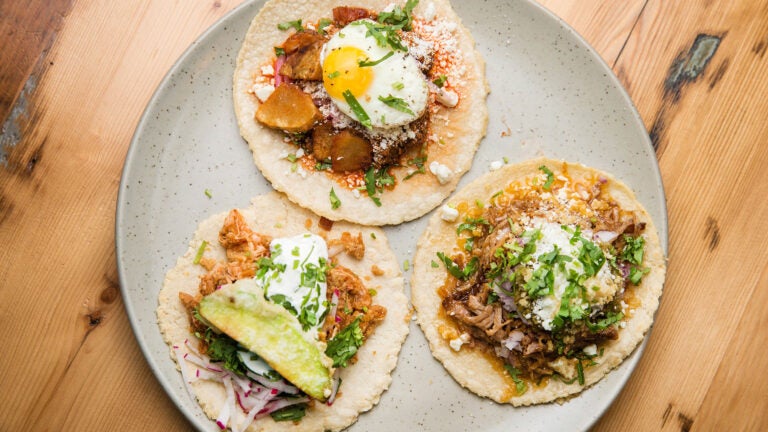 After calling out a former Yellow Door Taqueria employee on Twitter, the Boston Police Patrolmen's Association has apologized to the taqueria's management team.
On Tuesday, the BPPA tweeted out two photos: On the left, a screenshot from Instagram user @hot_empath, whom they identified as Caitríona O'Grady; on the right, a screenshot from a 2018 episode of "Broad Appeal," which showed O'Grady making a cocktail. The Instagram post from O'Grady detailed her experience at Sunday's protest in Copley Square and stated, "My mind hasn't stopped racing since this violent protest ended, my eyes are burning from the pepper spray on my clothes, my body is recovering from the batons I took to the shoulder and neck (not to mention the groping I endured) as my comrades and I tried to protect one another in the streets today."
"To be clear, we're not looking to bully or boycott anybody," BPPA's tweet read. "But, @yellowdoortaco should know that we like our martinis served with dignity and respect. As such, we'll be encouraging our members to think twice before spending any of their money on any of Ms. O'Grady's concoctions."
In a statement, Yellow Door Taqueria told Boston.com that "The individual identified in the tweet has not been an employee of Yellow Door Taqueria since 2018."
A few hours after posting their initial Tweet, the BPPA apologized to the taqueria.
"Our apologies to the fine folks and management at @yellowdoortaco," they wrote. "Since our original post, we've learned the individual who disparaged, disrespected and denigrated our officers on Sunday is no longer employed by the establishment and hasn't been for some time. Our apologies."
In response to Boston.com's request for comment, O'Grady wrote in an Instagram message that "at this time I'm processing all of this with friends and family and I will reach out if/when I'm ready to speak with press."
While some users agreed with the BPPA's stance — "Won't be going there," @tom_steely wrote — the majority of responses disagreed with the original post.
"You are encouraging your members to not spend money at this establishment," wrote @knit1_purl2. "Just what do you think 'boycott' means? And fine, you want to tell your fellow cops to stay away, that's okay. But don't dress it up as something it isn't. Own your call to boycott."
"This is incredibly irresponsible of you," @Lecil wrote. "This is the very definition of bullying and calling for a boycott. As a tax payer in Boston, trust me, this will be part of my considerations come next election day!"
And it turned at least one Twitter user into a new Yellow Door Taqueria customer.
"This sure backfired on you, eh?" @CwubzTweets wrote. "On the bright side, at least I know where my next drink is coming from. Thanks for the recommendation! <3"
Get Boston.com's browser alerts:
Enable breaking news notifications straight to your internet browser.