Restaurants
'We just want this to be very true to Italy': Caffé Ducali opens in the North End
The espresso bar debuts on October 22.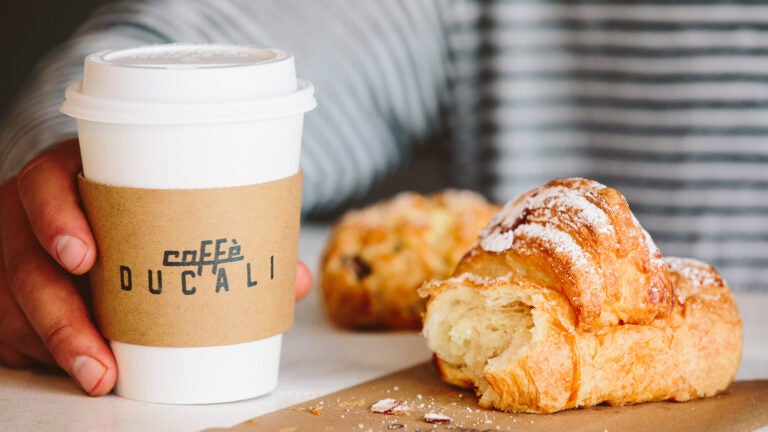 North End denizens and visitors will have a new way to get their morning buzz this week when the team behind a local restaurant group opens Caffé Ducali on Causeway Street.
The Filmark Hospitality Group (Ristorante Lucia, Filippo, Ducali, and Cunard Tavern) is set to debut the Ducali-adjacent espresso bar in the North End on Thursday. Decked out in white subway tile, marble countertops, and garage-style windows, Caffé Ducali aims to serve as a breakfast, lunch, and coffee stop with a menu that offers both sweet and savory options. Nutella croissants, breakfast sandwiches, and a rotating selection of pastries will kick off the morning from 7 a.m. to 11 p.m., followed by lunch items like flatbread sandwiches and Roman-style pizza served "al taglio" — slices that are measured "to the cut" — from 11 a.m. to 4 p.m.
"We were playing around with the idea of doing an espresso bar for a couple years now," Phil Frattaroli, managing partner and CEO of Filmark Hospitality Group, told Boston.com. "It was always a goal to open a brick and mortar space next to Ducali here in the North End, but with the pandemic and the closings of indoor dining, it kind of gave us the opportunity that we were waiting for to get that worked on."
With help from a Bezzerra espresso machine imported from Milan, the cafe will offer a variety of coffee selections throughout the day, including espresso, cortado, macchiato, and latte, as well as drip coffee, cold brew, matcha latte, and hot tea.
"The origins of much of American coffee culture come from Italian coffee culture and espressos," Frattaroli said. "With Ducali, we really wanted to celebrate authentic Italian pizza, and this is a way for us to celebrate authentic espresso and coffee culture."
Frattaroli said they're even toying with the idea of removing cappuccinos from the menu in the afternoon, since "there's a very strict rule in Italy that you're not allowed to have cappuccinos after 11 in the morning."
"We just want this to be very true to Italy," he said.
Caffé Ducali; 289 Causeway St., Boston; Daily from 7 a.m. to 4 p.m.; duca.li/caffe
Get Boston.com's browser alerts:
Enable breaking news notifications straight to your internet browser.