Restaurants
The Novel Kitchen opens within Brookline Booksmith, offering chocolate flights and DIY pour-over coffee
"We want this to be really experiential," said owner Jenn Mason.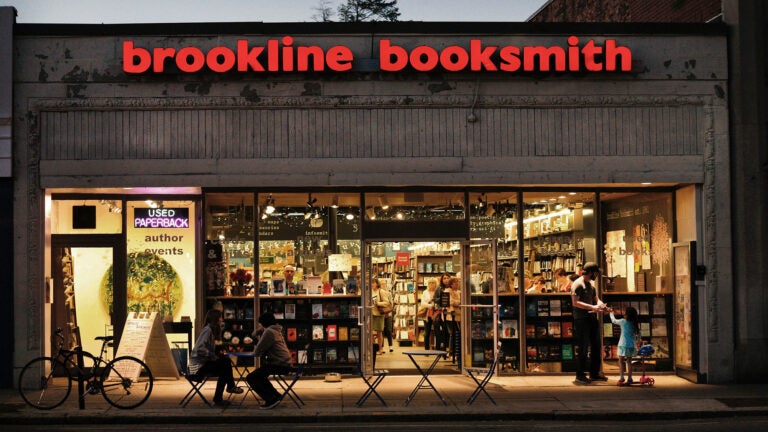 "The first thing you should know is that we chose the name very carefully," Jenn Mason, owner of Brookline's Curds & Co. and the recently opened The Novel Kitchen, explained over the phone.
The Novel Kitchen's name is a nod to its digs inside Brookline Booksmith, which took over a former Verizon store last year and recently transformed the additional space into a retail shop with room for the eatery. But it also references the need to create something entirely new for these times, Mason explained.
"In some ways we thought, what does the COVID-19 cafe look like?" she said about the restaurant, which debuted on Nov. 27. "We're not a bistro; you can't get a burger here. We're not a cafe. We're even handling coffee and tea differently. We're not like a coffee shop in a bookstore. We're breaking all sorts of rules. We want this to be really experiential."
Mason said The Novel Kitchen operates as a "no-cook restaurant," partnering instead with local artisans to supply ingredients for cheese plates, Mediterranean mezze plates, and smoked salmon plates. Hummus from Just Hummus is given a special treatment — "we're adding our own secret ingredient" — for the mezze plate, while chocolates from Chocolate Therapy, a Framingham-based chocolate truffle shop, are used in chocolate flights. Guests can choose from a six-piece chocolate flight accompanied by three wines (Brookline Booksmith recently acquired a liquor license), or a chocolate and cheese flight that includes three truffles and three types of cheeses. Marinated feta cheese comes in a jar that customers can take home.
The Novel Kitchen's coffee section seems to be built for a socially distanced world. The eatery offers DIY pour-over coffee from Copper Cow Coffee, which allows guests to pour hot water over a specially-made coffee filter at their own leisure. There is Vietnamese coffee to start, with a sweetened condensed milk packet that arrives with each pour-over order, and Mason said they're working on bringing in additional flavors.
"It's really just designing a place to eat and have an experience, which is what we're all missing right now," she said. "We want to break up the monotony but also be part of this institution that's been here for forever."
While The Novel Kitchen was originally designed to offer seats for roughly 45 people, there will be 16 seats available when it first opens. Surrounded by bookshelves, the space offers lunch and dinner to start, and will eventually offer breakfast and host special events. Everything on the menu is also available for takeout.
"I think we're bringing some happiness up here to Coolidge Corner," Mason said.
The Novel Kitchen at Brookline Booksmith; 283 Harvard St., Brookline; Daily 11:30 a.m. to 7:30 p.m.; thenovelkitchen.com
Get Boston.com's browser alerts:
Enable breaking news notifications straight to your internet browser.