Restaurants
Don't want to cook for the holidays? These local restaurants are offering Thanksgiving takeout meals.
Consider skipping a home cooked meal this year and supporting restaurants instead.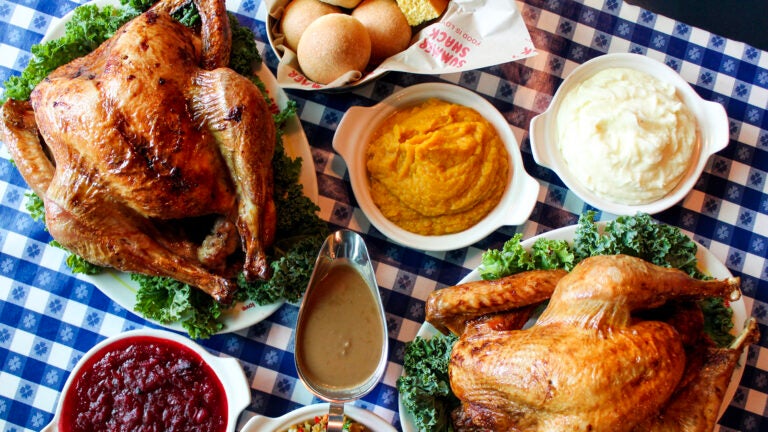 With travel restrictions in place and the persistent rise of COVID-19 cases and hospitalizations in Massachusetts, state officials have advised against gathering in big groups outside of your immediate bubble for Thanksgiving this year, instead limiting the celebration to your own household.
It's a bummer, we know. But your household still has to eat, and with restaurants experiencing incredible hardships due to the pandemic, ordering Thanksgiving takeout from local businesses is one way to both feed your family and support Boston-area restaurants.
Some restaurants have assembled dinner kits that are ideal for one or two people, while others are offering out-of-the-box pies. For pick ups scheduled before Thanksgiving Day, most places will provide re-heating instructions to ensure your meal is restaurant-worthy by the time you sit down to eat. Wherever you choose to order from, a takeout haul from one of these restaurants offering Thanksgiving takeout dishes will guarantee that you don't have to spend an entire day cooking.
Check back soon, as we'll be updating this list regularly, and be sure to fill out our poll at the bottom to share your own Thanksgiving dinner plans.
Alcove
Perfect for a family of four, Alcove's Thanksgiving feast features all the basics: turkey, gravy, cranberry sauce, stuffing, smashed potatoes, Brussels sprouts, and your choice of apple or pumpkin pie. For macaroni and cheese fans, a side of the good stuff can be tacked on to your order for $20.
Order by: Nov. 23
Pick up: Nov. 25 from 5 p.m. to 9 p.m., Nov. 26 from noon to 8 p.m.
Anoush'ella
Chef Nina Festekjian is taking Anoush'ella's Armenian Lebanese roots and applying it to the South End restaurant's Thanksgiving lineup. The full menu feeds four to six people for $155, and includes butternut squash hummus, turkey-zucchini kofta, spiced couscous, Thanksgiving labneh, and more — plus some creamy rice pudding for dessert.
Order by: Nov. 24
Pick up: Nov. 25 or Nov. 26
Bambara
Hosting dinner for one or a dramatically pared down guest list this year? Bambara's $25 dinner kits are ideal for one person (though a two-person minimum is required). Each kit features turkey, mashed potatoes, chestnut stuffing, cranberry sauce, gravy, Brussels sprouts, and your choice of apple or pumpkin pie, with the option to add on additional items. A portion of proceeds from each kit will be donated to No Kid Hungry.
Order by: Nov. 18
Pick up: Nov. 25, noon to 8 p.m.
Barra
Swap turkey for roasted pork leg or Mexican lasagna this Thanksgiving with an order from Barra, Somerville's excellent Mexican watering hole and restaurant. The pint-sized eatery has mashed potatoes on the menu, but also esquites, cactus salad, and tamales, including a pumpkin tamale that is just as good (maybe better?) than pumpkin pie.
Order by: Nov. 23
Pick up: Nov. 25 or Nov. 26
Bianca
This newcomer from Boston restaurateurs Tim and Nancy Cushman is on the verge of opening at The Street Chestnut Hill. It's also getting in the Thanksgiving game this year with a turkey dinner for six, plus a selection of à la carte items, including fennel sausage stuffing, wood-fire rotisserie chicken (because turkey isn't for everyone), and macaroni and cheese. For dessert, don't skip out on Bianca's collaboration with neighbors OddFellows Ice Cream Co.: a brown bread-infused ice cream.
Order by: Nov. 18 for turkey, Nov. 22 for everything else
Pick up: Nov. 24 and Nov. 25, 11 a.m. to 2 p.m. and 6 p.m. to 9 p.m.
Citizen Public House
Known for its pig roasts, it's no surprise that Citizen Public House is going whole hog for Thanksgiving. Guests can order a whole roasted pig or select the "Family Pig Meal," which comes with spice-rubbed ribs, grilled tenderloin, smoked belly, and other cuts, plus three sides, two sauces, and pickles. At $299, the pig meal serves five to six people.
Order by: Nov. 24
Pick up: All day Nov. 25, by 1 p.m. Nov. 26
Colette
Enjoy a safe Thanksgiving at home thanks to chef Cyrille Couet and the folks at Colette, who are cooking up all the necessities for à la carte takeout. There's an oven-ready bird — brined, seasoned, and buttered — and sides galore, including creamy mashed potatoes, braised Brussels sprouts, brioche stuffing, and gluten-free rosemary gravy.
Order by: Nov. 22
Pick up: Nov. 25
Coppa
Order the turkey ($125), the sides ($125), or both ($240) at Coppa this year, alongside a selection of fun additions like day-after sandwich kits and bags of oysters. The ready-to-cook turkey is an anise and nardello pepper-brined bird, while sides include sausage stuffing, porcini and celery root purée, cranberry sauce with orange and ginger, and more.
Order by: Nov. 16
Pick up: Nov. 25
Davio's
Available at the Seaport and Back Bay locations, Davio's has a comprehensive Thanksgiving to-go option available for $55 per person. Each order comes with turkey, Yukon Gold creamy potatoes, butternut squash, challah bread herb stuffing, cranberry apple chutney, and a few more sides. Add a homemade apple pie, pumpkin pie, or pecan tart for $12 each.
Order by: Nov. 24
Pick up: Nov. 25 or Nov. 26
Fresh City Kitchen
This Jamaica Plain-based catering company has options for dinner tables of all sizes, with Thanksgiving dinner packages for 2, 5, 10, and 15 people. Each package comes with turkey — and the option to select white meat only — along with mashed potatoes, cornbread stuffing, roasted root vegetables, gravy, and cranberry relish, with additional sides and dessert sold separately.
Order by: ongoing
Delivery: Nov. 25
Gather
Choose from Gather's two Thanksgiving to-go options: dinner for four ($95) or dinner for six to eight ($175). Each package includes turkey, mashed potatoes, maple-roasted sweet potatoes, sautéed green beans, cornbread stuffing, cranberry sauce, and turkey gravy, with apple or pumpkin pie for dessert.
Order by: Nov. 20
Pick up: Nov. 26, 9 a.m. to 10 a.m.
Grill 23 & Bar
The biggest decision you'll have to make when ordering a Thanksgiving takeout package from Grill 23: turkey or roast? Choose from a Misty Knoll Farms turkey or a herb-marinated chateaubriand roast for two or four people, both of which are accompanied by salad, roasted carrot and coconut soup, cranberry sauce, brioche rolls, and a few other sides.
Order by: Nov. 22
Pick up: Cold on Nov. 25 or hot on Nov. 26
KO Catering & Pies
Boston's favorite Aussie pie shop has a special treat for the holidays this year: A $125 Thanksgiving feast that includes a 12-inch "mega pie" made with turkey and mirepoix, featuring a cranberry sauce base and a potato baked topping. And there's plenty more: sausage roll stuffing, green beans and sweet potatoes, bacon fat corn bread, a tup of gravy, and sticky pumpkin pudding with maple butterscotch sauce. Order by e-mailing [email protected]
Order by: ongoing
Pick up: Cold on Nov. 24 and 25 or hot on Nov. 26
Mamaleh's
This Jewish deli in Kendall Square has a stellar — and slightly out-of-the-box — lineup for Thanksgiving: braised brisket, challah stuffing, roasted cranberry sauce, stuffed honeynut squash, sauerkraut by the pint, charoset pie, and more. Order cocktails for the table, like malted brandy Alexander milkshakes or spiked hot cider.
Order by: ongoing
Pick up: Nov. 24 or Nov. 25 from 10 a.m. to 8 p.m.
Miel Brasserie
The Intercontinental Boston's Miel Brasserie has a stacked Thanksgiving menu on hand this year. It's a splurge — $425 for a feast that will serve eight to ten people — but arrives with all the necessities: brined herb maple glazed turkey breast, roasted sweet potato, pecan roasted squash soup, a bevy of other sides, and pumpkin pie.
Order by: Nov. 19
Pick up: Nov. 26, noon to 5 p.m.
New City Microcreamery
If you've taken care of everything except dessert, consider New City Microcreamery for a slightly unconventional sweet offering. The ice cream shop will offer apple, pumpkin, and pecan pies this year, anchored by a homemade waffle cone pie crust and topped with homemade whipped cream.
Order by: Nov. 22
Pick up: Nov. 23–Nov. 25 at both Hudson and Cambridge locations
Osteria Posto
This cozy Waltham restaurant will transport Thanksgiving into your home with a customizable takeout dinner ($75 per person, two-person minimum). Each order comes with roasted turkey, cornbread stuffing, gravy, cranberry and orange relish, and Parker House rolls. From there, choose two hors d'oeuvres (think shrimp cocktail or stuffed mushrooms), three side dishes, and either an apple crumb crostata or a pumpkin pie square.
Order by: Nov. 22
Pick up: Nov. 25 or Nov. 26
Puritan & Co.
It's all about sides and pies at Puritan & Co. this Thanksgiving. The Inman Square bôite is now offering a lineup of extras like Gruyere and thyme scalloped potatoes, buttermilk and confit garlic mash, cinnamon apple sauce, and Parker House rolls. For dessert, stock up on apple, pecan, and pumpkin pies.
Order by: ongoing
Pick up: Nov. 24 and Nov. 25, noon to 8 p.m.
Rochambeau
French hot spot Rochambeau has put together a menu of must-have Thanksgiving dishes, with appetizers and entrées that feed up to four people and desserts that feed up to six. Choose from charcuterie and cheese boards, brined and roasted turkey, tarragon-roasted sweet potatoes, roasted Brussels sprouts, and pecan, pumpkin, or apple pie.
Order by: Nov. 20
Pick up: Nov. 26, 10 a.m. to 4 p.m.
Sarma
In search of a Mediterranean theme to your holiday meal? The Somerville standout has two Thanksgiving feasts to offer guests this year: one with turkey ($130 for two) and one without turkey ($100 for two). Dine on sweet potato challah, pita bread stuffing, Persian jeweled rice, pistachio creamed greens and other delights, with the option to add cocktails and wine to your order.
Order by: ongoing
Pick up: Nov. 25, starting at 10 a.m.
Smith & Wollensky
Take home Smith & Wollenksy's spread of elevated classics for $295, which includes enough fixings to serve four to six guests (with leftovers). Included in the spread: ready-to-roast turkey breast, sausage and cornbread stuffing, potatoes au gratin, cranberry relish, and more, plus apple tart and pecan pie for a sweet finish.
Order by: Nov. 14
Pick up: Nov. 25
Stillwater
Welcome to The Side Show, chef Sarah Wade's side-centric Thanksgiving menu that allows you to focus solely on the turkey. Each item on the à la carte menu can feed six to eight people, and features tried-and-true side dishes like creamy mashed potatoes, turkey gravy, country white rolls, and smoked bacon and Vidalia onion green beans. Add on a dessert — the bourbon pecan chocolate chip pie sounds heavenly — and a couple cocktails to go, and you're set.
Order by: Nov. 23
Pick up: Nov. 25, 11 a.m. to 4 p.m.
Summer Shack
It didn't take a pandemic for Summer Shack to start offering Thanksgiving takeout — the Cambridge and Boston restaurants have been doing this for the past 15 years. Order an oven baked or Cajun deep fried turkey, or go big and order a whole turkey dinner, which comes with turkey, squash, mashed potatoes, gravy, stuffing, and cranberry sauce, and feeds eight to ten people.
Order by: ongoing
Pick up: Nov. 25, noon to 6 p.m.
Sweet Cheeks
The Fenway barbecue spot has a Thanksgiving package for both two ($89) and five-to-seven ($189) guests this year, featuring dishes like brined and smoked turkey breast, green bean casserole, buttermilk biscuits, and 24-hour turkey gravy. But if you're looking to add on to your own home cooking, take a peek at the à la carte options, which range from brisket and smoked Duroc pork to baked macaroni and cheese and candied yams. For dessert, pastry chef Dee Steffen Chinn is offering pumpkin pie, maple buttermilk pie, and malted chocolate cream pie.
Order by: Nov. 21
Pick up: Nov. 25
Sycamore
This Newton restaurant has a Thanksgiving menu that's all about the extras. Diners can choose from "some snacks while you're cookin'," which features items like Georgia shrimp cocktail, chicken liver mousse, and smoked bluefish pâté, or pick up sides like smoked chorizo dressing or cranberry and port chutney. Need something for the main event? There's also a Green Circle chicken and moulard duck confit on the menu.
Order by: Nov. 17
Pick up: Nov. 24 or Nov. 25 after 1 p.m.
The Beehive
Turkey is, of course, on the menu for this South End spot's Thanksgiving to-go feast, but you can also opt for baked salmon or slow-roasted beef brisket if the bird isn't your jam. The $275 feast, which serves four people, also includes pumpkin bisque, mashed potatoes, stuffing, cranberry sauce, chocolate chip cookies, and more delectable sides.
Order by: Nov. 20
Pick up: Nov. 25 and 26
The Smoke Shop
On the heels of opening its new Harvard Square location, The Smoke Shop is now offering a few Thanksgiving dinner options for the upcoming holiday. Guests can choose from an à la carte menu, which includes smoked turkey, ham, brisket, green bean casserole, and other dishes, or pick up a complete Thanksgiving package for two or four people. Inside the package: turkey, ham, cranberry sauce, gravy, Texas toast stuffing, green bean casserole, mashed sweet potatoes, butter cake, and bourbon pecan pie.
Order by: Nov. 22
Pick up: Nov. 25, 11 a.m. to 10 p.m.
Tiger Mama
Forget the mashed potatoes and cranberry sauce — how about milk bread stuffing and Thai green beans instead? Southeast Asian restaurant Tiger Mama has a "Tigergiving" menu for two ($165) available this year, and it's switching things up with a smoked half duck, turkey pad gra pow, and wok charred root vegetables, plus a few more fun sides. To finish the meal, a coconut sweet potato pie takes the place of your standard pumpkin pie.
Order by: Nov. 21
Pick up: Nov. 25
Trina's Starlite Lounge
Somerville hangout Trina's is celebrating the holiday by offering both a bevy of sides or bundles (turkey and sides) for two, four, and six people. Pick and choose from items like Q's famous corn bread, pumpkin hummus, macaroni and cheese, and biscuits, as well as pies like bourbon pecan and hot chocolate mousse. To drink, tack on some large format versions of Trina's favorites: Rockin' Chair, Drunken Monkey, Raspberry Fizz, and Fallen Angel. Orders can be placed by e-mailing [email protected]
Order by: Nov. 21
Pick up: TBD
Get Boston.com's browser alerts:
Enable breaking news notifications straight to your internet browser.