Restaurants
This weekend: Nashville hot chicken sliders, fried Oreos, and other comfort food to help us eat our feelings
Plus, the food news you may have missed this week.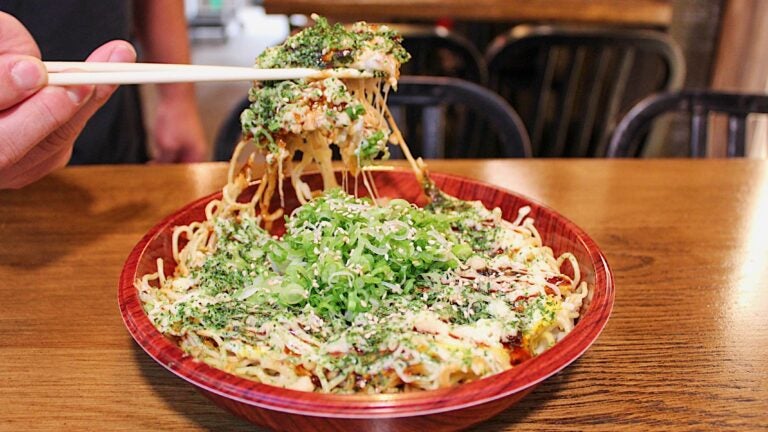 We're all eating a little differently these days: Cooking at home more. Ordering takeout. Now that Phase 3 is well underway, though, some of us are starting to dine indoors again. Whatever your comfort level, here's what's been going on in Boston's restaurant world recently, plus a few ways to enjoy some of our region's best restaurants and bars from both the comfort of your own home and out in the world.
Here's what you may have missed this week:
Phew, what a week. Starting Friday, you may notice that restaurants across Massachusetts will start to close earlier. That's because Gov. Baker announced a new 9:30 p.m. table service mandate — here's how restaurateurs responded.
Tree House Brewing announced plans to open a Cape Cod location with stunning views this summer. "A brewery and taproom on the ocean or beach is rare and we couldn't be more pleased to jump at the chance to enjoy it with you," the brewery shared.
Don't want to cook for the holidays? These local restaurants are offering Thanksgiving takeout meals. Bonus: You're supporting restaurants while minimizing your time in the kitchen.
Stress eating and exercising: Here's how Boston.com readers are managing their election anxiety. (Can't let all of that Halloween candy go to waste.)
Lamplighter Brewing Co. recently joined the list of restaurants that are hibernating this winter. But don't worry — the Cambridge brewery is still offering cans to-go at its takeout window.
Drink this:
Whoo, boy. If there was ever a time we all collectively needed a giant, Ina Garten-esque cocktail, this week was it. Unfortunately, commiserating in bars is harder to finagle now, but…how about a booze-filled cart that rolls right up to your table?
That's the idea at Barcelona Wine Bar, which recently kicked off a new tableside gin and tonic cocktail cart at both its Brookline and South End locations. You can choose from a short menu of variations — "Leaf," featuring juniper berries and bay leaves; "Root," featuring ginger beer, cardamom, and ginger; and three other options — and the drink will be whipped up beside you to your specifications. We may not be able to really experience bars right now, but a little flair and personal attention at least partially makes up for it.
Eating and cooking alone, together:
The weather gods have blessed us with what appears to be *checks notes* almost a full week of temps in the mid-60s ahead. This might be our last chance to enjoy outdoor patios without bundling up in six layers of clothing, so let's get out there and show our favorite restaurants some love. One easy way to hit up a few spots this weekend: On Saturday from 6 p.m. to 9:30 p.m., the Somerville Arts Council will host "Ignite, A Night Out," a chance to try fiery cuisine and global drinks while taking in the art installations around Union Square. Stop by Tanám in Bow Market for a $20 combo (grilled chicken or eggplant rice bowl with a special Ignite cocktail), or check out the newly opened Hen, which will be serving the Spicy #5. Don't forget to wear a mask, socially distance, and BYOB — bring your own blanket, just in case it gets chilly at night.
We're all still eating our feelings as we wait out the results of the election, right? Cool, cool. May I suggest a trip over to the Starlite Snack Shack, which will wrap up its own Fair Week before it heads into hibernation soon? Fair Week has it all: Funnel cake fries, loaded baked potatoes, doughnut holes, fried Oreos, caramel apples, and anything else that screams "I'd rather be at the top of a Ferris wheel than doomscrolling through my phone right now." Thank you, Starlite. Some other comfort food ideas: Nashville hot chicken sliders, a specialty item at The Smoke Shop BBQ's brand new Harvard Square location; a big ol' plate of okonomiyaki from Gatetsu-Ya in Brookline; or a Freeze from the Taco Bell Cantina that opened on Comm Ave. this week, because why not.
Do you have an amaro fan in your life and are you willing to spend $220 on them? If so, please direct your attention to Fox & the Knife's new Fox Flight Club, a three-month subscription that shines a spotlight on three domestic and international brands of amari, aperitivi, and digestivi each month. Each themed box includes three spirits, tasting notes, and serving suggestions, with recipes and cocktails either printed or available through a QR code. Boxes can be picked up at Fox & the Knife each month, and subscriptions must be ordered by November 15 (call 617-766-8630 to order).
Get Boston.com's browser alerts:
Enable breaking news notifications straight to your internet browser.