Restaurants
The Restaurant Strong Winterization Grant aims to help restaurants outfit their spaces for the winter
Each accepted restaurant will receive a $10,000 grant.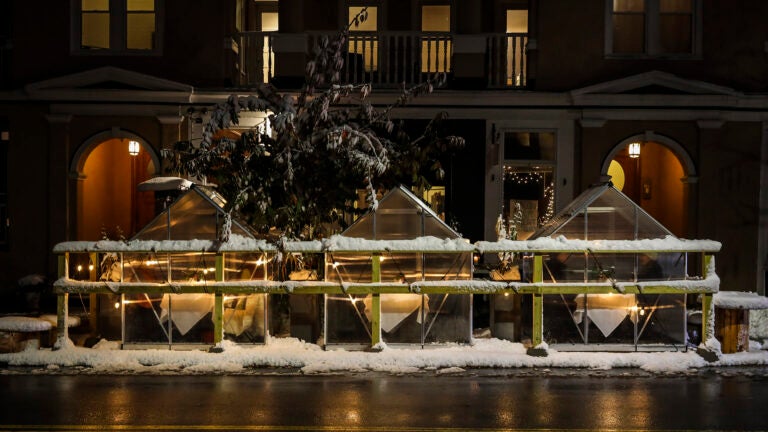 Igloos, greenhouses, hard-to-find heaters: As winter approaches, some restaurants are spending thousands of dollars to outfit their outdoor dining spaces. A new grant program with local roots is hoping to help soften the financial blow.
Woburn-based The Greg Hill Foundation, which addresses the needs of families who have been hit by tragedy, teamed up with food ordering and delivery service Grubhub to debut The Restaurant Strong Winterization Grant, which will provide $2 million in relief to restaurants needing assistance with outdoor dining this winter. Starting Monday, restaurants in Boston, Chicago, New York, and Philadelphia can apply for a $10,000 grant through the foundation's Restaurant Strong Fund, which The Greg Hill Foundation and Sam Adams launched together in April.
Eligible restaurants and restaurant groups must have five or fewer locations, and may apply for the grant until Nov. 21 by submitting a detailed plan for winterizing their outdoor spaces. Each city will accept 1,000 grant applications, and grants will begin rolling out on November 23.
The $2 million comes from Grubhub's Community Relief Fund, which was created in March to help restaurants impacted by COVID-19. The Restaurant Strong Fund will also be accepting donations for the winterization grant in hopes to extend the program past its initial launch.
"This winter will be different than any one before, with the restaurants we know and love needing more support to get through the season," Seth Priebatsch, chief revenue officer at Grubhub, said in a press release. "Our partnership with the Restaurant Strong Fund — already instrumental in providing grants for restaurant employee relief earlier in the pandemic — is now responding to the needs of restaurants and providing valuable support to help them survive the challenging months ahead."
As outdoor dining in Massachusetts stands right now, some restaurants will have a limited amount of time to use those funds. In September, Gov. Charlie Baker extended the state's timeframe for outdoor dining to Dec. 1 for businesses using public space on streets and sidewalks. (Restaurants that use private space for outdoor dining are able to continue using that space throughout the public health emergency.) Portland, Maine, recently allowed restaurants to apply for outdoor dining permits that are eligible through March, but according to Boston officials, there currently aren't plans to extend outdoor dining beyond Dec. 1.