Restaurants
Sam's Spot Restaurant and Catering opening soon in Dorchester
Samantha Anson will serve Southern and Caribbean-inspired food for breakfast, lunch, and dinner.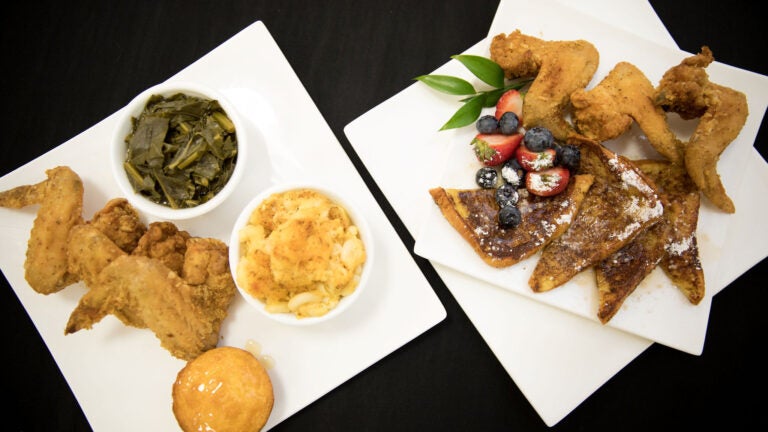 When Sam's Spot Restaurant and Catering opens in Dorchester later this month, Samantha Anson is hoping to create a welcoming space for food and community, even during a global pandemic.
The Roxbury native, who started selling plates of her Southern and Caribbean-inspired food out of her home around 2014, built a catering company from the ground up and will soon open her first brick-and-mortar restaurant right by the Fields Corner T station. The eatery will serve breakfast, lunch, and dinner, drawing on her family recipes and customer favorite dishes, like chicken wings, fried okra, and jerk pork.
"The fine-dining options are more so our catering thing, and the restaurant is more home-style, like if you go to grandma's house," Anson said. "Just making sure that we stick to our roots, but also what the people like."
Growing up, Anson was surrounded by good food. "My grandmother's from the South and my father's from Jamaica, so I have a lot of authentic dishes that I'm familiar with just from being in my house," she said. Her Jamaican side of the family cooked family dinners every night, often with rice with every meal. Her grandmother was a big culinary influence, Anson said, because "she was big on feeding people. She was big on family and just bringing everybody together through food."
Anson initially started cooking for family and close friends. She posted pictures of her food online and enough people seemed interested she thought she'd roll up her sleeves and give selling plates a try.
"I'm just big on not giving up," she said of those early ventures. "Like, even if the turnout for the first time wasn't so great, I would have still tried it again just to kinda see what would happen, you know?"
What happened was that business took off by word of mouth, and she soon expanded into catering for events. She attended Le Cordon Bleu College of Culinary Arts in Cambridge before finishing her studies at the Salvation Army Boston Kroc Center Culinary Arts Training Program, run by chefs Timothy Tucker and Eric Hall. She kept the business up while she moved to Providence, R.I., for a few years, and returned to Boston in 2018. Then, she sold her food out of a pizza shop for a bit to build up her clientele, before renting out the kitchen at the now-shuttered Revel Lounge in Quincy for about eight months.
"That built up a big buzz for having people know that we're the staple place to come get fried chicken," she said. She also whipped up comfort food favorites like mac and cheese and collard greens, but the bites of fried wings for the late-night crowd really took flight, leading her to bottle and sell her honey mustard sauce and seasoning blends online.
She left Revel in 2019 and in August of this year secured a kitchen and small events space in Fields Corner. She's opening the restaurant in the space next door, and the 800 square-foot space will mostly be focused on takeout during COVID.
"I wanted to expand my options and not just rely on catering orders," she said. "I really felt like this was a now or never time."
Expect soul food and Caribbean favorites when the restaurant opens its doors, like collard greens, sweet potatoes, Cajun chicken and shrimp fettuccine, and a six-cheese baked macaroni and cheese that Anson counts among her favorite dishes. Mondays and Tuesdays will focus on Southern dishes that are less common in Boston, like chicken livers and fried okra.
Anson is also looking forward to hosting networking events for small businesses in the future. She's hosted several over the years, inviting small business owners to share resources, information, and advice.
"We're just starting off small, but we look to expand and be a pillar in the community," Anson said. "To be a hub of resources, a hub of great food, and just to have good energy."
Sam's Spot Restaurant and Catering, 1476 Dorchester Ave., Dorchester, samsspotcatering.com.
Get Boston.com's browser alerts:
Enable breaking news notifications straight to your internet browser.