Restaurants
Stonewall Kitchen's new PB&J Café opened at the Boston Children's Museum. Some parents aren't happy.
"The health and safety of our guests, especially children, is our primary priority," the company wrote.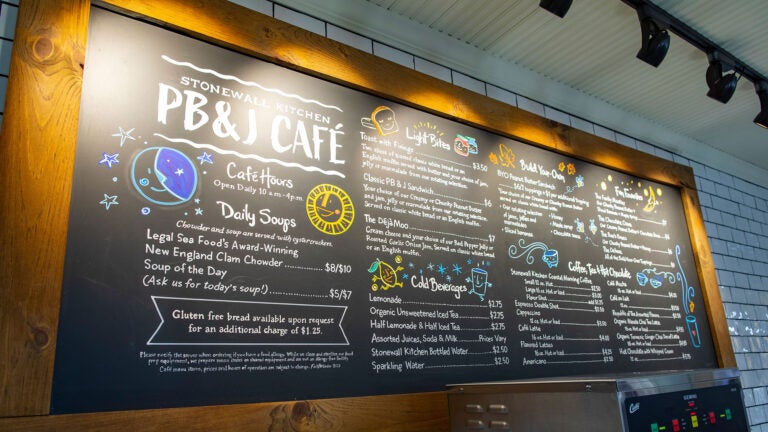 Think a cafe serving peanut butter and jelly sandwiches sounds like the ideal addition to a children's museum? Tell that to the parent of a child with a peanut allergy.
On Friday, when some people were perfecting their post-Thanksgiving turkey sandwich, a new sandwich shop opened inside Boston Children's Museum: PB&J Café, a kid-focused eatery from Maine-based specialty food producer Stonewall Kitchen. Its menu has all the makings of a lovingly-packed school lunch: build-your-own peanut butter sandwiches; toast with jam, jelly, or marmalade; and cream cheese and jelly served on English muffins. Clam chowder from Legal Sea Foods is also on the menu, along with coffee, tea, and hot chocolate.
But many parents responded to the opening with concern, citing the dangers to children with peanut allergies, whether they eat in the cafe or not. When the Boston Children's Museum announced the cafe's arrival in a Facebook post on Friday, the comment section filled with replies calling the move "tone deaf," "disappointing," and "unsafe."
"Most preschools are nut free, schools offer sun butter and nut free alternatives and you take the stand to alienate a group of children who are protected by the Americans with Disabilities Act," Ann Montague wrote. "Just because this disability is not seen or obvious it is a life threatening daily disability for so many. Not an inclusive restaurant decision."
"Will there be an alternatives offered for children with nut allergies?" Kristin Moul Driscoll asked. "Any protocols around hand and face washing after consumption? Families are obviously free to make any food decisions for their family, but as a mother to a severe peanut/tree nut child, this makes the museum very risky for us now."
In response to the flood of concern, Boston Children's Museum wrote a follow-up post, noting that "The safety and wellbeing of all children is our top priority and we want to address your comments." The museum shared that Stonewall Kitchen is an independent company and separate from the museum, and that "no food of any kind is allowed in the Museum exhibit halls."
Stonewall Kitchen did not immediately respond to Boston.com's request for comment. The company posted a statement on its Facebook page and attached it to the Boston Children's Museum's follow-up post.
"We appreciate your concerns about allergens at our recently-opened Stonewall Kitchen Café," the statement said. "The health and safety of our guests, especially children, is our primary priority. Please be assured that we genuinely understand the gravity that this allergen poses for some children (and adults) and are diligent to follow all regulations and protocols to keep people safe. As a food and restaurant company regulated by the FDA and numerous other agencies, we manufacture and serve products with nearly every major allergen, so we are acutely aware of the risks associated with allergens."
Stonewall Kitchen pointed out that the museum previously leased out the space to Au Bon Pain and McDonald's — "two restaurants which also feature numerous allergens in their menu," Stonewall said. It also noted that visitors do not need to pass through the cafe or the new Stonewall Kitchen shop located next to it in order to get to the museum, and that the cafe's entrance, as well as the main entrances on Congress Street, feature allergen warnings on the doors.
"Lastly, we do happily provide alternatives to peanut butter for those desiring sandwiches, including almond butter or jam-only options," the company concluded.
Still, some prospective museum guests were not convinced that Stonewall's safety measures or alternatives would protect those with allergies.
"You can say that there are doors between your place and the restaurant, but it's not good enough protection for the many, many children who deal with the #1 food allergen," Michelle Brassens wrote. "There will be countless families who choose not to visit the museum now in order to keep their kids safe."
"Even with these 'protocols' kids will still be eating here and then running through the museum contaminating everything they touch with peanuts," shared Bre Edwards. "Allergic children can have life threatening reactions just to touching their allergen. This will increase the risk of reaction just due to the increased amount of kids consuming peanut butter before going through the museum."
"There is a remarkable difference between having allergens within a menu and prominently featuring the most common child allergen as the entire focus of the menu and restaurant," wrote Chrissy Martin Better. "Instead of saying oops we kinda screwed up here, let's fix it together, they've dug themselves 10x deeper with this ridiculous response. Adding that they have alternatives like almond butter and jam demonstrates a fundamental lack of understanding of food allergy concerns."
PB&J Café at Boston Children's Museum; 308 Congress St., Boston; Daily 10 a.m. to 4 p.m.; bostonchildrensmuseum.org
Get Boston.com's browser alerts:
Enable breaking news notifications straight to your internet browser.