Restaurants
Order Christmas dinner from these local restaurants for an at-home feast
Supporting restaurants while securing a gourmet holiday meal? It's a win-win.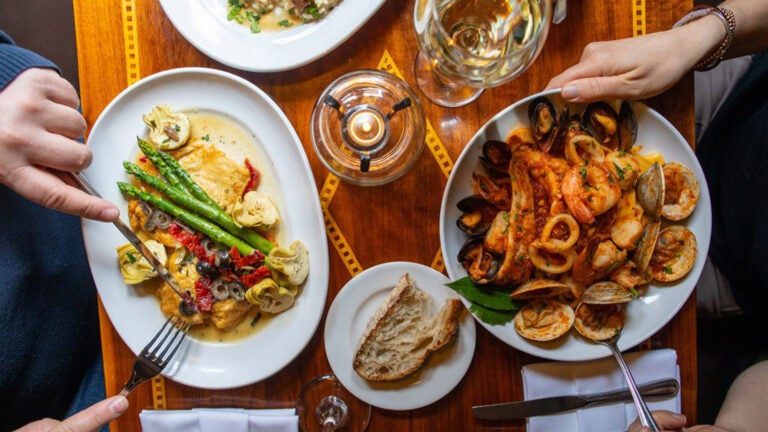 The tree is decorated, the stockings are up, the presents are wrapped, and the hand sanitizer is in place. The only thing left to worry about: What are you eating for Christmas dinner?
This year, as restaurants continue to face extensive coronavirus-related hardships, there's even more of a reason to spend your money on a Christmas feast from a local business. Thankfully, plenty of restaurants are still open and have both Christmas Eve and Christmas Day dinner covered, offering takeout options that include classic and out-of-the-box dishes — and, yes, plenty of eggnog. Most pre-order deadlines are on or before Dec. 20, so now is the time to start planning your holiday feast.
From honey-glazed ham to a traditional Bûche de Noël, these restaurants are offering holiday-worthy appetizers, entrées, desserts, and more for a Christmas Eve or Christmas Day dinner at home. Because we should not be spending the end of 2020 doing more dishes.
Check back soon, as we'll be updating this list regularly.
Alcove
Alcove's holiday takeout menu is an exercise in hi-lo dining, offering everything from caviar and chateaubriand to macaroni and cheese and chicken fingers. Round out your meal with one of Alcove's cocktail mixes, like the espresso martini mix or milk punch.
Order by: Dec. 21
Pick up: Dec. 23 and Dec. 24
Bambara
Two holiday dinners are currently available from Bambara in Cambridge: heritage ham ($32 per person) or fillet of beef ($52 per person), each accompanied by winter green salad, choereg bread, clam chowder, macaroni and cheese, roasted carrots, and chocolate cake. Minimum of two orders.
Order by: Dec. 21
Pick up: Dec. 24 from 1 p.m. to 5 p.m.
Bar Mezzana/Black Lamb
Picture this: A table filled with beef Wellington, potato gratin, creamed spinach, and Bûche de Noël, all cooked by chef Colin Lynch of Bar Mezzana and Black Lamb. Order the holiday feast for two, four, or six guests at $50 a person, or select a few of Lynch's à la carte offerings like lasagna bolognese, shrimp cocktails, and oysters. Place an order by calling Bar Mezzana at 617-530-1770 or e-mailing [email protected].
Order by: Dec. 20
Pick up: Dec. 23 from 10 a.m. to 8 p.m.
Bianca
Whether you're spending Christmas solo or enjoying it with your bubble, Chestnut Hill newcomer Bianca has created dinner packages and à la carte items for the holiday. The prime rib dinner for four ($345) and the maple spiced ham dinner for four ($210) both come with a bevy of sides, like truffled potatoes au gratin and little leaf salad. À la carte dishes include wood-fire rotisserie chicken, housemade soft butter rolls, and the traditional and delightfully decadent Bûche de Noël.
Order by: Dec. 20
Pick up: Dec. 24 from 10 a.m. to 2 p.m.
Big Heart Hospitality
Tiffani Faison's Fenway restaurants — Orfano, Tiger Mama, and Sweet Cheeks Q — are all getting into the Christmas spirit with a holiday package for two. At Orfano, the spread ($179) includes bread, grilled shrimp cocktail, lasagna roll, beef tenderloin, and a selection of sides like truffle and robiola polenta. Barbecue fans can select from a variety of entrées at Sweet Cheeks Q, including smoked prime rib ($155), smoked turkey breast ($99), and Christmas pork roast ($99), all of which come with fixings like baked macaroni and cheese, mashed potatoes, and creamed onions. And at Tiger Mama, the package ($169) boasts a whole smoked duck, Sichuan long noodles, ma po tofu, and more. Cookies, pies, and cakes from Big Heart Hospitality chef Dee Steffen Chinn can be ordered by e-mailing [email protected].
Order by: Dec. 18
Pick up: Dec. 23 from noon to 7 p.m. at Fool's Errand
Brassica Kitchen + Cafe
Ham! Sides! Cookies! Jamaica Plain's Brassica Kitchen has an à la carte Christmas Eve spread this year featuring red honey ham, fried rice, Polynesian dinner rolls, a cheese and charcuterie platter, and a holiday cookie platter. Add some Brassica nips (smoked whiskey, coffee liqueur, lavender amaro, buttered sage and vanilla cordial) as a stocking stuffer, or include a couple bottles of wine to your order for some holiday cheer.
Order by: Dec. 17
Pick up: Dec. 24 from 4 p.m. to 8 p.m.
Cafe Beatrice
If you have Christmas dinner covered but are looking for Christmas breakfast, Cafe Beatrice's Bubbly Christmas Breakfast for two ($75) sounds like a dream. Pastry chef Brian Mercury has crafted a delectable box filled with vegetable quiche, muffins, fruit salad, sparkling wine, and orange juice for a post-present unwrapping meal.
Order by: Ongoing
Pick up: Dec. 24 by 3 p.m.
Celeste
You'll have to make a tough choice when ordering an entrée from Celeste's four person dinner: The duck with aji amarillo and lime simmered in beer, or the cilantro stew with rack of lamb. The rest is easy; each entrée comes with prawn bisque, canary beans, black mint stew, potato and beet salad, purple tamales with creamy chicken, and mousse de lucuma. Items can be ordered à la carte as well, with each dish serving two people.
Order by: Dec. 20
Pick up: Dec. 23
Coppa
Is duck a traditional Christmas meal in your family? Coppa has a whole Long Island duck with your name on it, a blood orange and balsamic marinated bird that serves two to four people ($260 including sides). The restaurant is also offering an Italian porchetta ($260 for two to four people or $400 for six to eight people including sides), arancini, Nutella tiramisu, and other sides and additions to fill your table. E-mail orders to [email protected].
Order by: Dec. 18
Pick up: Dec. 24 from 11 a.m. to 3 p.m.
Fox & the Knife
If you're spending Christmas Eve with one other person, consider Fox & the Knife's Christmas package, a two-person dinner for $120. The meal comes with an antipasti plate, truffled farro arancini, taleggio-stuffed focaccia, short ribs, cheesy polenta, braised greens, and baked ziti with housemade ricotta.
Order by: Ongoing
Pick up: Dec. 24 from 11 a.m. to 3 p.m.
Fresh City Kitchen
Too busy to pick up your Christmas meal? Jamaica Plain's Fresh City Kitchen will deliver its heat-and-eat dishes to your doorstep, and are currently accepting pre-orders for holiday spreads that feed two, five, and ten people. Order shrimp cocktail, pork tenderloin, creamy cheese lasagna, and apple crisp, plus additional appetizers, soups, and sides.
Order by: Dec. 19
Delivery: Dec. 23
MIDA
You've heard of Feast of the Seven Fishes, but if fish isn't your thing — how about pasta? The South End's MIDA is offering Feast of the Seven Pastas for both dine-in and takeout on Dec. 23, a holiday carb fest that includes, well, seven pastas, alongside salad, bread, and cookies. Twirl strands of bucatini cacio e pepe, spaghetti al funghi, and more with the $110 package that serves two to four people.
Order by: Ongoing
Pick up: Dec. 23
Neighborhood Kitchen
Curate your own Christmas dinner at Medford's Neighborhood Kitchen, which invites guests to pick two proteins and three sides for a meal that feeds four to six people. On the menu: teriyaki salmon braid, creole grilled shrimp, Caribbean lasagna, potato gratin, Haitian macaroni and cheese, potato beet salad, and more. Orders can be placed by e-mailing [email protected] or calling 781-391-9000.
Order by: Dec. 20
Pick up: Dec. 24 from 5 p.m. to 8 p.m.
PAGU
Cambridge's PAGU has both a Sichuan peppercorn prime rib ($299) and a coconut steamed whole branzino ($154) meal on its holiday menu, each accompanied by a slew of sides like olive oil whipped potatoes, homemade ciabatta, and papaya salad. But if a four-person feast isn't in the cards for you this year, there are plenty of other dishes to choose from: sticky rice-stuffed Peking duck, biang biang noodles, seafood paella, or even a whole suckling pig.
Order by: Dec. 20
Pick up: Dec. 23–Dec. 25
Peregrine
Texas transplants might be drawn to Peregrine's Christmas turkey dinner, featuring Texas-style barbecue turkey alongside rolls, cornbread stuffing, mashed potatoes, yellow wax beans, roasted sunchokes, and a slice of chocolate tart ($55 per person). A vegetarian version ($42) swaps out the turkey for mushroom risotto, and you can also tack on à la carte items — house-baked breads, a cheese board, chicken liver mousse — to round out your meal.
Order by: Ongoing
Pick up: Dec. 23–Dec. 25
Prairie Fire
After reopening a few weeks ago, Prairie Fire has launched a holiday menu that includes appetizers, entrées, side dishes, and desserts, all of which can be mixed and matched to create your ideal meal. Choose from smoked bluefish pâté, lasagna bolognese, roasted beef tenderloin, creamed spinach, lemon meringue pie, and more.
Order by: Dec. 21
Pick up: Dec. 24 from 11 a.m. to 5 p.m.
Ristorante Lucia
Pre-order from Ristorante Lucia's Feast of the Seven Fishes menu, with each serving enough for two people to share. On it, you'll find salted cod fritters, stuffed clams with pancetta, and pan-seared salmon. Not a seafood fan? The restaurant, which has locations in both the North End and Winchester, also has a prix-fixe Christmas Day menu ($65 per person), featuring gnocchi Romana, a veal roast with seasonal vegetables, Panettone and eggnog bread pudding, and more.
Order by: Dec. 20
Pick up: Dec. 24
Row 34/Island Creek Oyster Bar
Available at Row 34 Boston, Row 34 Portsmouth, and Island Creek Oyster Bar Burlington, chef Jeremy Sewall's holiday spread covers appetizers, sauces, desserts, and dinner packages. Lobster roll kits and stuffed lobster tails are on hand for seafood fans, while a four-person dinner package includes ricotta gnocchi with Maine lobster and roasted butternut squash ($165), honey roasted ham with mustard maple sauce ($120), or braised beef short ribs with creamy polenta, brown butter cauliflower, glazed carrots, and red wine sauce ($130). Don't miss out on the takeout cocktails: The eggnog rye whiskey sounds like a perfect drink to enjoy by a fire.
Order by: Ongoing
Pick up: Dec. 23 at either Row 34 Boston, Row 34 Portsmouth or Island Creek Oyster Bar Burlington
Sarma
Take care of Christmas dinner for you and a loved one with Sarma's Christmas dinner for two ($220), an eye-popping spread featuring buttermilk biscuits, shrimp cocktail, short rib stifado, caramelized onion polenta, chocolate tahini lava cake, and plenty more.
Order by: Ongoing
Pick up: Dec. 24 from 11 a.m. to 3 p.m.
Scampo
Lydia Shire's Italian restaurant has a celebratory feast on hand that serves six to eight people. Dine on dishes like sherried lobster stew, roasted goose, prosciutto with burrata, and tiramisu or homemade holiday cookies for dessert.
Order by: Dec. 20
Pick up: Dec. 24 from noon to 4 p.m.
Shy Bird
Gather around the table with a spread from chicken-focused Shy Bird, which is offering holiday packages that all serve three to four guests. Pick an entrée: rotisserie chicken ($60), roasted beef tenderloin ($120), glazed ham ($85), or baked ricotta cannelloni ($55), all of which come with duck fat roasted potatoes, roasted Brussels sprouts, and honey-glazed carrots. Holiday wines, beers, and other drinks are also available for pre-order.
Order by: Ongoing
Pick up: Dec. 23 from noon to 8 p.m.
The Dial
New to Cambridge's dining scene, The Dial has a Christmas Eve to-go menu ($180 for four people) that covers a number of holiday classics: Beef rib roast, Yorkshire pudding, lobster risotto, plus garlic green beans, dinner rolls, and more. For dessert, tuck into a gingerbread spice cake. Order by calling 617-349-2967 or e-mailing [email protected].
Order by: Dec. 21
Pick up: Dec. 23
Thistle & Leek
Newton Centre newcomer Thistle & Leek is now offering its Christmas dinner for pre-order, a four-person feast that features prime rib, roasted potatoes, glazed rainbow carrots, creamed spinach, Nana's mince, pies, and more, all for $165. If you're also on dessert duty, consider adding a dozen assorted Christmas cookies ($25), or perhaps some of Thistle & Leek's boozy eggnog ($25).
Order by: Ongoing
Pick up: Dec. 23 and Dec. 24
Tony & Elaine's
If a traditional Italian feast is what you're after, this North End joint has two options to consider: the Roman and the Italian-American. The former features insalata frutti di mare, classic antipasto, short rib lasagna, porchetta, roasted peppers, broccoli rabe, and rum raisin bread pudding. The latter's spread includes garlic bread, Caesar salad, gnocchi, eggplant parm, chicken cutlets, roasted red peppers, and tiramisu. Both serve up to six people for $145.
Order by: Dec. 21
Pick up: Dec. 24 before 1 p.m.
Veggie Galaxy
At $29.99, Veggie Galaxy's all-vegan holiday menu features mushroom lentil loaf with cranberries, cauliflower au gratin, roasted Brussels sprouts, winter fruit salad, and sticky toffee pudding. Reheating instructions will be provided.
Order by: Dec. 20
Pick up: Dec. 23 and Dec. 24 from 11 a.m. to 8 p.m.
Get Boston.com's browser alerts:
Enable breaking news notifications straight to your internet browser.