Restaurants
Say goodbye to 2020 with these festive New Year's Eve takeout cocktails
2021 can't come soon enough.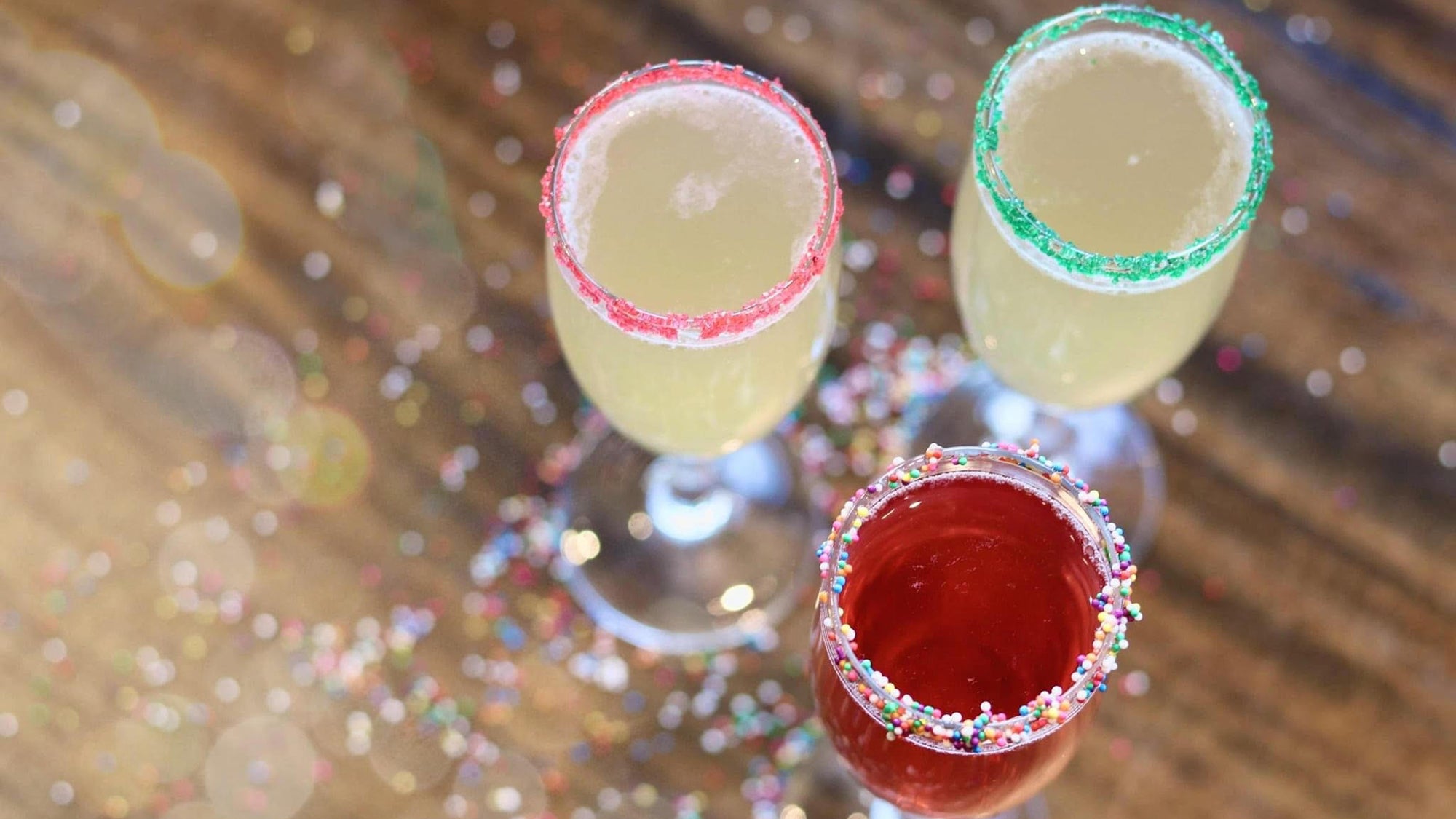 This year was something.
As 2020 comes to a close, it's safe to say that most of us are hoping for a vastly improved 2021 — one where we can spend time with loved ones without a global pandemic looming above our heads. This New Year's Eve gives us the occasion to raise a glass, whether solo or alongside your own bubble, and say: Later, 2020. Don't let the door hit you on the way out.
But what exactly is going to be in that glass? You could opt for a flute of bubbly, sure, but if you're in search of something a little stronger, some local restaurants have put together cocktails that are perfect for sending off the old year and welcoming in the new. From cotton candy mimosas to spiked eggnog, here are a handful of drinks to usher in a better, brighter 2021.
Massachusetts law requires that all takeout cocktails must be ordered with food. We recommend ordering as soon as possible to accommodate for holiday hours.
21 Gun Salute at Alcove
An homage to the French 75 cocktail, this sparkling vodka-based drink would best be enjoyed on Alcove's dreamy patio overlooking the Zakim Bridge. But you can also raise a glass of it inside your own home, with a kit that includes four servings of the 21 Gun Salute plus a bottle of Cava — you know, for the after party. Order online. $50
Cherry Ball Drop at Bambara
Bambara's lead bartender Alex Wiegand calls this a "lively cocktail," one made with cherry-infused Toki whiskey, orange syrup, lemon juice, and Peychaud's bitters. It comes with a half bottle of sparkling wine to top off the drink, along with a Toki-infused cherry garnish. Order online. $35
New Year's Champagne Box at Committee
Normally a bustling, communal dining space, Committee in the Seaport is inviting guests to bring the party into their living rooms this year with a New Year's Champagne box. Inside the box, you'll find a bottle of Greek sparkling wine, two Kettle One vodka servings, a cranberry blood orange cordial, two Champagne coupes, and two horn blowers. Order by e-mailing [email protected] or send Committee a direct message on Instagram. $80
Gracefully Facedown at CREATE Gallery + Cocktail Lounge
If the name of the cocktail is any indication, this drink — made with bourbon, cognac, peach liquor, green tea, honey, lemon, and mint — is a strong one. Created by Gwen Haggarty from The Quiet Few, you can pick up the libation at Bow Market's CREATE Gallery + Cocktail Lounge in either a 10-ounce pouch or a 750mL bottle. Order online. $20-$45
Sorbet mimosa at Earnest Drinks/Gracie's Ice Cream
Is this the perfect combo? Could be. Earnest Drinks, which opened inside Gracie's Ice Cream in Kendall Square earlier this fall, is offering a DIY sorbet mimosa kit to send off 2020, complete with one bottle of bubbles and one pint of sorbet (a blend of orange, grapefruit, and cranberry). Order online. $25
Holiday eggnog at Harvest
You can still drink eggnog after Christmas (those are the rules!), and Harvest's version is an excellent one for ringing in the new year. Made with salted coconut caramel eggnog, aged rum, and apple brandy, the creamy holiday drink serves four and can be ordered by calling 617-868-2255. $18
Cotton candy mimosa at Sonsie
Tap into the cotton candy-loving kid in you with this takeout cocktail from the Back Bay's Sonsie. The single-serving package includes grapefruit flavored cotton candy, a small bottle of La Marca Prosecco, and freshly squeezed orange juice, plus directions on how to assemble the drink. Order by calling Sonsie at 617-351-2500. $15
2020 Sparkle Cocktail Kit at Tempo
Who doesn't need a little bit of sparkle to finish off 2020? The Waltham restaurant's kit comes with Nolet's gin, freshly made pear purée, lemon, half a bottle of Prosecco, and the kicker: rainbow colored Sugar Dots to decorate your glass. Each kit makes two cocktails and can be ordered online. $24
Turn the Page at Thistle & Leek
This Newton Centre newcomer is channeling 2021 vibes for all of us with its Turn the Page cocktail for two, made with gin, lemon, thyme, and orange bitters. Pour it into your fanciest glass, garnish with a sprig of thyme, and toast to an entirely new year. Order online. $20
Get Boston.com's browser alerts:
Enable breaking news notifications straight to your internet browser.