Restaurants
The best sandwich in Massachusetts is the clam roll, according to Food & Wine
The publication named two spots on the North Shore to find great versions.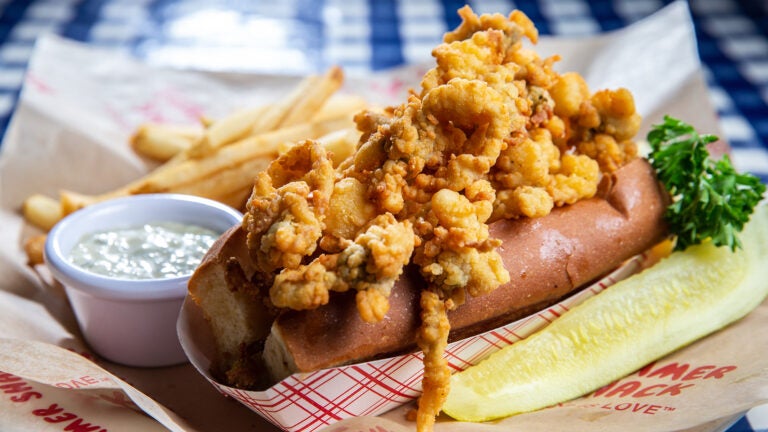 Massachusetts has cultivated a loyal fan base when it comes to roast beef sandwiches and lobster rolls, but Food & Wine had another type of sandwich in mind when it put together "The Best Sandwich in Every State": the clam roll.
The publication released its list Monday, extolling the virtues of enjoying a great sandwich in a year that saw dining habits drastically change.
"Not that we really needed to be reminded, but after a year of countless quick meals, of park picnics, of standing around eating off the trunk of the car, our appreciation for the sandwich has certainly been refreshed," David Landsel wrote.
When it came time to name a sandwich fit for the Bay State, Landsel dolled praised on the clam roll, calling it "the first meal we think of when we think Massachusetts."
"The tidal flats up near Ipswich are still happy hunting grounds for the state's best sandwich, which is said to have been invented on Boston's North Shore," Landsel wrote. "Plump little bellies are dipped in flour and fried just enough, that briny flavor bursting forth from a griddled, New England-style hot dog bun lined with tartar sauce, typically brightened with a dash of citrus."
While he said Woodman's of Essex claimed to be the clam roll's inventor, the author also recommended the Clam Box in Ipswich.
As for the other New England states, favored sandwiches featured seafood, ham, and pancakes. The lobster roll was deemed the best sandwich in Maine, while Connecticut-style lobster rolls were designated Connecticut's best sandwich (naturally). A classic grinder stuffed with broccoli rabe and sharp provolone cheese garnered praise in Rhode Island. Polly's Panwhich — a bacon, egg, and cheese between two pancakes — from Polly's Pancake Parlor won top marks in New Hampshire. In Vermont, the author praised the jambon-beurre, or ham and butter, sandwich.
Now, whether clam rolls — and lobster rolls, for that matter — can be classified as actual sandwiches is another matter. (Spoiler alert: According to The Cube Rule, they're a taco.)
View the entire list of state sandwiches.
Get Boston.com's browser alerts:
Enable breaking news notifications straight to your internet browser.