Restaurants
Banana Boat, a family-owned ice cream shop in Revere, has closed
"Watching generations come and go has been one of the greatest motivations for our family to continue each year," the owners shared.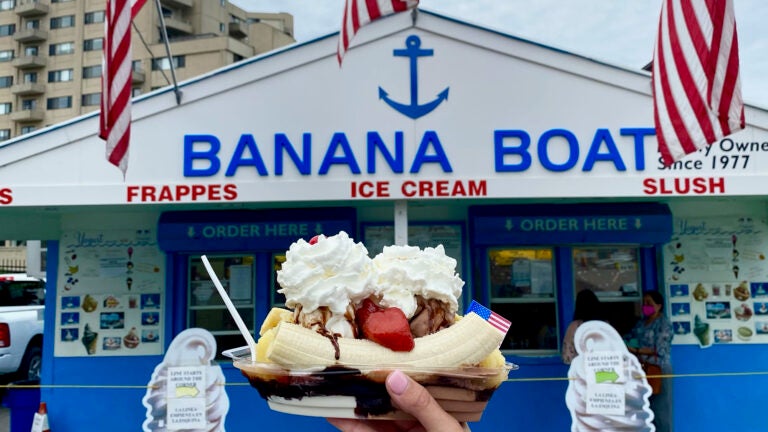 For decades, the Banana Boat has served generations of families from its cheerful blue and white shop on Revere Beach, scooping ice cream into cones and building towering ice cream sundaes. But on Tuesday, the 43-year-old business closed its doors for good.
"It is with a heavy heart we have made the tough decision to close Banana Boat Ice Cream," owners Amora and Avri Schena announced in a Facebook post. "Words will never be enough to express our gratitude to our family, hard-working employees, dedicated customers, suppliers, and each person who has supported us over the years."
Looking back at the Banana Boat's history, the Schenas shared how the shop came to be: In 1977, Tony Schena, Ann Schena, Bobby Fanara, and Maureen Fanara purchased the property as an investment after hearing that a casino might be coming to the beach. When the casino failed to materialize, Tony and Ann opened Banana Boat instead, painting the store blue and white as an homage to the ocean and hanging flags around the building to honor family members who served in the military.
"To our customers, your loyalty has kept us going all these years and we will miss seeing each of you get your ice cream at our window," the Schenas wrote. "We've had the pleasure of being a happy place in your life and seeing all the smiling faces. Watching generations come and go has been one of the greatest motivations for our family to continue each year."
They went on to thank their employees — "Many assume scooping ice cream is an easy job, but I think our employees would kindly disagree" — as well as the Revere Police and Revere Fire Departments.
"The Schena Family looks forward to their next chapter spending the summers with family and forever cherishing all the memories Banana Boat has given us over the last 43 years," they concluded. "We love you, we thank you, and we'll see you at the beach!"
Amora told The Boston Globe that it was time for them to enjoy summer, which "we were never able to do because we were always at the business, seven days a week. And then with COVID this year, that was just the cherry on the top that really made the final decision."
Fans and former employees of the ice cream shop left heartfelt messages in response to the announcement.
"It was the best job I had for more than half my life and the best family I could ever work for," Ivy-Beth Nelson shared. "They were there for me for all the big important times in my life and will always be my family!"
"I am so sorry to hear this," Carol Santella Fenzl wrote. "I had so many great memories when I worked there as a kid. Thank you Amora and Avery for teaching me what a good work ethic was! The Banana Boat is a landmark in Revere and a landmark in my heart and life."
"This breaks my heart," Danielle Dzedulonus Torres shared. "I'm so sorry to see you go. Waiting for you to open ever summer as a kid meant summer was finally here."
Get Boston.com's browser alerts:
Enable breaking news notifications straight to your internet browser.