Restaurants
Protein-packed smoothies and teas land at Cada Dia Nutrition in Jamaica Plain
"I just thought: Why not create a shop like this?" said owner Nicole Gunn.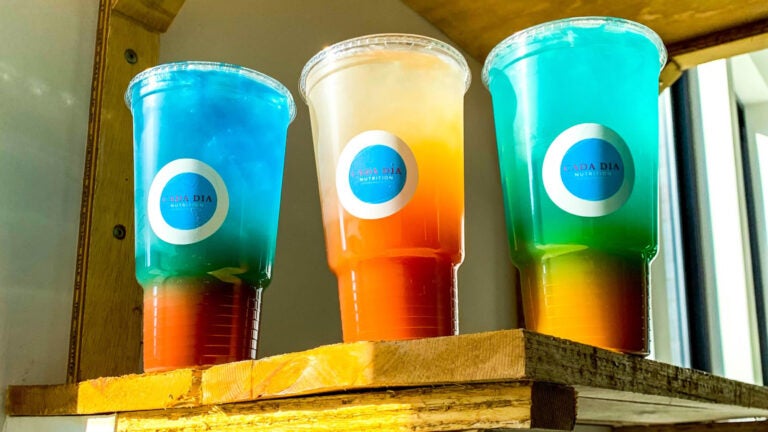 At Cada Dia Nutrition, a recently opened smoothie and tea shop in Jamaica Plain, owner Nicole Gunn pays tribute to the places that influenced her new store.
The colors of the shop's logo — blue, white, yellow, and red — are mirrored after the Aruban flag, an homage to her family's Aruban roots. The Hi-Low Throwback, one of the shop's tropical "Positivi-teas," is named after Jamaica Plain's shuttered Hi-Lo Foods, a Latin American market which is now a Whole Foods. And there's The Emerald Necklace, a cucumber-infused tea that nods to the neighboring chain of parks. 
"It's always about paying homage to the neighborhood, to the people that were about creating Cada Dia," Gunn told Boston.com. "It's definitely not a one-woman show."
Cada Dia, which means "every day" in Spanish, is Gunn's first business. After gaining experience at On The Edge Nutrition, a smoothie and juice bar in South Boston, and touring similar nutrition shops in Albany, N.Y., Gunn — with the help of business partner Maria Hernandez — struck out on her own, opening Cada Dia in a bright, airy space at 7 Burroughs St.
"I wanted to have something for myself," Gunn shared. "I knew early on that a [traditional] job was not for me. But I didn't know how I was going to create that; I didn't know what I was going to do. I started drinking the shakes myself and I loved them, and I just thought: Why not create a shop like this?"
Cada Dia offers an extensive lineup of shakes and teas, most of which can be ordered with "boosters" like probiotics, extra aloe, immunity shots, extra protein, fiber, and more. Shakes range from the pineapple-centric Piña Loca, a customer standout that Gunn said tastes like an upside-down pineapple cake, to the Banana Nut Muffin, Gunn's personal favorite that she enjoys as an oatmeal (all shakes can be made hot, cold, or in oatmeal form). Teas, offered hot or cold, are available in rainbow shades of mango, lemon, strawberry, peach, grape, and more, along with traditional chai and green tea flavors. Protein is big here, from added boosters to protein bars to protein-infused ice coffee. All orders can be placed online for in-store pickup, while delivery is available on Uber Eats and Grubhub.
Gunn, who used the shakes as a meal replacement to lose almost 70 pounds, said she wanted to bring "good nutrition" to the neighborhood. 
"I just wanted to bring a good tea that brings you clean energy and no after crash, and give you a good shake that [provides] nutrition and fills you up for a little bit," she said. 
Cada Dia, which opened Dec. 5, was originally scheduled to debut over the summer. The COVID-19 pandemic, of course, had other plans. 
"It has definitely been a test of how bad do you want it," Gunn said. "It hasn't been easy. [The pandemic] slowed things down a little bit, but I wanted it that bad. It was never a question of, do I not want it, or should I not be doing it. It was: by any means necessary, we're going to get it done, because I truly believe what we have here is special."
Currently, Cada Dia doesn't offer indoor seating, though Gunn said she's been closely following federal and local guidelines and may consider it in the future. For now, she said, guests feel comfortable grabbing their smoothie or tea to go.
"Everyone is welcome to come and experience Cada Dia," she shared. "Maria and I can't wait to meet the community."
Cada Dia Nutrition; 7 Burroughs St., Boston; Mondays–Saturdays from 8 a.m. to 6 p.m., Sundays from 10 a.m. to 4 p.m.; facebook.com/cadadianutrition
Get Boston.com's browser alerts:
Enable breaking news notifications straight to your internet browser.