Restaurants
Spyce to open in Harvard Square with a new automated kitchen
The fast casual eatery also has an expanded menu.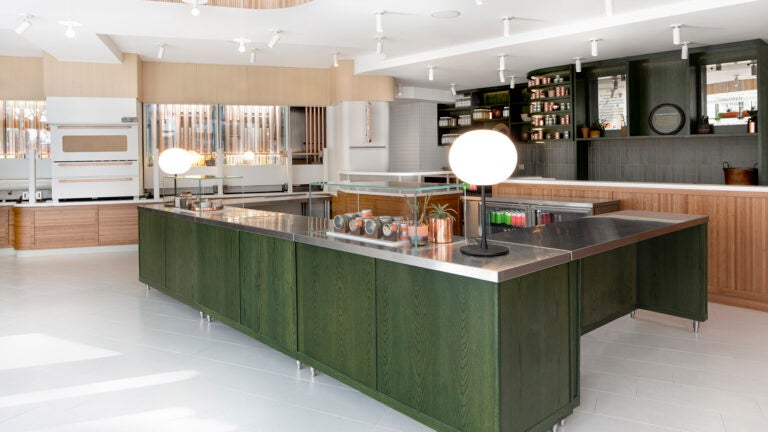 Call it the new and improved Spyce: When the second location of the fast casual restaurant opens Wednesday in Harvard Square, it will debut with an updated version of the automated kitchen that first made a splash more than two years ago.
Spyce, the brainchild of MIT grads Michael Farid, Braden Knight, Kale Rogers, and Luke Schlueter, opened its first location in Downtown Crossing in 2018. After customers place their order online or at kiosks, the automated kitchen, dubbed the Infinite Kitchen, does the vast majority of the work, searing and steaming ingredients to create globally inspired salads and bowls.
"The new Infinite Kitchen has a much more versatile and much more expanded menu," Farid recently told Boston.com. "It has a ton more customization than the one we launched in 2018. It also looks very different and uses different cooking techniques."
Instead of cooking ingredients together in a stir-fry style, Farid explained, each ingredient — whether it's chicken cooked on a carbon steel plancha or pasta cooked in a super heated steamer — is prepared separately. The expanded menu, which Farid said is now 50 percent salad, also comes with more personalization.
When customers begin their order, they are first asked about dietary preferences and allergies, which include gluten-free, vegetarian, pescetarian, and paleo. From there, a customized menu is presented to the diner.
"The menu you see is the menu that's curated according to your dietary allergies, and there's no compromises," Farid said. "So it's not like we just remove the cheese — we actually swap it with something that's appropriate, like a vegan cashew cheese. … We had limited customization in our first restaurant. It did the job for most folks, but if you're really trying to get granular, it didn't really allow you to do that. This system really does, and it takes it one step further with personalization according to dietary allergies."
The updated Infinite Kitchen, which was installed in the Downtown Crossing location after it reopened in November, is also able to fulfill orders faster than its predecessor, increasing production from roughly 120 bowls per hour to over 300. Farid said they were able to accomplish this by identifying bottlenecks and streamlining processes — instead of moving food to a wok and then the wok to the bowl, for example, the new kitchen moves the bowl to the food.
Spyce's Harvard Square location has a beer and wine license, but Farid said that, due to the coronavirus pandemic, the wine bar and dining room planned for the space is currently on hold while they see how the rest of the year unfolds.
"We definitely plan to reintroduce seating and eventually bring back plans to serve wine," Farid said. "To be honest, I'm not sure when that is. I don't think anyone knows. It might be this year, it might be in 2022. But today we really want to meet [customers] where they are, whether that be at home or in the office or elsewhere."
When Spyce opens at 1 Brattle Square, diners will be able to order for pickup or delivery on the Spyce app or website, with plans to eventually incorporate third-party apps. The restaurant also offers catering.
For Farid and his fellow founders, opening in Harvard Square is a bit of a homecoming.
"The four of us went to MIT, and Harvard Square always has a special place in our hearts," he said. "Sure, you have the university and the college kids, but there are businesses, there are a lot of residents, there are tourists — hopefully there will be tourists — and it's more of a lunch and dinner, seven-days -a-week type of location. …And it's two stops on the red line away from MIT, so we're excited to serve our alma mater."
Spyce; 1 Brattle Square, Cambridge; Daily from 11 a.m. to 10 p.m.; spyce.com. Opens Jan. 27.
Get Boston.com's browser alerts:
Enable breaking news notifications straight to your internet browser.