Restaurants
The Boston Black Restaurant Challenge is back
"Black restaurants, Black food is the center of our community," said Segun Idowu, executive director of the Black Economic Council.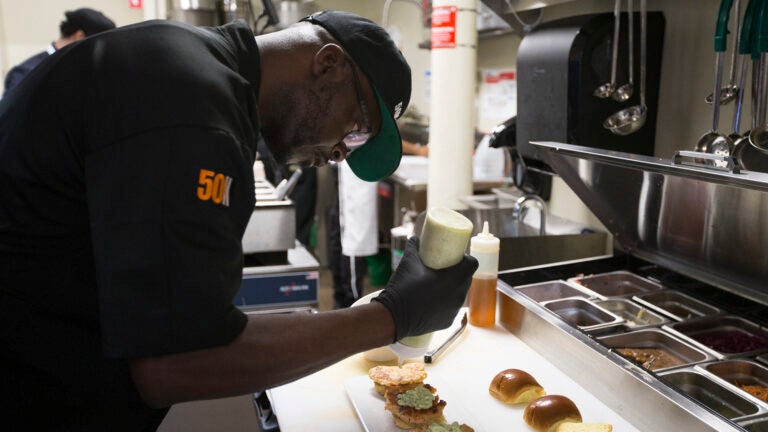 The Boston Black Restaurant Challenge returned on Monday, encouraging diners to order takeout or delivery from at least one Black-owned restaurant per week throughout February in honor of Black History Month.
"Despite Black-owned businesses being the backbone of our community, we know that Black-owned restaurants are significantly more likely to close down in their first year of operation," state Rep. Chynah Tyler, who launched the initiative in 2018, shared in a newsletter Monday afternoon. "Through this challenge, it is my goal to expose you to some fantastic restaurants this month and to create year-round supporters [for] Black-owned restaurants across Boston."
While previous years of the challenge encouraged dining at Black-owned restaurants, 2021's iteration stresses takeout and delivery due to the ongoing coronavirus pandemic, which has disproportionately affected Black and Latino communities.
Tyler announced in an Instagram post that the challenge organizers will release a weekly video highlighting some of the participating restaurants. First up: Café Juice Up, a juice bar in Mattapan.
In the video, Tyler is joined by state Rep. Brandy Fluker Oakley, as well as Segun Idowu, executive director of the Black Economic Council of Massachusetts.
"We're happy to be here today in Representative Fluker Oakley's district at Café Juice Up," Idowu said outside of the juice bar. "Black restaurants, Black food is the center of our community. It's what brings us all together, and that's why Black restaurants serve as the bedrock of our economy."
While participating in the Boston Black Restaurant Challenge, diners are encouraged to tag @repchynahtyler and use the hashtag #blackrestaurantchallenge on social media. Tyler also released a list of suggested restaurants to visit — take a look at the list below, and be sure to check with each restaurant's opening hours and takeout options, as operations may have shifted during the pandemic.
Dorchester
50Kitchen
Bon Appetit
Bred Gourmet
Cape Verde Taste
Cesaria
Down Home Delivery
Food for the Soul
Family Affair Restaurant & Catering
Island Style Jamaican Restaurant
Irie Jamaican Style Restaurant
JP Roti Shop
Juice and Jazz Cafe
Levi's Restaurant and Lounge
M & M BBQ
Murl's Kitchen
Natif Natal Restaurant
Oasis Café
Oasis Vegan Veggie Parlor
One Family Diner
Only One Jamaican Restaurant
Raphael Caribbean Cuisine
Singh's Roti Shop
Taste of Eden
Vaughan Fish & Chips
Downtown
Larry J's BBQ
Savvor Restaurant & Lounge
Hyde Park
D Coal Pot
Little Haiti International Cuisine
Zaz Restaurant
Jamaica Plain
Blue Nile Restaurant
Jamaica Mi Hungry
Mattapan
Au Beurre Chaud Bakery
Blue Mountain Jamaican Restaurant
Cafe Juice Up
Golden Krust
Le Foyer Bakery
Pit Stop Barbecue
Prestige Cuisine
Shea Butter Smoothies
Roxbury
Ashur Restaurant
Dayib Cafe
District 7 Tavern
Fasika Cafe
Fort Hill Bar + Grill
Ideals Sub Shop
Maxine's on St. James
Nos Casa Café
Silver Slipper
Slades Bar + Grill
Soleil
Suya Joint
Top Mix
South End
Darryl's Corner Bar + Kitchen
Lucy Ethiopian Cafe
Mida
Wally's Cafe Jazz Club
Multiple locations
Ali's Roti
Flames Caribbean Restaurant
Fresh Food Generation
Jamaican Mi Hungry
P&R Jamaican Restaurant
Wingz & Tinz
Greater Boston
Infused Kreyol (Malden)
Neighborhood Kitchen (Medford)
Pikliz International Kitchen (Somerville)
Rhythm N' Wraps (Brookline)
Tanám (Somerville)
The Coast Café (Cambridge)
Get Boston.com's browser alerts:
Enable breaking news notifications straight to your internet browser.