Restaurants
In search of Super Bowl food? These local restaurants are offering game day packages to go.
Order wings, sliders, and Buffalo chicken dip while watching the game at home.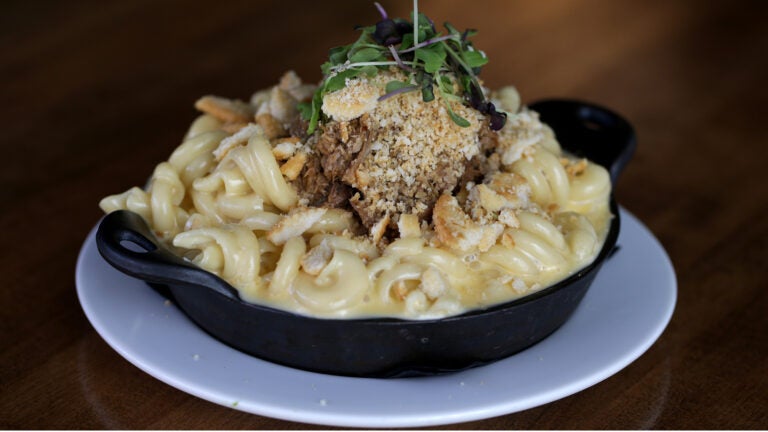 The Patriots aren't in the Super Bowl this year, but Tom Brady sure is — which means we're settling into our well-worn couches, stocking up on Super Bowl food, and tuning in to watch the Kansas City Chiefs take on the Tampa Bay Buccaneers this Sunday.
While plenty of football fans may have previously celebrated the Super Bowl at a bar, standing shoulder-to-shoulder while pitchers of beer were passed to tables filled with nachos and wings, the pandemic will have most people snacking in front of their own TVs during Super Bowl LV. And, as they have throughout this past year, chefs will be boxing up food so fans can enjoy tender wings and cheesy nachos at home.
For Jonathan Gilman, chef and owner at Brato Brewhouse + Kitchen in Brighton, the 2004 Super Bowl marked the start of his culinary journey. During the 2003 season, Gilman, a lifelong Patriots fan, made a bet with his college friends that if the Patriots made it to the Super Bowl, he would throw a party centered around a turducken feast.
"[After] two weeks of YouTubing and researching, I found that this cooking process really sparked some interest in the kitchen," Gilman told Boston.com. "That project got me into researching new things to cook, and that snowballed into an eventual transition to the culinary world as a profession."
The Patriots went on to beat the Carolina Panthers that year, and Gilman has thrown a Turducken Super Bowl party every year since. More than 300 guests have experienced Gilman's turducken, solidifying a tradition he said "has come to take on the meaning of an anniversary of cooking, and is a very important tradition to both my friends and family."
Gilman said it was the last party he threw before the shutdown last March.
This year, the chef is offering at-home kits of his turducken party to his friends and family, while at Brato, he's partnered with Lamplighter Brewing and Night Shift Brewing to offer Super Bowl party packs for guests throwing their own game day parties (turducken not included, though there are wings, queso dip, and spare ribs).
"We are hoping that people can still have a version of that party in the comfort and safety of their own homes," he said.
And yes, he's still rooting for Brady.
Below are some local restaurants offering Super Bowl food for takeout. Check back soon as we'll be updating this list regularly.
Bianca
The Chestnut Hill restaurant's Super Bowl Sunday menu is a dream for sushi fans, with full-on sushi platters and a sushi/pizza combo meal. There's also Roman-style pizza, plus classic game-day fare like Buffalo wings, boneless chicken strips, and a dip trio that features hummus, buttermilk ranch, fennel tzatziki, vegetable crudité, and housemade focaccia. (Prices vary)
Order by: Feb. 4
Pick up: Feb. 7 from noon to 7 p.m.
Brato Brewhouse + Kitchen
Brato has assembled a stellar Super Bowl party pack, available for pick up at Lamplighter Brewing on Feb. 6 after 2 p.m., at Brato on Feb. 6 after 3 p.m., and at Night Shift Brewing on Feb. 7 from noon to 6 p.m. Each party pack menu features pork carnitas and tortilla boudin bites, hot wings, big mac queso dip, macaroni and cheese, and candied bacon spare ribs. At Lamplighter and Night Shift, beer from the pick-up location will be included as well. And if you want a taste of Gilman's famed turducken, the chef said he's adding crispy turducken and waffles to Brato's brunch menu, available on Sunday from 11 a.m. to 5 p.m. ($58 for two, $110 for four at Lamplighter; $40 for two, $75 for four at Brato; $70 for two at Night Shift)
Order by: Feb. 5
Pick up: Lamplighter: Feb. 6 after 2 p.m., Brato: Feb. 6 after 3 p.m., Night Shift: Feb. 7 from noon to 6 p.m.
Coppa
Super Bowl fans have two options for ordering game day fare at Coppa: The 1st and Goal or the Pick 6. The former includes three grinders, three pizzas, and a Caesar salad, while the latter features six grinders, six pizzas, and a Caesar salad. To order, e-mail [email protected] or call 617-391-0902. (1st & Goal: $95 for four to six, Pick 6: $175 for 10 to 12)
Order by: Feb. 3
Pick up: Feb. 7 from noon to 8 p.m.
Craigie on Main
Pick up a Game Day Takeout Package at Cambridge standout Craigie on Main, where red chile beef brisket, three-bean ragout, loaded nacho fries, tahini slaw, New Mexican red chile sauce, and "one big brownie mess" are available for pick up on Sunday. Want to customize your own Super Bowl meal? The restaurant is also offering ready-to-reheat à la carte options for pick up on Saturday and Sunday, including St. Louis ribs, garlic sausages, coffee-rubbed chicken wings, and more. (Game Day Takeout Package: $114 for two)
Order by: Ongoing
Pick up: À la carte items: Feb. 6 from 5:30 to 7:30 p.m., Feb. 7 from 3 to 5:30 p.m.; Game Day Takeout Package: Feb. 7 from 3 to 5:30 p.m.
Davio's
With locations in the Seaport, Braintree, Chestnut Hill, Foxborough, and Lynnfield, Davio's has football fans across Boston covered. Diners can choose from dishes like crispy chicken sliders, gnocchi bolognese, chicken parmesan, and shrimp cocktail platters; each dish feeds 10 people. (Prices vary, serves 10)
Order by: Feb. 6
Pick up: Feb. 7
Fox & the Knife
Chef Karen Akunowicz's enoteca in Southie has all the makings of the ideal Italian Super Bowl package. There's piatto di antipasti — a selection of meats and cheeses — along with hot Calabrian chili wings; salsa di spinaci e carciofi; sausage, pepper, and onion sandwiches; and, for dessert, salted chocolate chip cookies. ($125 for four)
Order by: Feb. 4
Pick up: Feb. 7 from noon to 5:30 p.m.
M & M BBQ
Dorchester Brewing's in-house restaurant, M & M BBQ, has wing platters and rib platters in store for Super Bowl Sunday. Wings can be ordered with one or two flavors (like a house dry rub or honey hot sauce), while rib platters come as a whole rack or half pan. (Wing platters: $45 for eight, $80 for 15. Rib platters: $30 for whole rack, $80 for half pan)
Order by: Ongoing
Pick up: Feb. 7
Myers & Chang
With The Whole 9 Yards, Myers & Chang's comprehensive game day package, you'll receive a bucket of spicy Taiwanese fried chicken, edamame guacamole and tortilla chips, tea-smoked pork spare ribs, Chinese mustard potato salad, spicy green papaya slaw, and football Oreos from Flour Bakery. Individual dishes from the package can be ordered separately as well. ($105 for four)
Order by: Feb. 4
Pick up: Feb. 7 from noon to 5 p.m.
Neighborhood Kitchen
This Medford restaurant's family package is a Super Bowl essential. Choose from two proteins — salt and pepper wings, jerk chicken, cauliflower wings, and more — plus three sides, including macaroni and cheese, steak rolls, green and sweet plantains, and vegetarian Caribbean lasagna. To place your order, e-mail Joy at [email protected] or call 781-391-9000. ($150 for four to six)
Order by: Feb. 4
Pick up: Feb. 7
Olde Magoun's Saloon 
Dive into one of Olde Magoun's Super Bowl Tailgate specials: a barbecue pit boss platter highlighting North Carolina pulled pork, St. Louis ribs with house barbecue sauce, Texas hot links, country potato salad, skillet cornbread, and more. The platter, along with chicken wing specials and mini kegs to go, are available for takeout from the Somerville hangout, as well as its sister restaurants, LongCross Bar + Kitchen in Medford and Blackmoor Bar & Kitchen in Charlestown. To order, call 617-776-2600. ($100 for four, $25 for one)
Order by: Ongoing
Pick up: Feb. 7

Parlor Sports
For its first pop up of 2021, Parlor Sports in Somerville has put together a Super Bowl Pack featuring a nachos kit, steak and cheese sliders, a pepperoni roll, and a pretzel. A Pro Bowl Pack includes just the nachos kit and pretzel, while to-go cocktails can be tacked on to both packs. Orders can be placed by e-mailing [email protected] (Super Bowl Pack: $50 for two. Pro Bowl Pack: $25 for two)
Order by: Feb. 3
Pick up: Feb. 7 from noon to 3 p.m.
Stillwater
Customize your own Super Bowl snacks at Stillwater, chef Sarah Wade's restaurant on the border of Chinatown and the Leather District. Here, diners can order a variety of wings, two types of macaroni and cheese (Buffalo and classic), and a pulled pork sandwich kit. (Prices vary)
Order by: Ongoing
Pick up: Feb. 7 from 3 p.m. to 4 p.m.
Summer Shack
The Cambridge location of this cheery seafood spot has fried chicken sliders, barbecue pulled pork sliders, guacamole dip, and Buffalo chicken dip on its Super Bowl menu — all the necessary components of a game day victory. To order, call 617-520-9500. (Prices vary)
Order by: Feb. 6
Pick up: Feb. 6 and Feb. 7 from 11:30 a.m. to 7 p.m.
Sycamore
For anyone looking to take their Super Bowl snack game up a level, Sycamore in Newton has a bevy of gussied-up chips and dips, like golden beet and ricotta dip with za'atar pita chips, or smoked bluefish pâté with Ritz crackers. Tack on fluke ceviche or spiced chicken wings for prime Super Bowl sustenance. E-mail [email protected] to place your order. (Prices vary)
Order by: Feb. 3
Pick up: Feb. 7 from noon to 2 p.m.
The Smoke Shop
The Smoke Shop's Game Day BBQ Box is available in two sizes: small, which feeds two to three, and large, which feeds four to six. Each box includes smoked and fried chicken wings, St. Louis ribs, pimento macaroni and cheese, cheddar jalapeño cornbread, and chocolate chip cookies, and can be picked up at The Smoke Shop's Kendall Square, Seaport, Assembly Row, and Harvard Square locations with re-heating instructions. ($65.99 for two to three, $125 for four to six) 
Order by: Feb. 3
Pick up: Feb. 6 from 1 p.m. to 4 p.m.
The Stockyard
From prime rib sliders and French dip sandwiches to bone-in Buffalo wings and steak tips, The Stockyard in Brighton has a range of options for football fans in search of a hearty Super Bowl snack. Order online or by calling 617-782-4700. (Prices vary)
Order by: Ongoing
Pick up: Feb. 7
Tiger Mama
Head to the Fenway for the Tiger's Tailgate Package at Tiger Mama, a jam-packed feast that includes warm crab rangoon dip, papaya salad, red curry-marinated chicken wings, coconut chili shrimp, pork belly banh mi sliders, and more. ($125 for two)
Order by: Ongoing
Pick up: Feb. 7 from 4 p.m. to 6 p.m.
Tony & Elaine's
This North End staple may be known for its award-winning meatballs, but we're digging what's in the Super Bowl package: arancini, garlic knots, mozzarella sticks, and garlic and parmesan wings, plus meatball and provolone sliders. There's cannoli for dessert, and you can add on a six-pack of Peroni for $20. To order, call 617-580-0321 or e-mail [email protected]. ($95 for four to six)
Order by: Feb. 5
Pick up: Feb. 7 from noon to 6 p.m.
Get Boston.com's browser alerts:
Enable breaking news notifications straight to your internet browser.