Restaurants
Kennedy Cafe will open in Eastie with coffee, pastries, and a neighborhood resource center
Bulfinch Boston Realty is behind the new concept.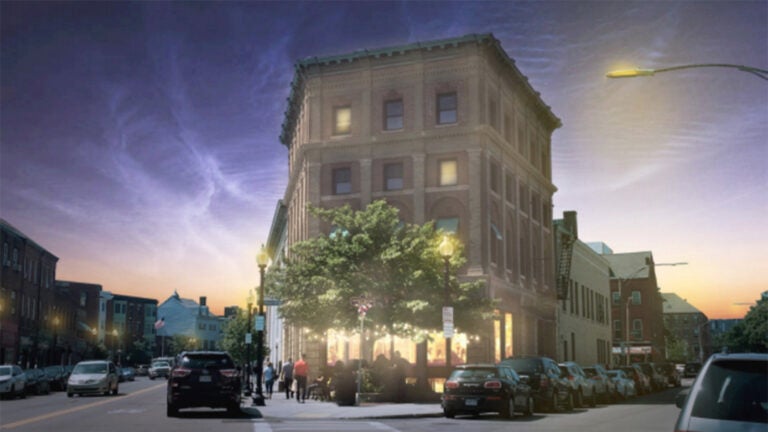 Last year, Zechariah Cook and Ismail Guessous, of Bulfinch Boston Realty, were asked to price out a property in East Boston, a corner space at 18-20 Meredian St. in Maverick Square.
Instead, they liked it so much that they decided to sign a lease themselves.
"We were looking around the neighborhood, and we came up with a concept of opening a full-service neighborhood coffee shop and cafe," Cook, president and CEO at Bulfinch, told Boston.com. "We also wanted to take a look and see what can make this coffee shop different, and how can we bring more community and neighborhood into the coffee shop. Because your typical user of a local coffee shop is someone who lives in the neighborhood."
While the primary focus behind the two-level Kennedy Cafe is a community space and coffee shop on the first floor, the downstairs level will offer a home resource center, along with overflow seating from the cafe. Cook said guests who are seeking home-related local businesses, like an electrician, a plumber, or a landscaper, will be able to consult with a Bulfinch employee for a list of vetted local vendors.
"Think of it as the opposite of a Capital One Café," Cook said. "When you walk into a Capital One Café, there's somebody there from Capital One greeting you, and they have a name badge on. The coffee and the food is a secondary item, something that's there so you feel comfortable doing some work and spending more time inside their bank, but ideally you know it's a bank. We're doing the opposite, where you almost have to be a local and come in to know that we're there to serve. We want you to feel comfortable inside the cafe just getting a cappuccino if that's all you want."
The space was the former site of the Columbia Trust Company, which Patrick Joseph Kennedy — grandfather to President John F. Kennedy — helped to start.
While the 2,500-square-foot cafe doesn't have a kitchen, Cook and Guessous said they're working to partner with a local bakery and coffee provider to bring in fresh pastries daily and offer a full coffee lineup. The cafe will also serve paninis, salads, and smoothies, with seating for roughly 50 guests between the two floors.
Kennedy Cafe is in the early stages of planning, with a scheduled opening date slated for the fall.
Before launching their real estate careers, Cook and Guessous both worked in the hospitality industry and have a combined 25 years of experience working as dishwashers, waiters, bartenders, and general managers. They're hoping to translate that experience into creating an inviting atmosphere.
"For us, it was very important to create a living room [feel] — it's the neighborhood's living room," Guessous said. "Grab a cup of coffee, some pastries, and enjoy yourself just like if you were in your own living room. That's what we're trying to bring to the neighborhood." 
Get Boston.com's browser alerts:
Enable breaking news notifications straight to your internet browser.