Restaurants
Border Cafe in Harvard Square has closed for good
The restaurant was damaged by a fire in December 2019.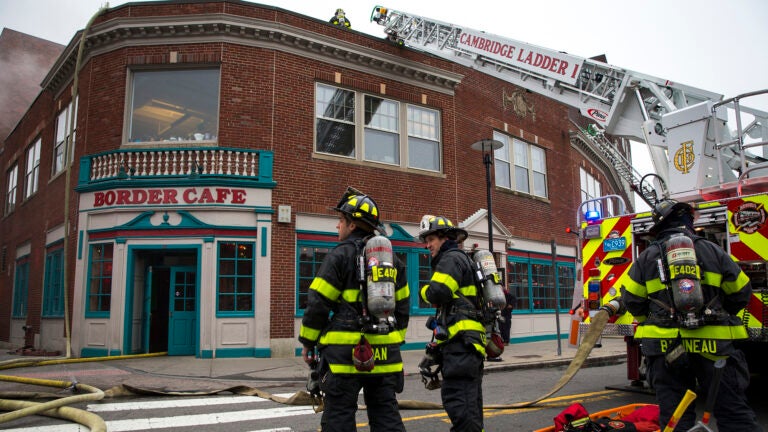 After a two-alarm fire damaged Harvard Square's Border Cafe in December 2019, the Tex-Mex restaurant closed its original Church Street location with the intent to reopen. Now, it appears that reopening will never come.
According to Cambridge Day, a general manager at the restaurant's Burlington location confirmed that the chain decided at the end of 2020 that it would not reopen the Harvard Square outpost.
Border Cafe did not immediately respond to Boston.com's request for comment. However, Denise Jillson, executive director of the Harvard Square Business Association, confirmed the closure with Boston.com.
"They have permanently closed," Jillson said. "They've been closed for a while [due to] the pandemic and, before that, the fire. [The pandemic] was just the final nail in the coffin."
Jillson also cited the 2012 closure of the AMC in Harvard Square as a contributing factor.
"To be honest, it's been a challenge on Church Street for almost a decade," she said. "[Border Cafe] started to see a decline in their sales as far back as July 2012, and the reason for the decline was the closing of the theater. When you have the theater that brought in roughly 1,000 people a night to Church Street and then that stopped when the AMC didn't renew their lease … that really had an impact. So there was that, and there was the fire, and there was the pandemic."
Border Cafe first opened at 32 Church St. in 1987, with Tex-Mex and Cajun cuisine at the heart of its menu. In the 1990s, it kicked off a rapid expansion, opening a Saugus location in 1990, followed by Woodbridge and Fairfield, New Jersey, in 1992 and 1996, respectively. The chain expanded to Newark, Delaware, in 2001 and opened a Burlington location in 2007.
"It was a fun, friendly, welcoming place," Jillson recalled. "And it was accessible — and by accessible, I mean the price points were right where they needed to be. …You know, you need your upscale restaurants like Harvest and Benedetto, places like that, and you need the burrito place like El Jefe's [Taqueria], and then you need the larger, boisterous, noisy, family-friendly place like the Border was. I think that's why we're seeing such an outpouring of people lamenting the loss."
News of the Border Cafe's permanent shutter comes on the heels of The People's Republik announcing that it had permanently closed the communist-themed bar. The city has seen a slew of closures throughout the pandemic, including The Field Pub, Bukowski Tavern, Flat Top Johnny's, and others.
Get Boston.com's browser alerts:
Enable breaking news notifications straight to your internet browser.