Restaurants
The owner of Pétsi Pies has retired, but her pies aren't going anywhere
"I love what she's built, and I've loved that ever since I stepped foot in that place," said new owner Jill Remby.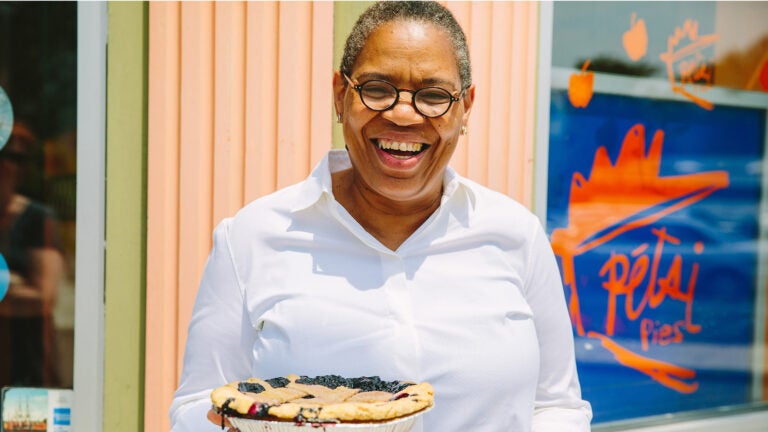 Renee McLeod has been the owner and creative force behind Somerville stalwart Pétsi Pies since it first opened in 2003, serving chocolate cream pies, apple pies, Mississippi mud pies, and more to a dedicated fan base. But the time has come to move on, McLeod recently shared.
In a press release Thursday, McLeod announced that she has retired from daily operations and ownership of the company in an effort to work on her next project: publishing a cookbook. She'll also continue to develop recipes for the bakery with Jill Remby, who has taken over ownership of Pétsi Pies.
"I am excited for the next iteration of my creative life and baking career," McLeod said in the release. "But I am also elated that my vision for a neighborhood pie shop carries on through Jill's pastry expertise and business leadership. Dare I say it's bittersweet?"
Remby, a central Mass. native, has worked as the pastry chef, bookkeeper, and operations manager at Pétsi Pies for the past five years. She said that everything from the menu to the staff to the bakery's name will remain the same.
"I love what she's built, and I've loved that ever since I stepped foot in that place," Remby told Boston.com. "We'll keep the same staff, same family recipes. I'm going to put new things on the menu for spring, but that's not that different — we always do something seasonal."
One new development, though, is the launch of the The Renee McLeod Scholarship fund, available to a student at Cambridge's Rindge School of Technical Arts. Remby said the scholarship will be awarded to an entrepreneurial student who is hoping to start their own business.
"Renee served on boards and committees [at Rindge] for years," she said. "She's been in that community for a long time."
To help fund the scholarship, Pétsi Pies will donate $5 from every chocolate bourbon pecan pie sold.
McLeod grew up in Providence, Rhode Island, but spent summers with her grandmother and great grandmother in Alabama making pies for friends and neighbors. Her desire to commit to the baking world full time began when she was asked to make 25 pies for a wedding, and she eventually opened Pétsi Pies — Pétsi is Renee's nickname — at 285 Beacon St.
"I opened because I thought pie brings people together," McLeod told WBUR in September.
Pétsi Pies currently offers online ordering, with pickup available between 9 a.m. and 3 p.m, Tuesday through Sunday. Deliveries are offered within a six-mile radius of the store between 10 a.m. and 1 p.m. A special Valentine's Day menu currently features cherry pie, a Valentine's Day gift box, and more.
Get Boston.com's browser alerts:
Enable breaking news notifications straight to your internet browser.