Restaurants
The dishes that shaped some of Boston's Black restaurant owners
From Jamaican rum cake to the McDonald's Big Mac, here's what inspired a cadre of local culinary all-stars.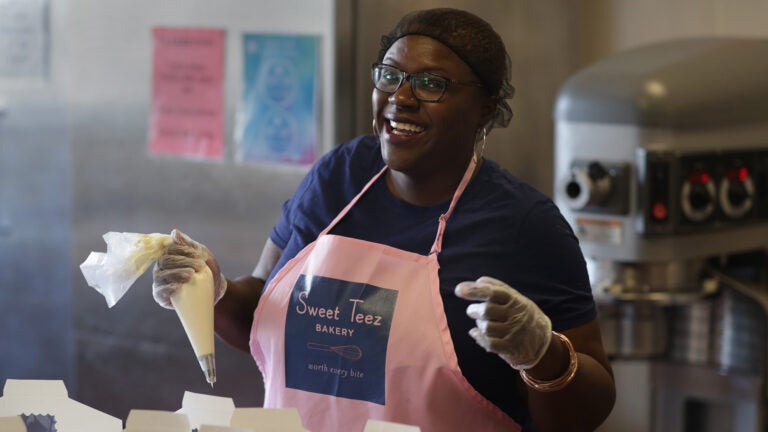 Let's take a little trip down memory lane.
Think back to your favorite memories that revolve around food: The dinner table sporting mom's famed lasagna, the trips to a neighborhood taco truck with your cousins, the warm bowls of pho you would slurp from on chilly afternoons. For some people, those memories are sweet reminders of the power that food has to forge relationships and continue family traditions. For others, they launched entire culinary careers.
For Black History Month, we spoke with a handful of Black restaurant owners and culinary professionals about the dishes that shaped both their cooking and their businesses. Some recalled family recipes that had been passed down — and tweaked — over generations, while one owner named a ubiquitous fast food burger as a marketing success he hopes to emulate.
Read about the dishes that inspired these local chefs and entrepreneurs, then go try their own standout dishes to make new culinary memories.
Teresa Maynard, owner and baker at Sweet Teez Bakery
The dish: Jamaican rum cake
Peruse Sweet Teez Bakery's decadent menu, and you'll find the Sweet Teez Tipsy Cake, a Jamaican rum cake available in four sizes. 
"Out of everything on the menu, it's my favorite thing to make," Maynard said. 
The rum cake is an ode to Maynard's grandmother, who would soak fruit in wine all year in order to make the cake around Christmas. Though Maynard said her grandmother didn't drink, the baker recalls plenty of alcohol in the dessert — a fact that she and her cousins would often tease her grandmother about.
"Everybody would be waiting with bated breath to get a piece of this cake, and it was just so good," Maynard remembered. "It brings me such joy. I'm happy to be able to share it with other people. For me, when I open the oven and I smell the rum cake, it's nostalgic."
When Maynard started Sweet Teez Bakery, which operates out of Dorchester's Commonwealth Kitchen, in 2016, she reached out to her mother and six aunts for the recipe — and received seven slightly different versions back. So she experimented with her own iteration of the cake, swapping out whole raisins for blended raisins and using rum buttercream icing instead of royal icing. The ultimate test: What did Maynard's grandmother think of her twist on the family recipe?
"When I finally figured out my version of her cake, I go and bring her a piece," Maynard said. "At the time I think she was 100 [years old]. She said, 'You know, this cake is OK.' And my aunts were like, 'Oh my god, she said it was OK! You're not going to get anything better than that.' That was the best compliment to get from my grandmother."
The dish: Hot sauce
If you've been to Tawakal Halal Cafe in East Boston, you know about its Tawakal Sauce: a fiery hot sauce made with fresh fruits, vegetables, and a custom blend of spices from East Africa. A steadfast accompaniment to Tawakal's dishes, the hot sauce is also available in bottles to take home. But it all started in Somalia, with Noor's mother mixing up a fresh batch of sauce outside their home, a sauce that would then become a regular staple at family gatherings and meals.
"I still remember her making the hot sauce," Noor said. "It takes a while to make it. Growing up, we didn't have stoves, so I knew that any time when she was cooking food [or the sauce], you could smell the burning firewood, the makeshift kitchen that was in the courtyard. That thing was just continuously burning."
When Noor and his family moved to the United States, Noor's mother made a few adjustments to the sauce, adding habanero peppers to replace peppers that had grown in Somalia. But Noor said it tastes the same, and incorporating it into Tawakal's opening menu was a no-brainer (the restaurant's original location in Orient Heights closed in 2011; in 2018, it reopened in Jeffries Point). Now, Noor said he's hoping to introduce it to a wider audience.
"One thing that happened during the holidays was people had been ordering it from all over the United States," he said. "I was at the post office a week before Christmas, just shipping sauces. That really got me to think more about the sauce itself. I was like, wow, I have to share this Tawakal hot sauce with the world. I'm hoping to try this out everywhere and [sell it] in stores."
Anthony Brooks, owner and executive chef at The Coast Café
The dish: Macaroni and cheese
There is no question in Brooks's mind about the dish that made a sizable impact on his culinary career.
"Mac and cheese," he said, definitively. 
More specifically: His mother's mac and cheese, which she would make for special occasions throughout his childhood. 
"It was the old way we used to make it," said the owner of Cambridge's Coast Café. "The layered mac and cheese with the butter and the milk and the egg. That was one of my favorites, and we still have it in our restaurant today."
At his restaurant, Brooks puts his own twist on the family recipe, adding parmesan to his mother's medley of cheeses that includes American and extra sharp cheddar. He said the dish is still baked "the same way we used to do it as a kid."
"People love it [at Coast Café]," he said. "Sometimes we run out at night before we close, and people come in and say, 'Hey, I want mac and cheese.' When we tell them it's out, they go, 'Aw, you know what, I'll come back tomorrow.'"
Celeste Croxton-Tate, owner of Lyndigo Spice

The dish: Jerk chicken with coconut rice and peas and fried sweet plantains
Growing up in Roxbury, Croxton-Tate would oscillate between watching cooking shows on WGBH and observing her Caribbean neighbors making vibrant, spiced curries.
"My culinary background stems from sitting in the kitchens and watching my family and neighbors use a myriad of fresh and dried spices and herbs for dishes made from scratch," she shared. "My favorite [dish] was, and still is, jerk chicken with coconut rice and peas and fried sweet plantains."
In 2006, Croxton-Tate started her own catering company, Lyndigo Catering, and added her favorite dish to the menu.
"But I had to make something savory [and] sweet to stave off the heat of the jerk spice, as it's very spicy," she recalled. "I came up with my recipe for pineapple chutney, and it took off from there. When the recession hit in 2008, I took a break from catering and created a line of chutneys, relishes, fruit spreads, and a spice blend."
Croxton-Tate's Lyndigo Spice was born, and customers can now order products like fennel and fig chutney, roasted mango relish, gingery blueberry fruit spread, original spice rub, and, yes, her signature pineapple chutney. As for the jerk chicken that inspired her popular chutney, you can find a recipe for it in her 2020 culinary memoir, "The Lyndigo Spice Cookbook: Full of Flavor with a Spicy Attitude."
The dish: McDonald's Big Mac
Though Dorchester's Bred Gourmet makes beautiful, gourmet burgers — grass-fed patties accompanied by sweet plantains, smoked gouda, maple bourbon aioli, and fig spread — Bred's owner, Tambo Barrow, was inspired by a more mainstream burger. 
Yes, that burger. The McDonald's Big Mac. 
"The Big Mac was always intriguing to me over the years, more so for the marketing of the sandwich," Barrow shared in an e-mail. "When I was younger, it was the biggest and best sandwich that you could get at McDonald's. As I grew older, I started to realize how much the marketing played a role in how I viewed the sandwich, from the Big Mac secret sauce to the double patties. I wanted to create a better burger that would give a similar feel."
Barrow succeeded. Burger fans can now order Bred originals like the Maui, made with grass-fed beef, sliced pineapple, smoked ham, and sweet plantains; or the Moody Buffalo, a turkey burger topped with buffalo slaw, smokey blue cheese, and shaved celery.
And if you want something that rivals Barrow's inspiration, the Big Mac? Place an order for the Bred Classic, a beef patty piled high with smoked bacon, lettuce, tomato, onion, pickles, American cheese, and Bred aioli.
Get Boston.com's browser alerts:
Enable breaking news notifications straight to your internet browser.