Restaurants
Report: Eastern Standard, Island Creek Oyster Bar, and The Hawthorne are closed for good
Significant changes are in store for an iconic stretch of Kenmore Square.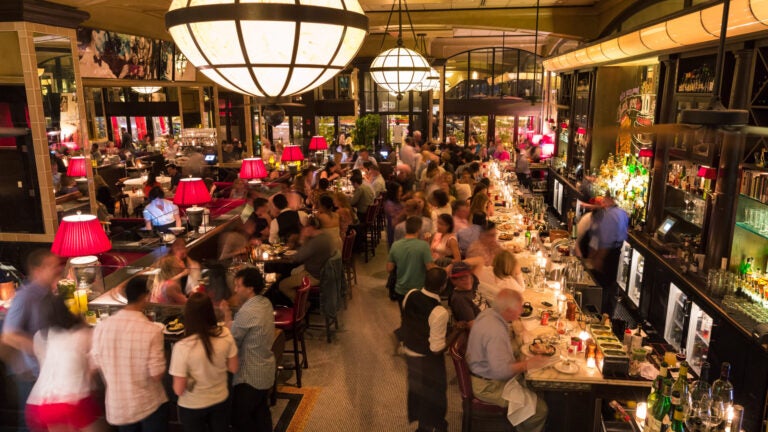 A trio of revered restaurants in Kenmore Square have reportedly shuttered for good after months of uncertainty.
On Thursday, a representative for Eastern Standard confirmed with The Boston Globe that the restaurant, along with Island Creek Oyster Bar and The Hawthorne, would not reopen.
Island Creek Oyster Bar's Burlington location remains open.
The news comes after a City of Boston Licensing Board hearing notice revealed that Island Creek Oyster Bar and Eastern Standard's liquor licenses would be transferred to UrbanMeritage, the real estate group that owns the retail properties below the Hotel Commonwealth, including the three restaurants.
UrbanMeritage did not respond to Boston.com's request for comment.
Restaurateur Garrett Harker opened Eastern Standard in 2005, attracting talented industry professionals that went on to open their own successful restaurants and bars in Boston. The opening chef, Jamie Bissonnette, has since gone on to open Toro, Coppa, and Little Donkey, while Andrew Holden, general manager at Eastern Standard for 13 years, opened Branch Line in Watertown and Shy Bird in Kendall Square. Naomi Levy became bar manager in 2014, and after leaving Eastern Standard went on to help open Better Sorts Social Club and launch Maccabee Bar, a Hanukkah pop-up bar.
Harker faced a dispute over the lease with UrbanMeritage for years, and last summer, after he temporarily closed the restaurants due to the pandemic, he told the Globe that he received a letter from his landlord's attorney informing him that he had defaulted on Eastern Standard's lease, which included the Hawthorne. His landlords "don't seem to acknowledge that there's anything special about these restaurants," he told the Globe.
In May, Harker posted a message to Eastern Standard's Facebook page on the restaurant's 15-year-anniversary. The message detailed how he and his staff might have celebrated had the pandemic not forced their restaurant, which Harker never reopened for takeout or delivery, to remain dark.
"We'd top off each others' wine glasses, laugh too loud for too long about all the characters and crazy services and goofy situations we got ourselves into over the years," he wrote. "Some legendary regulars would meet each other for the first time, forging new and enduring friendships. We'd toast the ones that weren't with us because of distance, or death, or life changes."
He thanked his team and the restaurant's regulars, and reminisced about how his role had changed over the years.
"So at 15 years tonight I would have said a few words, and hugged all of you, and stood off in the corner with a beer and a fernet," Harker wrote. "I would have let myself imagine a time when I might not be in Eastern Standard's life, and I would have been at peace. I just never could imagine for a second that I wouldn't have ES in my life."
Eastern Standard — with its high ceilings, cozy red booths, and charming outdoor patio — was the site of memorable celebrations and major life moments for many Boston residents. Want to share a memory about your experience at the restaurant? Fill out the form below, and stay tuned to hear more about how Bostonians are reacting to the closure.
http://bgmcreative.survey.fm/share-your-memories-of-eastern-standard