Restaurants
Readers share their memories of the now-closed Eastern Standard in Kenmore Square
"So heartbroken to see the end of Eastern Standard," one reader wrote.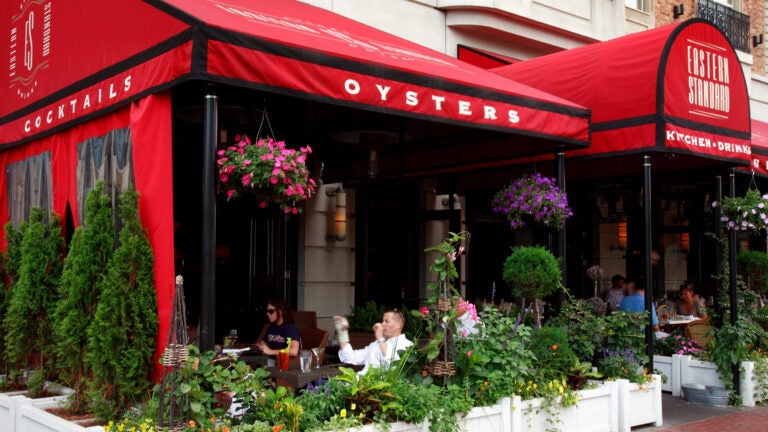 Almost a year after the pandemic entered our lives, the list of restaurant closures has continued to grow — and the farewell announcements haven't become easier to process. When news hit Thursday that Eastern Standard, along with sister restaurants Island Creek Oyster Bar and The Hawthorne, had permanently shuttered, it was a gut punch to both occasional visitors and regular guests.
The iconic Kenmore Square restaurant within the Hotel Commonwealth helped jumpstart the careers of many in the Boston restaurant industry, with some taking to social media to share their own Eastern Standard memories.
"I remember the first time I sat at this bar," Will Isaza, director of operations for Blossom Bar and Ivory Pearl in Brookline," wrote on Instagram. "I'll always remember that this was my education. …Tonight we'll raise a few for you, with the hopes of seeing that name attached to another building."
"Eastern Standard gave me my best friends," shared Ashley Willis, assistant general manager at Little Donkey and Toro. "It guided me towards my career. It challenged me beyond words, and built me back up."
U.S. Rep. Alexandria Ocasio-Cortez also mourned the closing.
"No! Please don't be so — Eastern Standard was such an incredible place and home to so many wonderful memories," she wrote in a Feb. 22 Twitter post. The New York Democrat graduated from Boston University in 2011.
The closure also prompted Eastern Standard's patrons to share their own memories, and to even start a Change.org petition to save the three restaurants. When we asked readers to recall their experiences at the beloved restaurant, stories revolving around first dates, birthdays, pre- and post-Red Sox meals, and run-of-the-mill nights at the bar came flooding in. Read them below, and consider raising a glass to Eastern Standard this weekend.
Engagements, first dates, and anniversaries
"My husband and I celebrated our first date, and subsequently first and second anniversary here. It is a very special place for us, and I'm heartbroken to hear it's closing. The service was always impeccable." — Vinita, Cambridge
"My wife and I had dinner here the night we got engaged 15 years ago! Sad to see this." — Chris, Sudbury
"We enjoyed drinks to celebrate my sister-in-law's engagement in 2008. I always loved the energy at Eastern Standard. It'll feel so weird to not have this group of restaurants around. As a former concierge, they were always a top choice for guests." — Alaina, Shirley
"My husband and I got engaged upstairs in our room at the Commonwealth Hotel. After he proposed we immediately headed downstairs to celebrate with dinner and drinks at Eastern Standard before heading over to Fenway Park for a Red Sox game." — Liz, Worcester
"My husband and I had our first date here and returned a few days before our wedding. We've since moved out of the city but are still sad to see it closed. So many memories! They made a great Old Cuban!" — Beth, Woburn
Special occasions
"In high school, my friends and I took a trip to Eastern Standard. I had never been to that 'fancy' of a restaurant before. My one friend knew it because it was her parent's favorite place. I can't remember my order but the same friend got bone marrow and we were all shocked by it. Evidently, it was quite tasty. That is a fond memory from about seven years ago. I had hopes to return to Eastern Standard at some point. It will be missed even by a one-time visiter!" — Anonymous, Boston
"My older brother took me to Eastern Standard for my 21st birthday. With my boyfriend in tow as well, we sat at the high booth near the bar and I reveled in the amazing cocktail menu, ultimately ordering something with raw egg — and loving it. The waiter was funny and kind, and made a big celebration out of my special day. Will never forget it! We went back many times to celebrate all kinds of occasions. So heartbroken to see the end of the Eastern Standard." — Andrea, Ludlow
"Celebrated after my successful doctoral defense hearing in April 2016 (and enjoyed many lunches seated in the beautiful red banquettes before classes)." — Theresa, Swampscott
"Spent every birthday at ES during my time in Boston from 2015 to 2018. Countless mornings, afternoons, and evenings sitting at the bar, at the AC Lounge, the patio, or the dining room. A Cafe Sheridan during a snowstorm, or a High Heat before a baseball game. A meal for every occasion and a drink for every one as well. I laughed, cried, reminisced…pretty much experienced every emotion in the spectrum at ES. They will be sorely missed by me and many others for sure. So long, dear friends." — Iván Arcila, Cancún, Mexico
Pre- and post-Red Sox games
"Too many wonderful memories to recount. We are Sox season tickets holders and enjoyed so many wonderful meals at Eastern Standard and Island Creek Oyster. Celebrated several birthdays and anniversaries during the Sox season. …Sox games won't be the same." — Brenda and Bert, Lynnfield
"Before I ever moved to Boston, this was where I had my first meal before going to a Sox game. That anchored a strong place in my heart and was a spot for birthday dinners, after work drinks, and dates. Later, after those dates, my wife and I l had our wedding reception on the patio outside. Eastern Standard was the foundation of the Boston I loved and will be missed." — Graham Kimmerer, Westminster
"Looked forward to going to see the Red Sox and eating at Eastern Standard. It was more eating at Eastern Standard that was the bigger draw for us!!" — Greg Tormey, Worcester
"After taking our daughter to her first Red Sox game ever (2015) and eating nonstop for nine innings, we decided to top the night off at ES. The 9-year-old was somehow still hungry. She tried your delicious oysters for the first time and loved them. My pockets have never been the same after that, but we have very fond memories of the place! Best wishes…and thank you!" — Oscar, Norton
"This was always my favorite pre-Red Sox game meal. My son has a birthday in August and for many years we had a brunch here before heading off to a game. The food was always great. I will miss this spot." — Gail, Marblehead
One last stop
"Eastern Standard hosted my send off party when I was adventuring off to Antarctica to be a chef for the U.S. Antarctic program. As a favorite of those of us in the industry, it was especially wonderful to celebrate there. Post deployment I moved to North Carolina, and if I could I would time travel to have one last Raspberry Beret cocktail with friends before moving. I will always miss ES and I will cherish my many memories from there!" — Jen Marks, Durham, N.C.
"My last night in Boston before moving cross country was spent at a Red Sox game followed by cocktails at Eastern Standard. It was a bittersweet moment and a memory I'll always hold dear." — Dimitri, Los Angeles 
"The anticipation of sitting at the bar and waiting to see what late-night specials would be written on that huge, beautiful mirror is a memory I won't forget. I left Boston for NYC two years ago and I made sure my last meal was whatever was offered from that late-night menu." — Nick, New York City
"ES was the first and last restaurant I went to when I moved to and from Boston. The news is heartbreaking. Too many wonderful memories to recall and so many pictures to show proof." — Elizabeth Sobotka, San Francisco
Traditions
"This was and will remain a special place to me. For a few years, the tradition was that after Christmas Eve Mass at St. Cecilia Parish by Berklee, myself, my dad, and my brother would come here for a celebratory meal. (And don't forget the oysters or cocktails!) I never had a bad meal and loved bringing friends here." — Benjamin, New York City
"For all of the 2010s, ES was the meeting spot for our Boston contingent of friends. Whether it was birthdays, New Years, random brunches, or a post-Red Sox game beer, Eastern Standard was a constant in our lives. This is truly an end of an era for the Boston restaurant scene." — Nick, South End
"I started going to ES within days of its opening and continued going there for all 15 years. And when [Island Creek Oyster Bar] opened I was a regular there as well. I can't say enough good things about [former owner] Garrett and his entire staff. They were wonderful to me. I will always hold the memories in my heart of the great food, great drinks, and special times I had there. Hope to see Garrett embark on a new project." — Nancy, Boston
"Lived next door for many years and ate here often. Most recently with my family and stepdad, who recently passed. I can remember him enjoying the raw bar and incredible menu. Will go down as one of my favorite restaurants in Boston." — Ben R., Boston
A special place
"My favorite ES memory is of a sunny late summer day when my family piled into our car for a 'mystery drive' that ended with a stop at the restaurant. We were in between the lunch and dinner services, and were lucky to snag a big cozy booth. The kids (then 5 and 8) were delighted to be somewhere 'so fancy' and we ordered a bunch of snacks and a round of Shirley Temples. When the chips and dip came, I told my daughter how when I was pregnant with her I couldn't get enough of them, and the server overheard and brought over an extra bowl just for her. No special occasion, just a summer day at a special place." — Anonymous, Somerville
"ESKD was my one of first restaurant jobs. I was still in college and truthfully intimidated by the polished, intelligent, and hard-working people that were my colleagues. Their knowledge of food and beverage, of how to elevate a customer's experience, of the industry in general, is unparalleled. Whether I was a regular or if I hadn't stepped foot in that restaurant for over 10 years, I'd still be able to walk through those doors and someone there would know my name and my favorite drink and they would treat me like a V.I.P. That's who ESKD is. They are the best of the best that Boston has to offer in the culinary scene in every way. I am so sad to hear of their closing." — Ashley, Gloucester
Get Boston.com's browser alerts:
Enable breaking news notifications straight to your internet browser.