Restaurants
Mamaleh's is expanding to Brookline. A new crowdfunding company hopes to help with the cost.
"What we were really taken by in this concept is just how sustainable it is for the business," said Mameleh's owner Rachel Miller Munzer.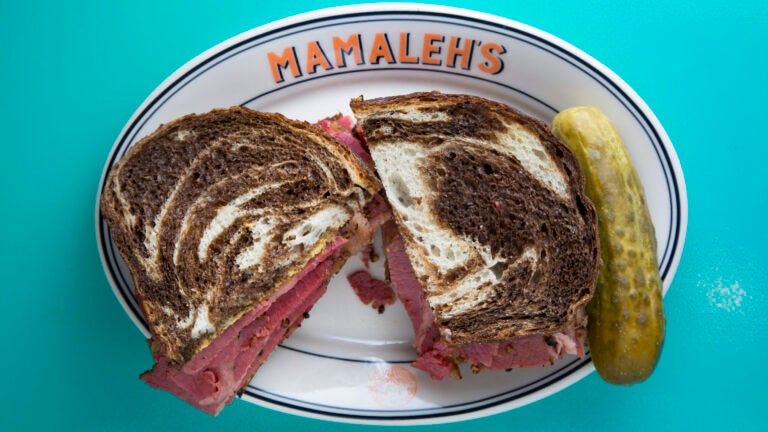 Mamaleh's Delicatessen has been a destination for bagels, blintzes, and babka since opening in Kendall Square in 2016. Now, the Jewish deli is expanding its footprint, and it's asking fans for a little help.
This summer, Mamaleh's is set to open another outpost at 1659 Beacon St. in Brookline, the site of a former Dunkin' shop. Owner Rachel Miller Munzer said the new location will be "a replica of what is happening right now at Mamaleh's in Cambridge," in that it will offer counter service with limited table seating coming at a later point. The menu will mostly mimic what is offered at the original Kendall Square location, and guests will be able to select prepared foods from a fridge and freezer. Takeout will also be available.
"We're really excited to be expanding to Brookline, and we're excited to put this new-ish concept into place," Miller Munzer told Boston.com. "We've been thinking about this for a while."
To help raise money for the new location, Mamaleh's is the first business to partner with NuMarket, a Boston-based crowdfunding company that launched Monday morning. NuMarket's model allows people to contribute money to a business's crowdfunding campaign; in Mamaleh's case, the restaurant hopes to reach a goal of $180,000. The twist? If the goal is reached, contributors will receive 120 percent of their money back to use at the business over the course of the year. For example, if someone contributes $100, they will receive $120 worth of credits to use at Mamaleh's, distributed equally each month for 12 months. NuMarket starts sending credits 30 days after the campaign closes, and each campaign lasts for 30 days. If the campaign goal isn't met, all contributions are returned.
"We really want people to use the credits and create this super sustainable cycle of small businesses," said NuMarket founder Ross Chanowski. "One where people are contributing to the growth of the business, and then they're coming in and using the value they got from that in the store, or in that restaurant, so that we really have thriving main streets."
Chanowski said the idea for NuMarket emerged during the pandemic when he saw the struggles of small, independent businesses.
"We recognized that there is a symptom to a larger problem, which is a lack of access to financing that really works for independent businesses," he said.
A fan of Mamaleh's since it first opened in 2016, Chanowski said that there are plans to launch a broader range of businesses on NuMarket in the coming weeks. Eligible participants are any direct-to-consumer business, which could include salons, retail shops, and other restaurants.
"For right now, given everything that's going on with COVID, we're focusing on helping existing businesses and existing restaurants to survive and to thrive," he said. "In the future, we want to help new businesses as well."
Mamaleh's plans to open the Brookline location in early summer. Miller Munzer said the $180,000 fund will help with the build-out and purchasing equipment.
"What we were really taken by in this concept is just how sustainable it is for the business," she said. "It also gives something to the people that are giving to us, and we get to see them every month as they come visit."
Find out more about Mamaleh's crowdfunding campaign on NuMarket.
Get Boston.com's browser alerts:
Enable breaking news notifications straight to your internet browser.