Restaurants
Glasser Coffee Co. debuts in Brighton with Peaks coffee and breakfast tacos
"I wanted the coffee shop to be able to offer something unique," owner Alex Kim said.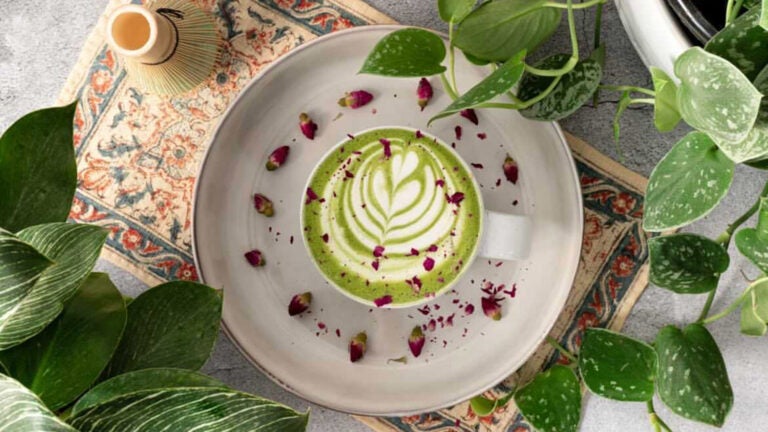 Alex Kim has held a string of jobs in the restaurant industry, working in over 10 different restaurants as a dishwasher, a busboy, and a server. In 2016, he helped his family to open Coreanos, a Korean-Mexican restaurant in Allston that has built a steady fan base. Now, he's striking out on his own with the debut of Glasser Coffee Co., a new coffee shop in Brighton's Oak Square neighborhood.
Glasser opened Monday at 589 Washington St., serving a robust lineup of coffee from Syracuse-based Peaks Coffee Company and tea from Smith Tea in Portland, Ore. Though Kim has extensive restaurant experience, he's never worked as a barista. So he asked his friend Sarah Kim to join him as Glasser's manager and head barista, bringing her skills gleaned from working in local shops like Nine Bar Espresso and Gracenote.
"Because Sarah and I are Korean-American, we do want part of that identity to be reflected in the space and also the food [and drink] we make," Kim said.
To that end, they've put their own twist on a few drinks. Instead of using Earl Grey, Glasser's London Haze — a variation on a London Fog — uses Smith Tea's Rose City Genmaicha.
"It's a green tea but it has hints of bergamot and roasted rice, which we found out pairs really well with the tea," Kim said.
Since opening, the shop's most popular drink has been the rose matcha latte, which uses house-made rose syrup along with real rose petals.
"A lot of the specialty drinks have a homemade touch to them, which I learned from my experience at Coreanos," Kim said. "All of our syrups, all of our sauces [are homemade]. … I wanted the coffee shop to be able to offer something unique."
Another item Kim wanted: Breakfast tacos. Kim, a taco fan, said he didn't think there were any solid breakfast taco spots in Boston. So he's offering his own version at Glasser. It's made with potatoes, eggs, bacon, and cheese, and topped with spicy mayo, cilantro, and sesame seeds. There's also a breakfast bowl and overnight oats on the breakfast menu, which Kim hopes to expand in the near future. He's also aiming to add lunch items.
Kim's prior experience working at a construction company enabled him to build out the entire store himself over the past nine months. He added tiling, made cement countertops, installed wooden slabs on the ceiling, and built a greenhouse cabinet for the shop's plant collection. Kim is drawn toward the 1970s aesthetic, and he selected vintage pieces of furniture to accent the space, like a 1970s record cabinet. While Glasser currently lacks indoor seating, Kim said he hopes to implement outdoor seating in the future. Within the shop, a retail section offers coffee beans, tea, and pins for sale.
This week, Glasser will be open Thursday and Friday from 8 a.m. to 2 p.m. and Saturday and Sunday from 8 a.m. to 3 p.m. Regular hours will begin next week, operating Tuesday through Friday from 7 a.m. to 3 p.m. and Saturday and Sunday from 8 p.m. to 3 p.m. The shop is closed on Mondays.
Kim said that the neighborhood welcomed the new business with open arms.
"It's been great, lots of good feedback," he said. "The residents have been telling us that it's very much been in need of a proper coffee shop."
Get Boston.com's browser alerts:
Enable breaking news notifications straight to your internet browser.