Restaurants
The future of Boston restaurant design, according to local architects
"We want to design something that stands for time," said Bill Whitlock, head of Whitlock Design Group.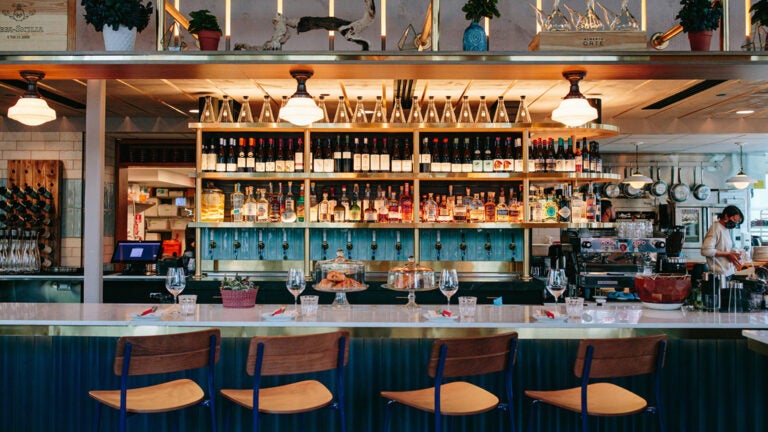 The coronavirus pandemic has had a seismic impact on the restaurant industry over the past year: countless closings and hibernations, lost income and wages, continuous pivots, and a heightened emphasis on takeout and delivery, for starters.
But what about the physical restaurants themselves?
Before the pandemic, you might have found the interior of your favorite local eatery packed with tables and chairs, paper menus stacked by a host stand, and not a patio table in sight. Now, one section of a dining room might be cordoned off for takeout orders, while those who are dining in scroll through a menu on their phones. Outside, heat lamps glow by bistro tables on narrow, snowy sidewalks.
It's not just diners who are adjusting to this new normal. Architects are shifting their outlook, too, as they look ahead and reconsider how to design new restaurants for function and safety.
"We want to design something that stands for time," said Bill Whitlock, head of Whitlock Design Group, whose clients include Kings Dining and Entertainment, MJ O'Connors, PAGU, and Trillium Fort Point. "These leases are 10, 15, 20 years, and we design these spaces to work for that length of time."
To find out what the future of restaurant design might look like, we spoke with Whitlock, Jessica Haley of RODE Architects (Fox & the Knife, Dorchester Brewing Co., The Lexington, Atlántico), and David Hacin and Matthew Arnold of Hacin + Associates (Shore Leave, the Briar Group, Flour, Myers & Chang). All placed an emphasis on the importance of outdoor dining and a continued rise in technology, while some predicted a trend in booth seating, touchless bathrooms, and designated takeout areas.
Here's a look at how the pandemic could have long-lasting impacts on local restaurant design.
Outdoor dining will be an even bigger priority.
One of the most visible changes has been the shift to outdoor dining, a move that temporarily gave a European vibe to the city but has proven challenging this winter. Pre-pandemic, Whitlock said that restaurants didn't allocate much of their budget to outdoor dining.
"They had a dollar figure they'd put on patio spaces, and generally the notion that we saw was — for the most part — patios were advertisements," he said. "You put some seats outside, put some pretty umbrellas up and say, hey, we're open, we've got a little bistro thing going on here. But you didn't really sit people out there because it's a pain in the neck."
Now clients are looking for spaces that can easily transition from indoors to outdoors using retractable doors, louvered windows, and large window panes. One challenge in designing these open-air spaces is that it can interfere with the restaurant's air conditioning, wasting energy in the process. So Whitlock and his team are considering alternatives.
"We're looking into air curtains now: the ubiquitous air curtain when you walk into a grocery store and it blows your hair all over the place," he said. "They tend to be noisy and annoying, and so we're trying to find the quietest ones that are effective. … We've made a big commitment to try to figure [an air flow] solution out as people are looking for 40-foot garage doors that open up and the whole restaurant wall is gone."
A greater push for outdoor seating isn't just happening with new restaurants. Haley anticipates a rise in "facelifts" for new concepts moving into old spaces, as opposed to full build-outs.
"Since there's been so many closures, there's going to be such a glut of built-out spaces, and a lot of them are pretty fresh," she said. "Now what I'm seeing is people coming to us, looking at spaces that have closed, and saying, hey, how much is it going to cost to make it look different and a new concept, but not spend millions of dollars? We're going to see less fresh build-outs, unless it's a developer or something that's going to be supporting it."
Communal tables and banquettes are out. Booths are in.
Love them or hate them, communal tables will likely not be incorporated into the design of future restaurants. But booths are another story.
"Booths were kind of ubiquitous with family dining for so long," Whitlock said. "I remember Friendly's used to have this really cool booth that had two booths on either side of a divider, and if you had a big group, you'd slide the partition up, and you'd have a mega booth. Guess what? That's a brilliant idea. I think booths are going to make a big comeback, and you can very easily create little slots that you can add in and give you all kinds of separations, be they plexiglass or something else."
Banquettes, particularly those that span an entire wall, could also be on the chopping block.
"The days of the single banquette, with 20 tightly packed seats all jammed together, might be a thing of the past," Arnold said. "With some [places] we've been looking at, there might be more banquette-style seating where you can comfortably have a group of four or six, but you have a little bit of barrier. The space is a little bit more defined between you and the next guest."
Haley has swapped out seating materials in favor of those that are easy to clean. At The Lexington, a three-concept restaurant that opened this past fall in East Cambridge, her team was able to quickly change the original woven fabric to a non-porous one that's easier to wipe down.
"We're happy we did, because I think people for a while are going to be a little bit more careful in thinking about germs," she said. "It's going to be ingrained in all of us."
Whether swapping out fabrics or installing booths, most of the architects interviewed emphasized that these changes won't be temporary. Instead, they'll be part of the new normal.
"Booths aren't flexible," Whitlock said. "It's a big commitment and an expense; it's much more expensive to build booths than tables and chairs. But if that's what makes customers feel comfortable, then that's going to be a big thing."
Touchless bathrooms will be the norm.
Guests are already accustomed to a variety of touchless elements in bathrooms: motion-sensor faucets, foot pulls on doors, and hand dryers. The pandemic has only made touchless design more of an imperative in restaurants.
"All the bathrooms that we're designing now are 100 percent touchless," Haley said. "Everybody is going in that direction, for sure."
Arnold said that the current cultural shift toward individual, unisex restrooms — as opposed to men's and women's restrooms with multiple stalls — is conducive to pandemic times.
"It's a small space, and you're in there by yourself," he said. "There's ventilation and air flow. It seems like more of a controlled environment, and you're not standing or at a stall right next to somebody."
While Whitlock said hand dryers are more of a challenge ("blowing air is not particularly COVID-friendly"), he said guests can expect to see more design elements like doors that swing out of the bathroom so you can push it with your arm instead of touching a door handle with your hand.
"There will be more [touchless elements] as we move forward," Whitlock emphasized. "There are still aspects of restrooms — toilets and things like that — where there isn't anything that I'm aware of that makes those touch free, but certainly the days of having levers at the sink are pretty much over."
Takeout areas may be incorporated into the restaurant's design.
For so many restaurants trying to survive during the pandemic, takeout was one of the biggest pivots of 2020. Businesses that had previously never considered to-go options began offering pickup and delivery services on Toast or third-party apps, turning sections of their dining room into makeshift pickup locations.
Going forward, takeout may be factored into the design of a new space, particularly when it comes to restaurants trying to separate their takeout operations from their dine-in customers.
"I've heard from some of our restaurant groups that they struggle with it because their whole model was never to be a takeout establishment," Arnold said. "But we're definitely seeing, with some of the people we're talking to now, that there just needs to be a bigger, more inherent takeout aspect to the restaurant."
That includes elements like separate takeout windows, which restaurants like Trina's Starlite Lounge in Somerville and Uni in the Back Bay have already incorporated, as well as dedicated takeout sections built into the design. Haley anticipates being tasked with how restaurants will deal with takeout orders.
"Is there a place at the host stand where [orders] can be held until somebody comes to pick it up?" she said. "Is there a special area in the kitchen where they're held to stay warm? I think that's something that will be an extra design challenge. Having more takeout but not having somebody that's dining walk in and feel like they're walking into a takeout restaurant — hiding that in a tactful way."
The QR code is here to stay.
All of the architects who spoke with Boston.com agreed: The pandemic has accelerated technology's role in restaurants, normalizing processes like ordering via QR codes.
"This is the best thing to happen for the QR code," Haley said. "There are sustainability reasons, too. I think people will want to stop printing menus as much."
Without large menus taking up space, she said she envisions host stands getting even smaller, with room for just a small tablet.
"If you can have a QR code, do we really need to contribute a hundred new pieces of paper to the world to distribute that menu?" Hacin asked. "What have we learned from all this? Can we push the sustainability agenda?"
Beyond the QR code, some restaurants are encouraging customers to pay the bill through their phones, eliminating the need for a server to come over and collect cash or a credit card. While these technology-driven swaps may not be for everyone — particularly fine-dining establishments that give more weight to personal interaction — it's steadily becoming the norm.
"I know some of the software is expensive and not all restaurateurs want to incur that cost, but I think in many ways it is the way of the future," Arnold said. "I imagine in this new touch-free world, we'll be doing more and more of this [technology-driven] stuff, and we'll be dealing with less and less paper products, and, potentially, hosts."
Get Boston.com's browser alerts:
Enable breaking news notifications straight to your internet browser.