Restaurants
City officials remind Southie restaurants and bars to follow COVID-19 safety measures for St. Patrick's Day
"We do anticipate that there will again be an influx of patrons into South Boston," a city official said.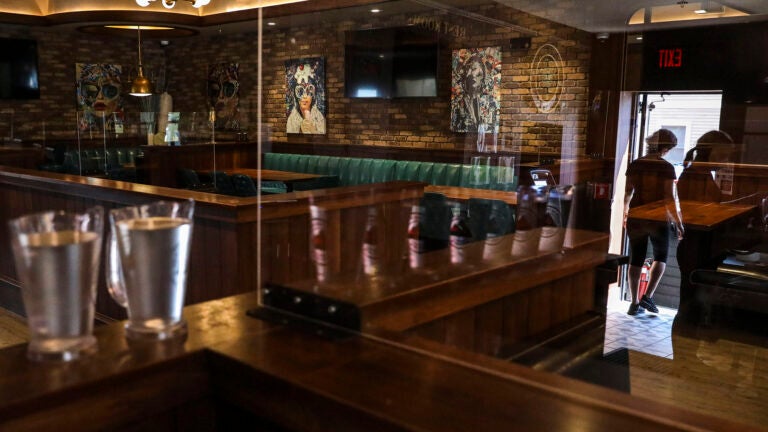 While Boston's St. Patrick's Day Parade was canceled for a second straight year due to the coronavirus pandemic, South Boston restaurants are still open for business. And the city is reminding them that, despite the holiday, COVID-19 rules still need to be followed.
The Boston Licensing Board conducted a mandatory informational hearing Friday afternoon for establishments holding a liquor license in South Boston, including restaurants and liquor stores. Lesley Delaney Hawkins, executive secretary and general counsel of the Boston Licensing Board, assured attendees that this was the same informational hearing that the Board and the Boston Police Department have with South Boston licensees before every St Patrick's Day. The Board touched on a number of COVID-19 safety measures, reiterating that businesses were responsible for enforcing these measures in an effort to keep their patrons safe.
"We do anticipate that there will again be an influx of patrons into South Boston," Hawkins said. "As St. Patrick's Day is on a Wednesday, March 17, this year, we anticipate that there will be a significant influx that will begin Friday, March 11, and will run through Sunday, March 2."
Kathleen Joyce, chairwoman of the Boston Licensing Board, reminded attendees that South Boston licensees voluntarily closed on St. Patrick's Day last year when the gravity of COVID-19's impacts became apparent. She then went over a number of regulations that go into effect on March 1, following the state's decision to move into the second step of Phase 3.
While capacity restrictions have been removed, restaurants must still place tables and chairs six feet apart.
"Social distancing is now the lens through which we are looking at enforcement of capacity," Joyce said. "It's not a number."
Tables can be closer than six feet if they are divided by non-porous barriers that are six feet tall. The 90-minute time limit at tables will still being enforced, and restaurants and bars are required to dispel any lines that form outside.
"I know this is an issue every single year," Joyce said. "It was an issue this summer when the weather was nice in all parts of the city, not just South Boston. But you cannot have a line outside. March 11 through March 21, especially. … You're responsible for ensuring that there's no line outside your licensed premise."
Live entertainment, including DJs and trivia, is still not allowed in Boston restaurants, and patrons must have food on their table if they're drinking an alcoholic beverage.
"We will be looking at this particular neighborhood closely just because it's St. Patrick's Day, but I assure you we're not looking for violations," Joyce said. "We're looking to help you."
Boston Police Department captain Joseph Boyle thanked business owners for their cooperation over the past year, noting that it had been an incredibly difficult time. He said there would be additional police coverage the weekend before and after St. Patrick's Day, as well as on the holiday itself, and that he anticipates a crowd coming to the neighborhood.
"Lines will be an issue, so just do the best you can with the lines out front," he told the hearing's attendees. "We'll be there to assist you with any issues you have that may arise. … We'll be inspecting inside the bars, we'll be out on the street making sure everything is orderly. But please look at us as a resource. We're here to help you."
Get Boston.com's browser alerts:
Enable breaking news notifications straight to your internet browser.