Restaurants
Women-owned restaurants in Boston have teamed up for a powerhouse dinner on March 8
Celebrate International Women's Day with a four-course meal from some of Boston's leading women restaurateurs.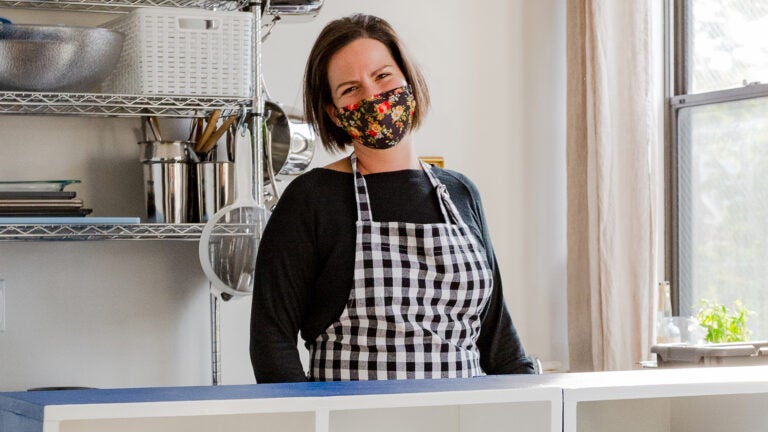 In July of 2020, Rohini Dey — owner of Chicago's Vermilion restaurant — wanted to create a movement for women restaurateurs to connect with each other while trying to keep their businesses afloat during the pandemic, sharing resources, offering support, and combining economic power.
The initiative was called Let's Talk Womxn, and launched with 15 members in Chicago before swiftly expanding to include more than 350 members across 12 cities, including Boston. To celebrate International Women's Day, Let's Talk Womxn will debut its first nationwide event — and you're invited.
Nine cities will participate in "Dine Together & Let's Talk" on March 8, when women restaurateurs will join together and create multi-course meals paired with a Zoom conversation moderated by prominent movers and shakers, including Mass. Attorney General Maura Healey. In Boston, the event features a four-course dinner for two ($85), with the option to choose from a vegetarian or omnivore dinner highlighting dishes from the following local chefs and restaurateurs:
Jen Ziskin of La Morra, Heritage, Punch Bowl
Tracy Chang of PAGU
Seana Gaherin of Dunn Gaherin's
Karen Akunowicz of Fox & The Knife
Nancy Cushman of O Ya, Hojoko, Bianca
Rachel Miller Munzer of State Park, Mamaleh's, Vincent's Corner Grocery
Heather Mojer of State Park, Mamaleh's, Vincent's Corner Grocery
Rachel Sundet of State Park, Mamaleh's, Vincent's Corner Grocery
Carolyn Johnson of 80 Thoreau, Mooncusser
Sarah Wade of Stillwater
Olive Chase of The Casual Gourmet
Kathi Turner of Turner's Seafood
Rhonda Kallman of Boston Harbor Distillery
Sumiao Chen of Sumiao Hunan Kitchen
Cheryl Straughter of Soleil
Nia Grace of Darryl's Corner Bar & Kitchen
Kristine Higgins and Noelle Somers of Somers Pub
Emily Vena and Rachel Trudel of Cobble
Kate Smith of Thistle & Leek
Denise Herrera of Burton's Grill
In addition to the four-course feast, guests can tack on bottled espresso martinis and old fashioneds from Boston Harbor Distillery.
"Restaurants are the hardest hit sector," Dey said in a press release. "And women entrepreneurs within this segment are hit hardest. Our restaurants are smaller in scale and often undercapitalized. Women shoulder the inevitable extra home workload, and they are isolated as business owners. Let's Talk is not an organization, it is not an entity, or an association — from whom we women restaurateurs have received a deluge of webinars, guidelines, and manuals — it is an action movement by us."
Emily Vena and Rachel Trudel of Brookline's Cobble are part of Let's Talk Womxn's Boston branch. They were introduced to the initiative through Jen Ziskin (La Morra, Heritage, Punch Bowl), who serves as one of the branch's ambassadors and who worked with Vena when Vena was the chef de cuisine at La Morra. For the March 8 dinner, Vena will be making a "fresh and roasted root salad."
"There is a wealth of talented womxn chefs, restaurants, and entrepreneurs in this community," Trudel shared with Boston.com in an email. "Instead of fighting other womxn for a seat at the table, it is important for us to join other talented and resilient womxn chefs, restaurateurs, and entrepreneurs to build a bigger table, not only for ourselves, but for the future of womxn in restaurants."
Guests who purchase the "Dine Together & Let's Talk" meal will be able to choose from four pick-up locations: Boston, Cambridge, Metro/West, and North Shore. The deadline to order is March 4; orders can be placed here.
Get Boston.com's browser alerts:
Enable breaking news notifications straight to your internet browser.