Restaurants
This weekend: Raise a glass to International Women's Day
Plus, the food news you may have missed this week.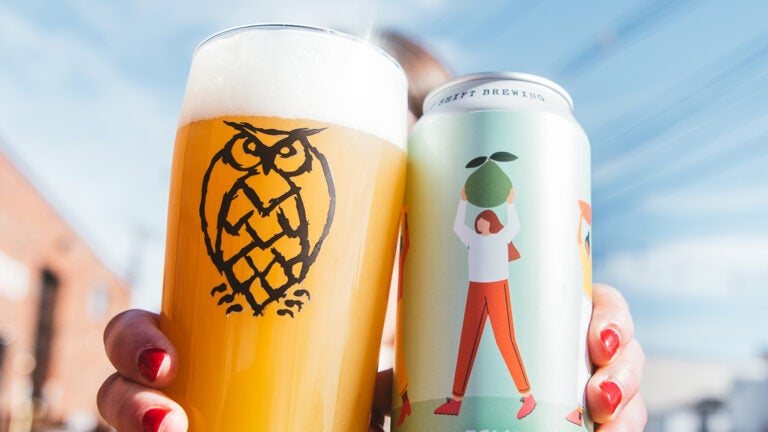 We're all eating a little differently these days: Cooking at home more. Ordering takeout. Dining by fire pits. Whatever your comfort level, here's what's been going on in Boston's restaurant world recently, plus a few ways to enjoy some of our region's best restaurants and bars from both the comfort of your own home and out in the world.
Here's what you may have missed this week:
Don't look down: The "tallest restaurant in New England," helmed by The Varano Group, might be opening in Everett in 2024.
The Nada Cart debuted a pop-up in the South End with gourmet empanadas. "One of the main things is we want to provide a cultural, flavorful experience and come as close to home as we can get it — with our own kind of twist," said co-owner Stephanie Carteiro.
Mike & Patty's will host a grand opening at its new Somerville location this weekend, offering 100 free sandwiches on Saturday and Sunday.
Care to drink your cannabis? North Shore company LEVIA recently launched a cannabis-infused seltzer in Massachusetts.
Formaggio Kitchen opened an expanded space in Cambridge with fresh produce and grocery essentials. "We are so very, very grateful to this neighborhood for welcoming us and supporting us all these years," said owner Ihsan Gurdal.
Women-owned restaurants in Boston have teamed up for a powerhouse dinner on International Women's Day.
This week, the Boston.com Cocktail Club highlighted two cocktails using Aperol: a traditional Aperol Spritz from Jackson Cannon and a Scotch Bonnet Spritz from Kyisha Davenport.
Burro Bar, City Bar, and Dorchester Brewing Co. recently reopened after hibernating over the winter.
Drink this:
This week's drink is a nod to International Women's Day on Monday — and Women's History Month in general. Night Shift Brewing recently launched Strong Female Lead, its latest limited release dreamed up by brewer Nicole McCollem. The IPA features notes of papaya, ruby red grapefruit, and pomelo zest, and is available on draft or to go at Night Shift's Everett taproom (you can also find it in liquor stores across Mass.). Even the cheerful label is women-made, designed by illustrator Sunny Eckerle. A portion of the proceeds will go toward the Pink Boots Society, a non-profit that supports women working in the beer industry, and if you want to buy more excellent products made by women, check out Night Shift's Virtual Women's Market featuring local artisans.
Eating and cooking alone, together:
Speaking of International Women's Day, you can celebrate with more than beer. Haley Fortier, owner of Boston's haley.henry and Nathálie wine bar, has teamed up with the VinoKarma Project for a virtual Badass Women & Wine event on Monday. While tasting some of Fortier's favorite natural wines and tucking into tins of seafood, attendees will be able to tune in to a discussion on the future of the restaurant industry, equity and representation in the wine industry, and the rise of natural wines. Over at Trillium Brewing Co., co-founder Esther Tetreault will host interviews every Saturday with inspiring women at the top of their fields. This Saturday at 2 p.m., Tetreault will sit down with Rebecca Roth Gullo, owner of the Gallows Group (Blackbird Doughnuts, Sally's Sandwiches, Banyan Bar + Refuge, The Gallows), to discuss career paths and reaching major milestones; you can find the conversation live on @mrstrillium. And if it's more beer you want? Sam Adams will release a limited edition, taproom exclusive beer available for pre-order on March 8. Called The Future is FemALE, the Belgian-style saison uses a hop blend from the Pink Boots Society; $2.50 of every four-pack sold at the Jamaica Plain brewery and downtown taproom will go toward the organization.
Italian restaurant MIDA knows that, one year into the pandemic, plenty of people are experiencing severe cooking exhaustion. To combat kitchen fatigue, the South End spot recently launched the MIDA dinner subscription, a monthly subscription service that prepares a four-person meal on the date of your choosing each week. The meal includes a salad and bucatini or paccheri with your choice of sauce (alla vodka, alla marina, bologonese, or all'amatriciana), all for $200 per month. Need another reason to join? You won't have to do dishes.
There is no shortage of great fried chicken in Boston, but great hot chicken? We could always use a few more contenders. Enter Underdog Hot Chicken, which recently opened in Allston at 160 Brighton Ave. and is serving fiery hot chicken in the form of sandwiches, tenders, and wings. A short list of sides includes kaleslaw, mac and cheese, potato salad, fried pickles, and fries, and you're able to choose from five levels of heat with your chicken order. Available for both takeout and delivery.
Get Boston.com's browser alerts:
Enable breaking news notifications straight to your internet browser.