Restaurants
Jinny's arrives in Newton Centre this week with wood-fired pizzas
The pizzeria is named after owner Lydia Reichert's grandmother.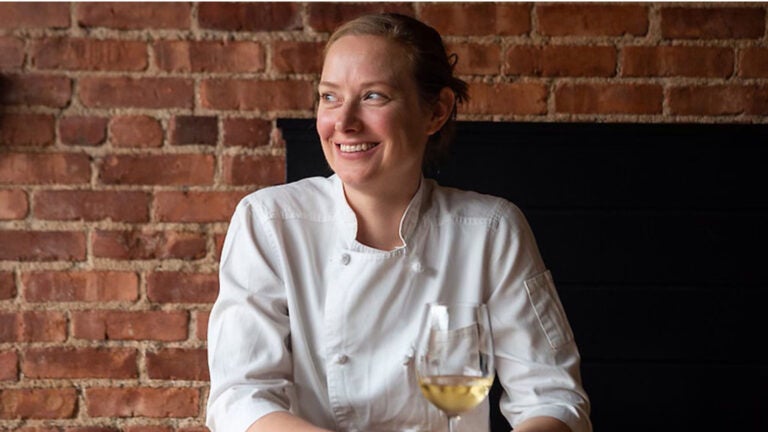 Jinny's opens in Newton Centre on Wednesday, and if the pizzeria is anything like the fiery matriarch it's named after, the newcomer is poised to be an energetic, fun-loving addition to the neighborhood.
"My grandma [Jinny] was a great lady," said owner Lydia Reichert, who dreamed up Jinny's with the team behind Buttonwood, Little Big Diner, and Sycamore. "She spoke her mind and always had an opinion about stuff, but was incredibly welcoming and always wanted to throw a party. And so I wanted to embody that in our restaurant and keep that spirit going."
Reichert, who helped open Sycamore with restaurateur David Punch in 2012, said the idea of opening a pizzeria with Punch floated in and out of discussion until a space finally became available.
"Maybe we've both been cooking for too long, but the idea of getting back to wood-fired and simpler things was just really exciting to us," she told Boston.com.
Jinny's will serve American-style Neapolitan pizza, or what is sometimes called neo-Neapolitan. The restaurant's opening menu features nine 12-inch pizzas, ranging from a margherita to a pepperoni to the Alpine, which includes potatoes, red onions, and sliced speck. There are small, shareable plates, too, like whipped salt cod, chicken-pecorino meatballs, and oven-roasted broccoli, plus a banana Nutella cake for dessert.
All of the pizzas will be made in Jinny's Valoriani oven, a 4,000 pound wood-fired behemoth that cooks the pizza at 700 degrees Fahrenheit, giving the dough a crisp crust and pillowy edge.
"The oven itself takes about a week to heat up so you don't crack the floor," Reichert explained. "These things are awesome, they're fascinating. It's a simple chimney that comes out of it and that's it. It's as old as time, right?"
Jinny's has a full liquor license, and will offer a succinct cocktail list with libations that include a classic negroni, Alpino gimlet, and the bourbon-based Dear Elisabetta. The beer list will focus on New England breweries (Zero Gravity, Maine Beer Co., Oxbow Brewing Co.), while wine will be mostly sourced from Italy and America, with at least one bottle from Oregon, Reichert's home state.
"You gotta give love to where you're from," she said.
The commute is a breeze for Reichert and Punch. Just a few doors down from one of their other restaurants, Little Big Diner, Jinny's took over a sub shop at 1231 Centre St. While current social distancing regulations only make room for three dine-in tables, the compact restaurant will eventually be able to seat 17 guests and, Reichert said, will offer patio dining once the weather is warmer. Takeout will also be available.
In naming the pizzeria after her grandmother, Reichert hopes that Jinny's will be a place where guests can feel like they're one big family.
"I think that's what everybody wants in their restaurant," she said. "Just to have this jovial, welcoming place where everybody can feel like they're at home and they're part of something."
Jinny's Pizzeria; 1231 CentreSt., Newton; Wednesdays—Sundays from 4:30 p.m. to 9 p.m.; jinnyspizza.com
Get Boston.com's browser alerts:
Enable breaking news notifications straight to your internet browser.