Restaurants
Local Irish pubs prepare for a pared-down St. Patrick's Day
"We're not going to have any kind of hooplah like we normally do," said Seana Gaherin, co-owner of Dunn-Gaherin's Food & Spirits.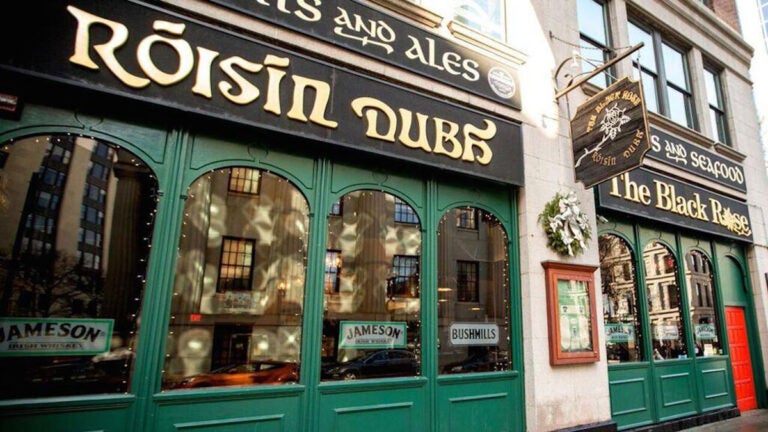 Lir. McGreevy's. Finn McCool's. O'Leary's.
Among the names of bars and restaurants that have shuttered during the coronavirus pandemic, a slew of Irish pubs stood out in a city that has long prized its deep Irish roots.
The timing of the pandemic was particularly unkind to these bars. Last year, after mayor Marty Walsh cancelled the 2020 St. Patrick's Day parade in South Boston, Gov. Charlie Baker declared a state of emergency and subsequently ordered a three-week shutdown starting March 17 — St. Patrick's Day.
Some Irish pubs never reopened. Others have felt the same detrimental effects of the pandemic that other local restaurants and bars have experienced, including revenue loss, layoffs, and unwanted hibernations. While Irish pubs are able to remain open on St. Patrick's Day this year, the holiday won't draw the same crowds that resembled 2019 celebrations. And some industry leaders think Boston's Irish pub scene will continue to feel the effects long after the holiday has passed.
The Black Rose near Faneuil Hall has long been a gathering space on St. Patrick's Day, a holiday that drew major acts like The Dropkick Murphys and Black 47, and where lines would start forming outside the bar at 6 a.m.
"A lot of people started the day off at the Black Rose, and we kept going right through until 2 a.m. the following morning," said Paul Wilson, director of operations at Glynn Hospitality Group, which owns the pub. "So it was one of those days where it was a constant turnover."
This year, the bar has produced a 90-minute video of Devri, one of its regular bands, which it will play over multiple screens for guests who have made dine-in reservations. A full Irish menu will be available, as will a full bar, but each reservation will end after 90 minutes, at which point the staff will sanitize the tables, reset the video, and welcome new guests. It doesn't help that recent lease negotiations with The Black Rose's landlord resulted in the loss of the bar's second floor, which reduced its capacity from 420 to 196. 
"With the restrictions, we're down to about 70 people, which is what we can fit in with the distancing and everything else," Wilson said. "We're trying to put 70 people through every two hours throughout the day."
For Irish pubs, which often prioritize live entertainment, the restrictions on live singing inside bars and restaurants have been an additional blow.
"As is a great tradition, singing and live music is also prevalent in a lot of our great Irish pubs," said Bob Luz, president of the Massachusetts Restaurant Association. "We can hear the music, you just can't sing to the music. To me, music without singing is like peanut butter without jelly. They go better together than they do independently. We're working on getting that changed, but I don't see it happening before [St. Patrick's Day]."
Seana Gaherin, co-owner of Dunn-Gaherin's Food & Spirits in Newton, said she'd hired entertainment for St. Patrick's Day this year, "just in case the government made any big modifications." But she decided that it wasn't worth the risk and instead is planning for a low-key celebration.
"I think that, unfortunately, it's going to be a really long time before anybody wants to sit shoulder-to-shoulder in an Irish pub," said Gaherin. "The Irish pub scene has been annihilated."
Last year, Dunn-Gaherin's prepared 400 pounds of corned beef in preparation of St. Patrick's Day before Massachusetts announced its statewide shutdown. The pub pivoted to takeout and has been open ever since, but it's facing a rough road ahead: Gaherin estimated that her business has lost "50 percent of our sales, if not more" since the pandemic began. 
While roughly 500 people usually visit Dunn-Gaherin's on St. Patrick's Day, attendance this year won't be anywhere near the pub's usual numbers. Gaherin said they will offer socially distanced indoor dining, drink specials, and family-style Irish dinners to go, as well as recorded music instead of the usual live entertainment.
"We're not going to have any kind of hooplah like we normally do," Gaherin said. "On a normal year, it is by far the best day of our year. It's the ultimate day. … This year, because of the limited labor staff and everything else, we're only operating the restaurant from 3 p.m. to 10 p.m. We anticipate that day we might open at 2 p.m., but we just don't have the staff right now to up it anymore."
Ned Devine's in Faneuil Hall and Sólás in the Back Bay — both part of The Briar Group, which also includes two currently hibernating MJ O'Connor's locations — will also offer pared-down celebrations for the holiday.
"While the day was obliterated last year by things out of our control, we are hoping to regain just a little bit of the magic of the day this year as we slowly return to a sense of normalcy," Hannah Huke, marketing director for The Briar Group, said via e-mail. 
At Ned Devine's, that means serving corned beef and cabbage dinners to guests in outdoor igloos, on the patio, and inside the beer hall. At Sólás, takeout kits include corned beef and cabbage dinners, Irish soda bread, Reuben egg rolls, cans of Guinness, and more, plus party swag to help guests celebrate at home. 
Beyond St. Patrick's Day, some people in the restaurant industry are concerned for the long-lasting effects of a shrinking Irish pub scene in the Boston area and the loss of community gathering spaces. 
"Pubs serve such an incredible community purpose," Gaherin said. "Without them, we'll be in such a bad way."
Wilson agreed that Irish pubs play a vital community role.
"I think the Irish pub in general will see definite changes after we get through all this," Wilson said. "Back in Ireland, Boston was always the next parish over. I came here 34 years ago [from Ireland], and it was always that city. … It wasn't just about going out and meeting friends. It was a local employment exchange for a lot of people. People that initially came over, they met some people and got a job out of it. If you needed something done, you went to a local bar and you met somebody you were told to meet from back home or whatever and [they] got you a start."
But Wilson also said he's witnessed local Irish pubs changing for the better, namely when it comes to food.
"It's not just the old stereotypical idea of a pint and a shot at an Irish pub," he said. "There's some wonderful food served in bars throughout the city. That's the biggest change I've seen, is that they now take pride in what they serve and stuff isn't just slopped up on a plate."
With the impending arrival of spring and warmer weather, some Irish pubs have begun to open outdoor seating: The Druid in Cambridge recently reopened its patio, as did The Burren in Somerville. But there are still some that remain in hibernation, including The Kinsale and The Asgard, and Mr. Dooley's Olde Irish Village Pub in Cohasset will pour its last pint on St. Patrick's Day.
"The Irish have been a really huge influence in shaping and sculpting this whole state," Gaherin said. "If you take the pubs away and you take that whole venue and that whole need, it's going to be detrimental for society at large."
Get Boston.com's browser alerts:
Enable breaking news notifications straight to your internet browser.