Restaurants
These 114 restaurants serve the best fried clams in Massachusetts, according to readers
Including the top five restaurants that dominated our reader recommendations.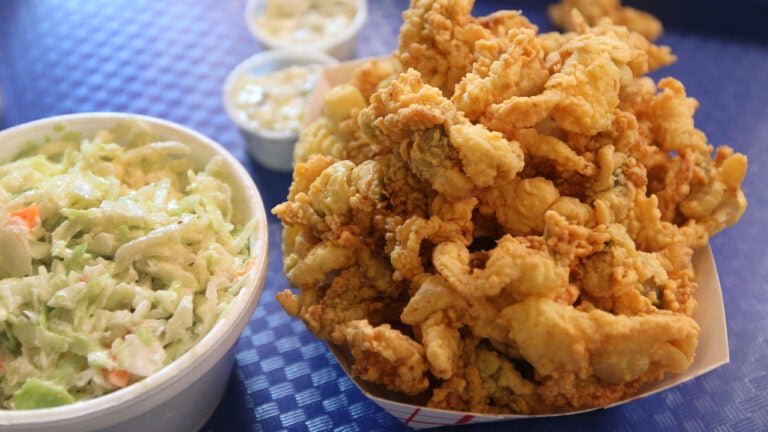 Greater Boston is a treasure trove of excellent fried clams, so it's no surprise that when we asked Boston.com readers to share their favorite fried clam spots in Massachusetts, more than 850 people responded to our poll, with more folks weighing in on social media. The result? A list of 114 recommendations, accompanied by some very strong fried clam opinions.
"Can there be any question? [J. T.] Farnham's is everything an amazing clam shack should be, including the clam and the shack parts," declared one reader, while others debated the merits of the Clam Box in Ipswich versus the Clam Box in Quincy. Some readers stated more broadly that Essex clams were the best in the world, and, well, we're not going to argue with them.
Recommendations included traditional clam shacks but also more upscale restaurants, ice cream stands, a Vietnamese restaurant, and, yes, Long John Silver's. Here are the five clam shacks that received the most votes, plus a map that includes all 114 recommendations.
Responses have been lightly edited and condensed for clarity and length. Some restaurants may still be closed for the season; be sure to check their website for current hours.
"Even in the middle of winter I can eat a little bite of summer. We always stop on our way from Southern Connecticut to Maine. The clams are the very best!" — Deb Gamber, Darien, CT
"Woodman's, not just because their fried clams are delicious, but also the fries AND onion rings that come with it in heaping quantities!" — Tim, North Andover
"Love the outdoor area you can chill in and have a drink while enjoying world class seafood!" — Pat, Cambridge
"There is nothing better than original fried clams and an ice-cold Sam Adams on a breezy summer night at Woodman's!" — Laura, Melrose
"Easily the Clam Box, which is a beloved family tradition passed down by my grandparents." — Madison, Swampscott
"The batter is light and delicious. Plus their prices are better than other local spots." — Briana, Danvers
"The Clam Box in Ipswich! The clams are fresh and sweet, fried to order with delicious crispy coating. Their fried shrimp is amazing too, huge fresh prawns." — Beth Barrett Lai, North Andover
"Absolute favorite of mine and my family for years and years has been the Clam Box in Ipswich. Everything is perfect, from their clams to the onion rings to the lemonade, and it's always a delight to go there!" — Esme Juros, Boxford
"Very fresh, golden batter clams that truly melt in your mouth. Each year more and more learn of this hidden gem and it shows in the lines at the window!" — Brian Rich, Peabody
"Always fresh, always delicious, and onion rings I literally crave all year long!" — Tricia, Lynn
"My favorite is Clam Shack. It's a quaint little shack on the Salem Willows. The food is always fresh and plentiful. Looking forward to the season opening." — Yvonne, Salem
"The staff is friendly, the food is fresh, the portions are huge, and the price is right!" — Amanda Eddy, Beverly
"They use fresh clams, fried to perfection and feature a crispy coating. Delicious!" — Johnny Kinde, Quincy
"Amazing quality and prizes. Friendly employees and located on the beach looking out to Boston." — Amanda Henkin, Quincy
"Tony's Clam Shop in Quincy always has the best, freshest seafood and other food, anywhere around. They care about the food and the customer and it shows in the quality. Wollaston [boulevard] traffic not withstanding, some of the best people watching on the South Shore too!" — J Clougherty, Marshfield
"Great prices, fast service, and friendly waitstaff. Choice of locals." — Rick, Dorchester
"It's where the people know to go who have lived in the area long enough to know to avoid the tourist trap of Woodman's." — Justin, Beverly
"J.T. Farnham's. I've been going there since 1997. Consistently fresh and delicious. Food is made to order. Also, great view from their picnic tables." — Mary Ann, Medford
"J.T. Farnham's has the best [fried clams]. They are light and have wonderful texture and color. Not to mention a beautiful place to eat them. If you want to avoid the crowds of first time clam eaters, then J.T. Farnham's is your place." — Mike D., Ashland
"Always crisp, never greasy, and consistently excellent. The rest of the menu is great, too. We don't do fried all that often but when we do its Farnham's." — Eddie Costigan, Brookline
While these five destinations dominated the poll, a handful of other spots garnered at least 15 recommendations each, including Park Lunch in Newburyport, The Winthrop Arms in Winthrop, Kream 'N Kone in West Dennis, Sullivan's Castle Island in Boston, The Clam Box in Quincy, and Red Wing Diner in Walpole. Take a look at all 114 reader recommendations in our map below.