Restaurants
Punch Bowl, an ode to an 18th century tavern, opens in Brookline Village
"I can't believe no one has named a restaurant after it in all these years in that area," said owner Jen Ziskin.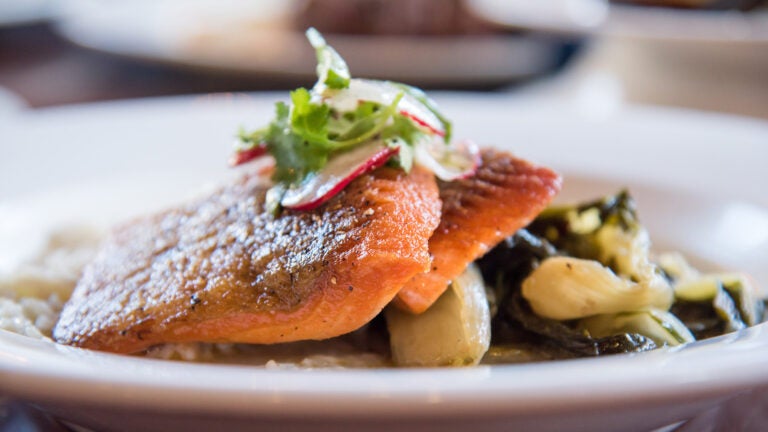 In the 1700s, Brookline's Hearthstone Plaza was the site of the Punch Bowl Tavern, a meeting point where soldiers, travelers, and locals congregated over food and drink. On April 14, the Punch Bowl returned in the form of a modern tavern located in the lobby of the new Hilton Garden Inn at 700 Brookline Ave.
Restaurateurs Jen and Josh Ziskin are behind the project, their third restaurant following Brookline's La Morra, which opened in 2003, and the Heritage of Sherborn, which debuted in 2015.
"It was right along the old Sherborn Road, which is now Route 9," Jen said, referring to the original tavern. "All the travelers would have to transition there to get into Boston. It was really this community epicenter, so much so that they [referred to] Brookline Village as 'Punch Bowl Village.' I can't believe no one has named a restaurant after it in all these years in that area."
While the new Punch Bowl may have the same name, both its menu and aesthetic have a more contemporary vibe. Between a dining room outfitted with floor-to-ceiling windows and two outdoor patio spaces, the restaurant offers more than 400 seats. Inside, an open kitchen allows guests a front-row glimpse into the cooking action; outside, a ground floor patio and a third floor terrace patio offers al fresco dining.
"The patio on the third-floor terrace overlooks the Muddy River," Jen said. "There's really nothing like it. We're also hoping to put, if we get permitting, a grill and a raw bar and a bar out there, too."
Josh said that while they did some research on tavern food, "it wasn't too exciting," and that executive chef Amanda Lowry has highlighted seasonal New England fare. On Lowry's menu, diners can find a raw bar featuring oysters, shrimp cocktail, and trout crudo, plus dishes like beetroot gnocchi, pan-seared hake, buttermilk fried chicken, grilled Berkshire pork chop, and wild mushroom cappelletti. For dessert, there is Maine blueberry cobbler and vanilla poached rhubarb posset.
Jen curated the wine and beverage list, which includes a wine list inspired by the women wine makers, producers, and vineyard managers who she has connections with.
"I was reading about the old taverns and how a lot of the innkeepers and barkeeps were women, and it was a respectable job back in the day for a woman to have," she said. "So I just thought [a women-centric wine list] would be such a nice niche."
As for the cocktails, large format drinks are a focus — you can't have a restaurant named Punch Bowl without a punch bowl, after all — as well as some tiki-style cocktails and a robust rum selection.
Jen, who was a history teacher in Brookline before she and her husband opened La Morra, said she hopes this 21st century iteration of the tavern can become a focal point for the neighborhood, much like its predecessor.
"We feel like the location — it's near the hospitals, near the town, near town hall — it's like the perfect meeting spot for the community," she said. "I think it'll really revitalize that area, and I think just being that communal epicenter again would be incredible."
Get Boston.com's browser alerts:
Enable breaking news notifications straight to your internet browser.