Restaurants
CommonWealth Kitchen's new initiative helps support struggling independent restaurants
Eight local restaurants are part of the Restaurant Resiliency Initiative.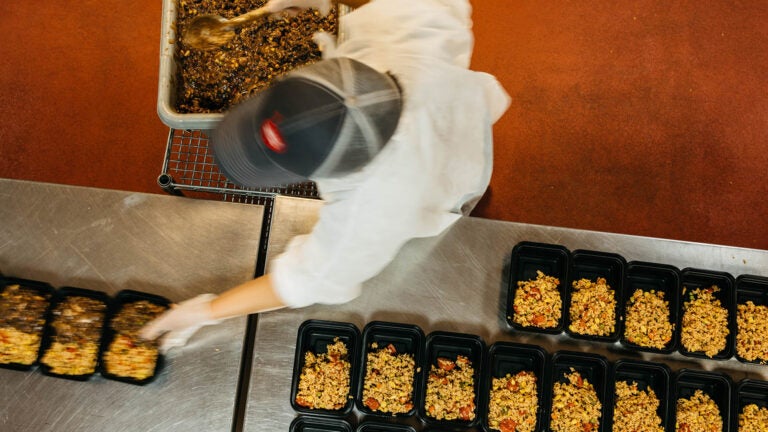 When the pandemic first hit, Auntie Vie's Restaurant & Bakery in Dorchester seemed, in some ways, uniquely prepared. With roots in catering, the Caribbean restaurant was already a grab-and-go operation and didn't need to swiftly pivot to takeout like so many other local restaurants. 
"We were already takeout primarily," said Valroyce Francis, who runs the restaurant with his mother and Auntie Vie's founder, Violet Francis. "However, one of the areas that we missed the buck on was with delivery and online ordering."
Valroyce also said the restaurant had a difficult time gauging how much food should be made each day, as orders fluctuated from week to week based on pandemic trends. And at a time when changing hours and menu items were communicated through Facebook and Instagram, he said that Auntie Vie's was antiquated in the way it ran its social media.
"I like to think of myself as still young at 31, but compared to my younger cohorts it's like, oh my goodness, I don't know what y'all are saying anymore," he said.
The Restaurant Resiliency Initiative, a mentorship program from Dorchester food business incubator CommonWealth Kitchen, hopes to help struggling establishments like Auntie Vie's, providing business and technical support to local, BIPOC-owned restaurants. There is a strong focus on finances, but topics also cover digital marketing, employment, and staff training.
The 16-week program is an offshoot of another CommonWealth Kitchen initiative, CommonTable, which partnered with a handful of local restaurants at the start of the pandemic to feed neighbors in need. 
"By working with those restaurants, we realized that [CommonTable] was a life saver in that moment, but really what they needed moving forward to emerge out of the pandemic and actually survive long term was much more [about] business and technical assistance," said Roz Freeman, director of entrepreneurship programs at CommonWealth Kitchen. "So we continued working with the restaurants throughout that year while we were developing this program based on what we were hearing their needs were."
The Restaurant Resiliency Initiative is now in its fourth week, and provides weekly workshops and networking opportunities to owners from eight enrolled restaurants: Achilitos Taqueria, Auntie Vie's, Cafe JuiceUp, El Barrio, Las Palmas Restaurant, Tawakal Halal Cafe, Soleil Restaurant, and Suya Joint. The program, managed by Mei Mei owner and CommonWealth Kitchen board member Irene Li, partnered with ReThink Restaurants and Toast to help provide educational and technical support. The City of Boston is funding the initiative through its technical assistance program.
Li said that a driving force behind the initiative is getting each restaurant's finances in order and fostering clear communication with their accountant. Part of that process involves a deep dive into the restaurants' profit and loss [P&L] statements.
"We're also going to do a bunch of weeks on costing people's menus," she said. "All of these businesses have a sense of how much they spend on ingredients and then how much money they are bringing in. But they might not have insight into which dishes are most profitable or even which dishes are way too expensive for what they're selling them for. So the idea that by even making small tweaks in recipes or prices — 25 cents here, 50 cents here — if you sell 10,000 of a certain dish over the year, that could end up being a lot of money. Making sure that they understand the exact mechanics of how their menu either makes them money or loses them money — that's super important, too."
Valroyce said that, in the weeks since the program has launched, he has already gained skills applicable at Auntie Vie's, including using Toast, a point of sale and management system, to help him streamline certain sales processes. He said the weekly meetings, when he gets together with other people in the restaurant industry to learn new skills and discuss business-related issues, has helped him feel supported.
"It's good seeing the faces behind these businesses, because even though you might go to a place and see they're busy [and think] they must be doing well, you hear, 'oh we have this struggle,'" Valroyce said. "It brings more of a sense of community and camaraderie. We all have goals and dreams. A lot of the people who are in this program are either first-generation Americans or they came from other countries, like my mother."
In addition to weekly meetings and mentoring sessions, the program will offer a series of four webinars that are open to the public; the first two webinars cover accounting (April 13) and employment law (April 27).
"In the [first] webinar, we're going to talk about how you can evaluate the performance of an accountant," Li explained. "And then we're going to have these follow-up one-on-one sessions where Dylan [Gully, partner at ReThink Restaurants] will actually sit down with business owners, look at their P&L, and then essentially either say your accountant is doing awesome, or he'll say you need to take these issues back to your accountant, or he'll say you need a new accountant. So that's the hands-on, tactical, tangible support that we feel like businesses need right now."
Freeman said that CommonWealth Kitchen will use the pilot program to figure out how it can be scaled to more BIPOC-owned restaurants that need support. In the meantime, both Freeman and Li shared that they are thrilled at how much enthusiasm each restaurant owner has brought to the program.
"This is a group that has vision beyond just having a successful restaurant business," Li said. "Their hearts are in it because they want to introduce Somali cuisine to Boston, or because they want to be the only caterer or restaurant from the tiny Caribbean island that they come from so that they can serve their community's weddings and funerals and birthdays and anniversaries. They all want something that will last, that's bigger than them. … They all have what it takes. They just need the right resources and they need someone to tell them to keep going, even after such a hard year."
Get Boston.com's browser alerts:
Enable breaking news notifications straight to your internet browser.