Restaurants
10 restaurants offering Easter dinner, brunch, and dessert for takeout
Here's where to find glazed ham and carrot cake for your Easter festivities.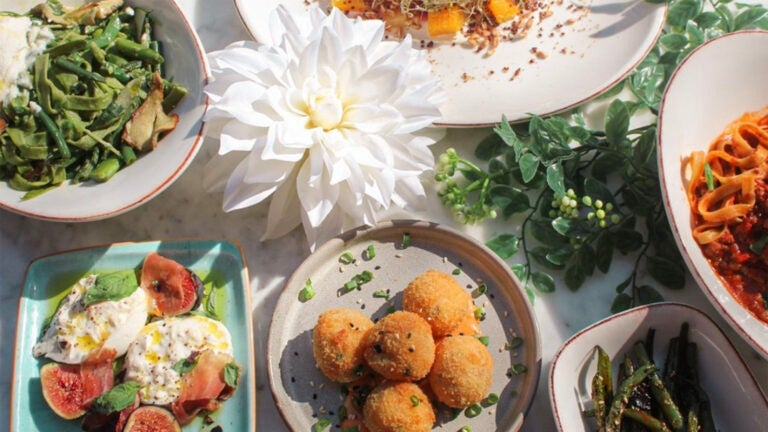 As another Easter observed during the pandemic approaches, restaurants across Boston are doing what they've done best over the past year: crafting impressive takeout options, this time with a focus on Easter dinner and brunch essentials.
There are the ubiquitous Easter dinner stalwarts — lamb and ham for dinner, quiches and tarts for brunch — along with reminders of spring, like plenty of rhubarb and asparagus. And for dessert? Carrot cake, of course, plus coconut cream pies, strawberry shortcake, and chocolate bread pudding.
Whether you're celebrating with one other person or a small cohort on Sunday, these 10 restaurants have created comprehensive Easter dinner, brunch, and dessert options for the holiday. There's even an egg dye kit on the menu. Happy hunting!
Aquitaine
Available for dine-in or takeout, Aquitaine's Easter dinner menu ($95 for two, $190 for four) features Greek-style chicken soup, whitefish rillette, and your choice of entrée: lamb leg, glazed ham, or roasted salmon. Each entrée is accompanied by fingerling potatoes, sautéed spring vegetables, and French dinner rolls, and topped off with mixed berry and rhubarb crisp for dessert. (569 Tremont St., Boston; 11 Boylston St., Chestnut Hill)
Order by: March 31
Pick up: April 3 from 11 a.m. to 3 p.m. 
Bondir
Sourdough with cultured butter, asparagus and wild onion tartine, braised lamb shank — it's all on the menu for Bondir's Easter brunch ($110 for two), available for pickup or delivery. For dessert, there's vanilla-buttermilk panna cotta with a rhubarb confiture. (279A Broadway, Cambridge)
Order by: Ongoing
Pick up: April 4 from 11 a.m. to noon
Clover Food Lab
Clover's Easter boxes — available for two, four, six, eight, or 10 people ($110-$380) — are filled to the brim with Easter essentials, like hot cross buns; parsnips glazed with orange, clove, ginger, and cinnamon; a Mediterranean frittata; French onion soup; and heirloom carrot cake. Tack on an Easter egg dye kit ($35) for some pre- or post-meal arts and crafts. (Various locations)
Order by: Ongoing
Pick up: April 1-3
Menton
Menton's four-course Easter tasting menu allows guests to customize their own holiday dinner, choosing from butter lettuce salad or billi bi soup, trofie pasta with sea urchin and spring peas or gnocchi with morel mushrooms and fava beans, and Arctic char or roasted lamb loin. Finish with a carrot- or chocolate-based dessert. (354 Congress St., Boston)
Order by: April 2
Pick up: April 1 to April 3, 11 a.m. to 4 p.m.
Petsi Pies
In charge of dessert for Easter? Petsi Pies in Somerville has two Easter specials on its menu this year. Choose from a coconut cream pie or a banana cream pie, both topped with freshly made whipped cream. Each pie is $30 and feeds six to eight people. (285 Beacon St., Somerville)
Order by: Ongoing
Pick up: Through Sunday or until sold out
Sarma
For a Mediterranean slant on your Easter dinner, head to Sarma, where you can pick up a take-home meal for two ($175 for full meal including ham, $130 for all sides without ham). In addition to the rhubarb-glazed ham, Sarma has put together a bevy of sides including freekeh pilaf, asparagus with green goddess tarator and a soft cooked egg, Parker House biscuits, and kunefe with Meyer lemon and pistachios, among other items. Call 617-764-4464 to place an order. (249 Pearl St., Somerville)
Order by: Ongoing
Pick up: April 4 from 9 a.m. to 1 p.m.
Sonsie
Newbury Street's Sonsie has two Easter packages available to go this year. Easter Package One ($140) features burrata and arugula salad, a rack of lamb, slow roasted carrots, raspberry rhubarb tart, and a bottle of rosé; while Easter Package Two ($115) includes beet salad, glazed ham, fingerling potatoes, grilled asparagus, chocolate bread pudding, and a bottle of rosé. (327 Newbury St., Boston)
Order by: April 2
Pick up: April 4
Stillwater
Chef Sarah Wade has created an Easter dinner for two ($75) that includes honey-glazed Virginia ham, spring vegetable pasta salad, baby green beans, crispy onion fingerling potatoes, focaccia with whipped butter, and your choice of wine: bubbles, sauvignon blanc, or pinot noir. (120 Kingston St., Boston)
Order by: April 1 by 4 p.m.
Pick up: April 3 from 3 p.m. to 5 p.m.
Talulla
This Cambridge dining spot offers two options for Easter this year: Easter brunch ($50 for two), featuring a sticky bun, yogurt and spiced granola, quiche with asparagus and goat cheese, and smoked salmon with accompaniments; or a three-course Easter dinner ($65), with options that include pea tendril salad, lamb loin, and strawberry shortcake. (377 Walden St., Cambridge)
Order by: April 2
Pick up: April 4
Woods Hill Pier 4
If you're going big this Easter, Woods Hill Pier 4 is offering a lamb feast fit for four to six people ($235). Each package includes a slow cooked boneless leg of lamb, potato and Gruyère gratin, baby heirloom carrots, a salad of mixed greens, and a tart made with lime, rhubarb, and coconut. Cocktails for two and four people are available as add-ons. (300 Pier Four Blvd., Boston)
Order by: Ongoing
Pick up: April 3 and April 4
Get Boston.com's browser alerts:
Enable breaking news notifications straight to your internet browser.