Restaurants
Here's the 2021 Boston food truck schedule
Participating food trucks include Bibim Box, Moyzilla, Stoked Wood Fired Pizza, and more.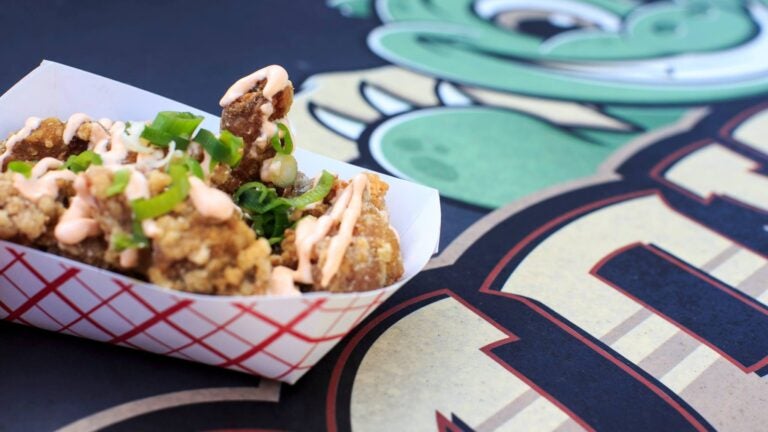 Food trucks fired up their engines and rolled into Boston on Thursday, as Mayor Kim Janey announced the launch of the 2021 Food Truck and Outdoor Dining Season.
Along with the rest of the restaurant industry, food trucks have faced an uncertain future during the pandemic, as many of their most-frequented neighborhoods, including the Financial District and the Greenway, have remained empty. Some tried other strategies in 2020: David Harnik, chef and owner at The Dining Car, expanded his coverage area, popping up at apartment and condo complexes. Others owners, like Moyzilla's Jonathan Moy, temporarily took their trucks off the road.
According to a news release, the City of Boston has waived public site fees for food trucks in 2021. The release also revealed additional items of support for other small businesses, including allowing retail businesses to place tables on a public sidewalk in order to conduct transactions.
"We must continue our commitment to supporting Boston's small businesses, and I'm thrilled to be announcing these additional supports for small businesses across our neighborhoods," said Mayor Janey. "By leveraging our public space, businesses like retail stores, restaurants, and food trucks can thrive and create more vibrancy in our neighborhoods for our residents."
Participating food trucks include The Dining Car, Pennypacker's, Just Wingin' It, Moyzilla, and more. The majority of trucks will operate from 11 a.m. to 3 p.m. Check out the map of food trucks in Boston here, or view a neighborhood breakdown below.
Back Bay
Boston Public Library (Central)
Thursdays: Just Wingin' It
Fridays: Tea Station
Saturdays: Tea Station
Clarendon Street
Mondays: Papi's Stuffed Sopapillas
Tuesdays: Bacon Truck
Wednesdays: The Dining Car
Thursdays: Stoked Wood Fired Pizza
Fridays: Pennypacker's
Stuart Street
Tuesdays: Across the Border, Moyzilla, Stoked Wood Fired Pizza
Wednesdays: Chicken & Rice Guys, Whoopie Wagon
Thursdays: Baja Taco, Bibim Box
Fridays: Moyzilla
Beacon Hill
MGH (Blossom St./Emerson Pl)
Mondays: Dining Car, Northeast of the Border, Vaz & Mac Tex-Mex
Tuesdays: Vaz & Mac Tex-Mex
Wednesdays: Papi's Stuffed Sopapillas, Vaz & Mac Tex-Mex
Thursdays: Bon Me Foods, Papa Grande, Vaz & Mac Tex-Mex
Boston University
BU East (Commonwealth Ave at Morse Auditorium)
Mondays: Across the Border
Tuesdays: Bibim Box, Bon Me Foods
Wednesdays: Bon Me Foods
Charlestown
Navy Yard (3rd Ave)
Wednesdays: Papa Grande
Downtown
City Hall Plaza, Fisher Park
Tuesdays: Papa Grande
Wednesdays: Moyzilla
Thursdays: Clyde's Cupcakes, Trolley Dogs
Fridays: Across the Border, Just Wingin' It, Tacos Don Beto
Pearl & Franklin
Tuesdays: Tacos Don Beto
Milk & Kilby
Thursdays: Tacos Don Beto
Fenway/Kenmore
Opera Place
Tuesdays: Bon Me Foods
Wednesdays: Whoopie Wagon
South End
Boston Medical Center
Mondays, Wednesdays: Tacos Don Beto
Get Boston.com's browser alerts:
Enable breaking news notifications straight to your internet browser.