Restaurants
Sports bars eager to welcome back fans on Opening Day
"When you lose having 37,000 people enter Fenway every day, it's a big thing," said Ryan Jones, vice president of operations at the Lyons Group.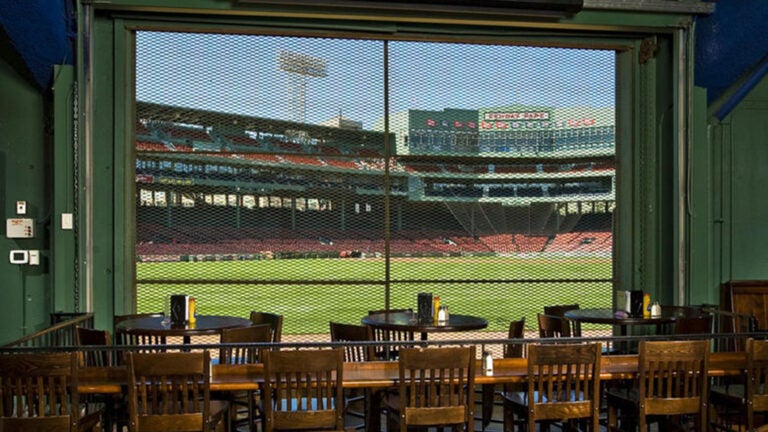 When the Red Sox take on the Baltimore Orioles at Fenway Park on Opening Day, it will be the first time since 2019 that fans will be welcomed inside to watch a game.
The ballpark, which can seat more than 37,000 people, won't be completely filled: In accordance with state regulations, Fenway Park will only be allowed to operate at 12 percent capacity, or roughly 4,500 ticket holders as it incorporates adjustments like socially-distanced seating.
It's a welcome moment for some of the sports bars in the area, where expansive seating areas have remained largely empty as people turned to watching games in the safety of their own home during the coronavirus pandemic.
"It's hard to think of an area or a sector of the restaurant business that could have been impacted more," said Ryan Jones, vice president of operations at the Lyons Group. A sizable section of the restaurant group's portfolio includes sports bars and restaurants around Fenway, including Bleacher Bar, Game On, Loretta's Last Call, and the Lansdowne Pub.
Jones said that, since the beginning of the shutdown in March 2020, their Fenway businesses were hit particularly hard. The timing couldn't have been worse.
"St. Patrick's Day and March Madness are sort of the spring training for baseball season, to make a cheesy analogy," he said. "[Our Fenway businesses] thrive March through October, between games at the park, concerts, and anything else going on at the stadium. So it was a very challenging year in Fenway, probably more so than for any other area of our group."
While Bleacher Bar and Loretta's Last Call, some of the group's smaller venues, stayed open, Game On and Lansdowne Pub went into hibernation.
"They're large spaces, so to fill those spaces they rely on having that foot traffic rolling through 81 games a year, 12 concerts a year," Jones said. "Game On, for example, is a 650-person capacity sports bar. You need mass traffic to fill a space that size. When you lose having 37,000 people enter Fenway every day, it's a big thing."
It was a similar story across the city near North Station, where the neighborhood around TD Garden remained largely empty until March 25, when the Garden began allowing a reduced number of fans back into the arena. The neighborhood's lack of sports fans — compounded by a decrease in commuters, a growing but sparse residential population, and the emptiness of nearby office buildings — have forced a handful of sports bars and restaurants to shutter or hibernate. That includes places like Beerworks, Hurricane's at the Garden, and The Fours, which permanently closed in August after 44 years, though its Norwell and Quincy locations are still open.
"It has been our honor to call the City of Champions our home," The Fours management said in a statement at the time. "We have the best fans. Period. Thank you for making The Fours part of your traditions over the years."
Other sports bars in the area have been able to hang on, but business has moved at a glacial pace.
"The pigeons are taking over," said Scott Nogueira, who owns Porters Bar & Grill in the Bulfinch Triangle. "It's a ghost town, so it's been very slow."
After the initial shutdown, Nogueira reopened Porters for indoor dining in June, but has opted out of offering outdoor dining, citing the cost of equipment and staffing. He said that roughly two-thirds of the bar's business comes from people who are attending an event at the venue, and that "without the Garden events, there's nothing to bring people to this neighborhood."
That's a sentiment echoed by Thomas Holland, who owns A&B Kitchen • Bar on Causeway Street.
"I'll never forget the day that everything shut down," he said. "It had a huge effect on us. … Even though we could get sidewalk dining, it didn't really make a difference for us, because there just hasn't been traffic in the area."
Following the shutdown, Holland reopened his restaurant in June but sent A&B into hibernation in November. While in hibernation, the restaurant, formerly known as A&B Burgers, received a revamp, with a new name, new menu items, and seven more TVs so fans could tune in to the game down the street if they didn't have tickets. It reopened for a second time on March 24.
"I'm hoping that, though there's only 2,500 fans allowed in the Garden currently, another 2,500 are going to come down because they're just dying for something exciting to do," Holland said, prior to the Bruins' first game with fans in the arena. "They're going to come and watch games on TVs and see what happens in the area."
Nogueira has already seen a difference since last week's Bruins game. With social distancing in place, Porters is only at roughly 40 percent capacity, but the increased flow of traffic to TD Garden has helped fill those seats.
"Just allowing the 12 percent in [to the Garden] has been great for us," he said. "We've been able to utilize every table we have available. … It seems that 12 percent for me is as good as 100 percent, because we're getting our tables filled up."
Jones thinks that the 12 percent capacity restriction is enough to mark a change as well. At Game On, they're able to seat 175 guests with social distancing, which Jones said still allows for "good energy" and a "sports bar vibe."
On April 1, the Lyons Group's Fenway bars started offering patio seating for fans who are hoping to hear the crack of a bat from inside the park as they eat and drink outside of it.
"I think even having 5,000 people in the park to start will create an energy that wasn't there last year," Jones said. "That's still 5,000 people who weren't coming last year. It's going to be super helpful, and if the numbers stay low and things continue to trend in the right direction, and that's scaled out as the season goes on, hopefully we get to a point by the all-star break where we're at least 50 percent capacity."
Get Boston.com's browser alerts:
Enable breaking news notifications straight to your internet browser.