Restaurants
Boston.com readers recommended 232 places to find a fantastic Italian sub. Here are the top 5.
Oh, and don't call it a grinder.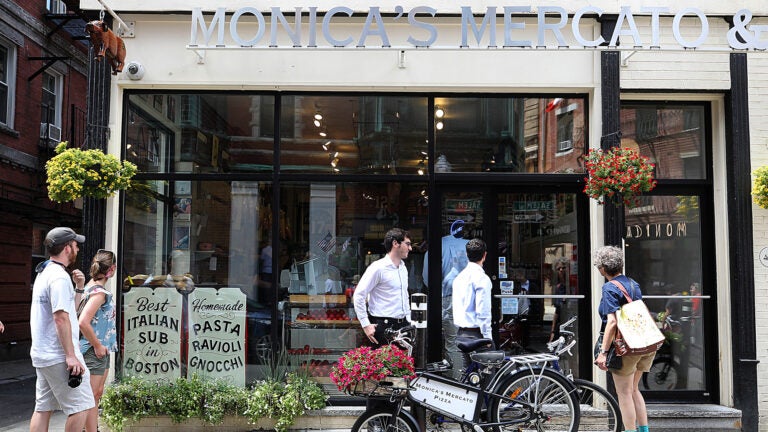 Who makes the best Italian sub in Boston?
It's a question we asked our readers in late March, thinking — naively, perhaps — that a couple dozen sub shops would be suggested and we'd come away with a concise understanding of the city's top Italian subs.
Needless to say, there were strong opinions on this topic. More than 2,300 readers responded to our survey, and many of the responses named sub destinations well outside of Boston's borders. These recommendations included sub shops, of course, but also Italian restaurants and pizza joints, delis tucked away at the back of liquor stores, and specialty markets and grocery stores (many readers extolled the virtues of Market Basket's Italian sub).
Readers also made it clear how they referred to this particular sandwich, with 91 percent of respondents calling it a sub and 4 percent calling it a grinder. Another 4 percent let it be known that they marched to the beat of their own drum, calling it a hoagie, a spuckie, a hero, a sandwich, or — and we're going to strongly dispute this one — a panini.
In the end, 232 Italian sub destinations were recommended, all of which can be found in the map below. But to learn about the cream of the crop, here's a look at the top five recommended sub locations.
While most of the sub spots recommended were located outside of Boston, Monica's Mercato in the North End came out as the ultimate victor. Readers praised the Italian sub — which includes prosciutto, mortadella, salami, provolone, lettuce, tomato, onion, olive oil, balsamic, hots, and pickles — as having "super high quality meat and cheese," bread that is "crispy on the outside and soft on the inside," and offering "the freshest ingredients around." "There is no other right answer," wrote one reader, definitively.
Operating since 1936, Bob's Italian Foods in Medford is where folks in the area go to get their imported Italian ingredients, like two-year-aged prosciutto from Parma. But it also draws people in for its Italian subs, of which there are a few varieties: the Deluxe Imported Italian, the Deluxe Imported Italian Caprese, and the Italian Deli Combo. "Huge portions, great meats, and the best braided rolls around," confirmed one reader, while another wrote, "You get so much for your money. The ingredients are amazing. They just get it."
Run by the fourth generation of the Petruzzelli family, New Deal Fruit in Revere sells fruits, vegetables, deli meats and cheeses, and sub sandwiches — including a few Italian iterations. There's the Sicilian, made with provolone, prosciuttini, sopressata, roasted peppers, and more; the Milano, which highlights provolone, hot and sweet sopressata; and the Tony Soprano, featuring hot or sweet capocollo, provolone, and vinegar peppers. "The meats are primo, the vegetables fresh, and the bread soft," wrote one fan. "Their subs are MONDO." Another put it plainly: "It's the OG, the gut-buster, the 'you'll smell like this for 3 days' champion of Italian subs."
Hyde Park's Tutto Italiano was founded by Angelo Locilento, who opened the Italian specialty store after moving to Boston in 1988. The freshly baked bread is an all-star ingredient here, used in subs like the Italian. Made with mortadella, Genova salami, sopressata, provolone, and a slew of veggies, the sandwich can be ordered on a sub roll, sliced bread, treccia, French, or bastone bread. One reader called Tutto Italiano "the gold standard," while another wrote, "I love the authenticity of the store and quality of the sandwich. I've lived in Boston for 23 years and have yet to find a higher quality Italian sub." 'Nuff said.
There are two locations of D'Agostino's Deli — one in Arlington, one in Winchester — and you can find a knockout Italian sub at both. The sub comes with all the usual fixings, and can be ordered on sub, bulkie, and seeded rolls, or dark rye, white, or wheat bread. "The toppings are chopped up to the perfect size, the bread is *chefs kiss*, and they go through so many cold cuts that you know it's fresh," one reader shared. "There's also the fact that I've been going there since I was a child, so there's a touch of nostalgia as well." If you don't already have a D'Agostino's tradition, it's not too late to start.
In addition to the top five recommended sub spots, a handful of locations received more than 40 votes each, including American Provisions (Dorchester and South Boston), Al's State Street Cafe (Downtown Boston), Anthony's Italian Specialties (Stoneham), Ideal Sub Shop (Roxbury), Lucci's Market (Wilmington), and J. Pace & Son (multiple locations). Check out all 232 Italian sub destinations recommended by readers below.
Get Boston.com's browser alerts:
Enable breaking news notifications straight to your internet browser.