Restaurants
This weekend: Head to Newbury Street for deluxe burgers and adult milkshakes
Plus, the food news you may have missed this week.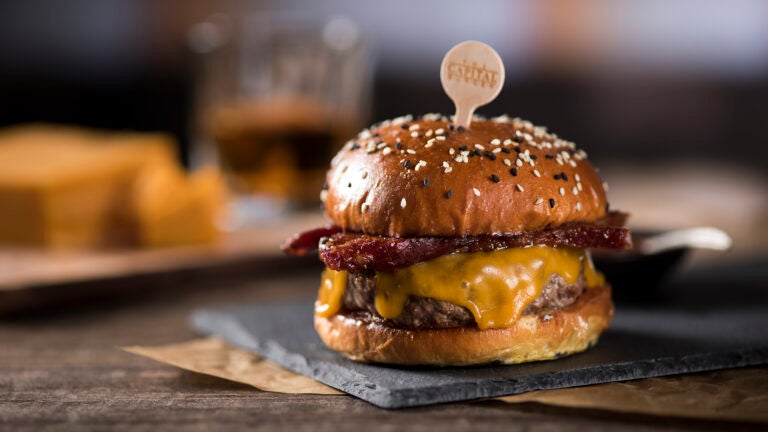 We're all eating a little differently these days: Cooking at home more. Ordering takeout. Dining on patios. Whatever your comfort level, here's what's been going on in Boston's restaurant world recently, plus a few ways to enjoy some of our region's best restaurants and bars from both the comfort of your own home and out in the world.
Here's what you may have missed this week:
Boston.com readers recommended 232 places to find a fantastic Italian sub. Here are the top 5.
Got your COVID-19 vaccine? Sam Adams wants to buy you a beer.
New England farms are a source of inspiration for Wood Fired Love, a new pizza restaurant that opened this week.
Night Shift Brewing Kitchen & Tap will open at Encore Boston Harbor on April 15.
Calling all food entrepreneurs! Home cooks in Boston will soon be able to sell food from their own kitchen.
Boston.com's Cocktail Club dove into the world of Cognac this week, sharing recipes for a classic Sidecar and a French Quarter Old Fashioned.
Check out the latest restaurant reopenings and patio debuts for all your weekend dining plans.
Drink this:
Mexico may have been one of the most popular locales for American travelers this past year, but I'm still not ready to jump on a plane and lay on its sandy beaches. Instead, I'll be heading over to the South End's Atlántico soon for this delightful drink, named after Mexico's ultra-popular beachside town, Tulum. Made with Arette tequila, pineapple, and bell pepper, it's a refreshing reminder that we can still travel via food and drink. And if you snag a seat on the patio at Atlántico, a café and tapas bar which recently reopened after a stint of hibernation, you may even get a tan.
Eating and cooking alone, together:
Looking to upgrade your knife collection? In response to the rising violence against the AAPI community, Cambridge-based knife maker Adam Simha of MKS Knife and MIDA chef/owner Douglass Williams have teamed up for an auction benefitting the Asian Task Force Against Domestic Violence (ATASK). The two friends worked together to create a custom set of knives, which will be auctioned off starting Saturday and ending Monday.
New burger joint alert: The Capital Burger, sister restaurant to The Capital Grille, recently opened on Newbury Street with upscale burgers and spiked milkshakes. Stop by for a bacon cheeseburger with candied smoked bacon, Vermont cheddar, and tomato jam; or a French-onion style burger made with caramelized onions, Wisconsin Grand Cru Gruyère, and shallot aioli (ooh la la!). And if adult milkshakes are your thing, the Stoli Doli features Stolichnaya vodka, vanilla ice cream and candied pineapple.
For the month of April, Haley House head baker Sokly Touch is taking over the kitchen at the Roxbury cafe and bakery in honor of Cambodian New Year, cooking Cambodian dishes on the weekend. Touch's small but incredibly enticing menu features specials like noum banh januk — mung bean-filled rice balls that are soaked in coconut and ginger syrup, which would make a fantastic accompaniment to a cup of coffee or tea for breakfast. Also on the menu: banh xeo, a rice flour crepe filled with ground chicken, shrimp, and mung bean sprouts; and somlar sach mon, a chicken soup infused with lemongrass, galangal, and makrut lime. Orders can be placed Thursdays through Saturdays from 11 a.m. to 4 p.m.
Big news from Uni's executive chef Tony Messina: the James Beard Award winner will soon leave his post at the Back Bay restaurant. In an Instagram post on Thursday, Messina announced that he'll be moving to Los Angeles with his family, and that May 1 will be his last day at Uni. "I started my journey at Uni almost nine years ago," he wrote. "In that time, I've met some of the most amazing, hospitable, talented, and genuinely friendly people that I've ever known. Uni is more than a restaurant. It's been my home." If Uni has been on your bucket list, you have less than a month to visit the modern izakaya before its famed chef departs.
Get Boston.com's browser alerts:
Enable breaking news notifications straight to your internet browser.