Restaurants
Want to switch up your usual order? Try these secret dishes from local restaurants.
These off-menu dishes may be hush-hush, but you should definitely tell all your friends.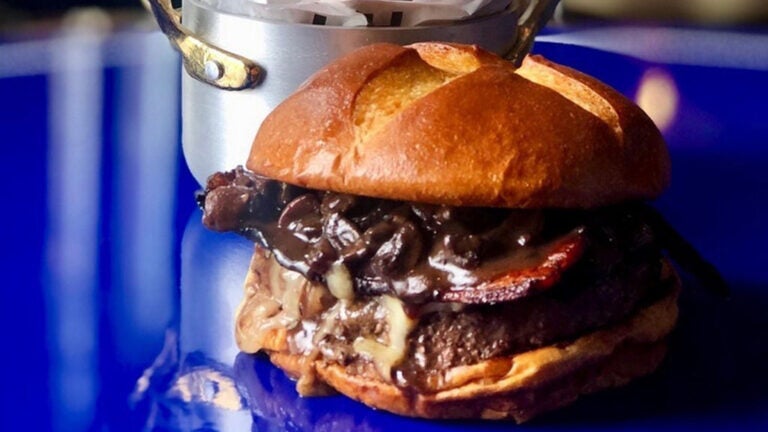 There are secrets that are meant to be kept, and then there are secrets that are best shared with, well, everyone. And when it comes to secret dishes at Boston restaurants, we love to tell all.
From fast-casual chains to upscale French restaurants, a handful of local eateries have off-menu dishes waiting in the wings for in-the-know diners. Some dishes were popularized by a regular diner or former mayor. Others were meant as food challenges, or are only available during a narrow timeframe. One covert dish even requires a password.
When you're ordering a secret item on the sly, it can be thrilling to deviate from the norm. For a chance to act like an insider, take a look at some off-menu dishes from local restaurants below.
The Cubio is not for the faint of heart. Clocking in around five pounds and roughly three feet long, Anna's secret burrito option is well-known to insiders but often overlooked by casual patrons. You might need a friend to help you with this one: The Cubio is made with three tortillas and is stuffed to the seams with triple the fillings, toppings, and flavors of a regular-sized burrito.
Let's say you're around a Boston Burger Co., which has locations in Boston, Cambridge, Salem, and Somerville, between 4:20 p.m. and 5 p.m. on a weekday. And let's say you're craving The 420, an ultra decadent burger stacked with mozzarella sticks, fried mac and cheese, onion rings, fries, bacon, golden barbecue sauce, and American cheese. Usually the heartburn-inducing burger is $16.50, but for the 40 minutes between 4:20 p.m. and 5 p.m. on Monday through Friday, it's a mere $4.20. Call it an early dinner.
Though the pandemic pushed this sandwich onto Clover's online menu for easy ordering, diners won't be able to find the Mayor Menino Soy BLT on menus on-site at any of their multiple Boston-area locations. You can still order the sandwich, though, which consists of mayo, tempeh, tomatoes, and green leaf lettuce stuffed into a freshly baked pita. Clover founder Ayr Muir made it for Menino at a food truck event, and it was promptly named after the former mayor. Clover also has a couple other secret menu items: a barbecue seitan sandwich that can be ordered "Russian-style" (made with pickles and pickled red cabbage instead of lettuce and tomato), as well as an Arnold Palmer — half iced tea and half seasonal lemonade.
There are plenty of tacos you might want on the menu at this South End Mexican haunt, where warm nights are best spent on the patio with margaritas and boozy slushies. But if nothing is calling out to you, come prepared with the password that unlocks a secret taco. Passwords are revealed on Cósmica's Instagram, and could result in dishes like scallop tacos or pineapple and adobo pork belly tacos.
Here's the story: Chuck, a regular who frequented this North End restaurant at least three times a week, started ordering a chicken dish just the way he wanted. Regulars at the bar saw Chuck's creation and started ordering it the same way. Now you can get the off-menu Chuck's Chicken, a boneless half chicken with cherry pepper sauce and asparagus. Thanks, Chuck!
Consider this one a semi-secret menu item: The Rochamburger is technically only available during weekend brunch, but you can still order it for lunch and dinner on weekdays — even though it's not on the menu. Like a French onion soup in burger form, the eight-ounce patty is topped with caramelized onions and Gruyère, and comes with a side of pomme frites.
Get Boston.com's browser alerts:
Enable breaking news notifications straight to your internet browser.